wxPython – EditLabel() method in wx.TreeCtrl
In this article we are going to learn about EditLabel() method associated with wx.TreeCtrl class of wxPython. Starts editing the label of the given item.
This function generates a EVT_TREE_BEGIN_LABEL_EDIT event which can be vetoed so that no text control will appear for in-place editing.
If the user changed the label (i.e. s/he does not press ESC or leave the text control without changes, a EVT_TREE_END_LABEL_EDIT event will be sent which can be vetoed as well.
Syntax: wx.TreeCtrl.EditLabel(self, item)

Parameters:

| | | |
| --- | --- | --- |
| Parameters | Type | Description |
| item | wx.TreeItemId | Item that we want to associate editlabel with. |
Code Example:
Python3
import wx
class MyTree(wx.TreeCtrl):
def __init__(self, parent, id, pos, size, style):
wx.TreeCtrl.__init__(self, parent, id, pos, size, style)
class TreePanel(wx.Panel):
def __init__(self, parent):
wx.Panel.__init__(self, parent)
# create tree control in window
self.tree = MyTree(self, wx.ID_ANY, wx.DefaultPosition, wx.DefaultSize,
wx.TR_HAS_BUTTONS)
# CREATE TREE ROOT
self.root = self.tree.AddRoot('root')
self.tree.SetPyData(self.root, ('key', 'value'))
# add item to root
item = self.tree.AppendItem(self.root, "Item")
item2 = self.tree.AppendItem(self.root, "Item")
# expand root
self.tree.Expand(self.root)
# start editlabel
self.tree.EditLabel(item2)
sizer = wx.BoxSizer(wx.VERTICAL)
sizer.Add(self.tree, 0, wx.EXPAND)
self.SetSizer(sizer)
class MainFrame(wx.Frame):
def __init__(self):
wx.Frame.__init__(self, parent = None, title ='TreeCtrl Demo')
panel = TreePanel(self)
self.Show()
if __name__ == '__main__':
app = wx.App(redirect = False)
frame = MainFrame()
app.MainLoop()
Output: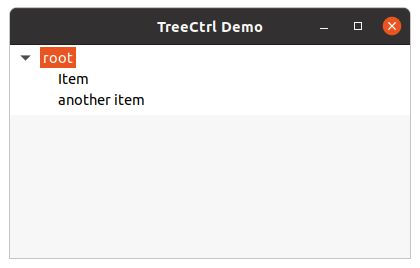 My Personal Notes
arrow_drop_up