Winter Interview Preparation Course – Get Interview-Ready For FREE!
Winter Interview Preparation is going live from December 23, 2021. Use the Invite Code: WINTERLEARNING to get successfully registered for this exclusive Winter Interview Preparation Live Course!!
Even the winter season lover would admit that to stay active and motivated for the ongoing goals, whether it be exercising goals, learning goals, or any other is a bit challenging task in these cold months.
And yes, there are scientific reasons behind it too like temperature drops, shorter periods of daylight, etc.
But…GeeksforGeeks won't let you distract from your career goals anyhow in this winter tiredness and in fact, to make this period more productive and worthwhile for you, we're providing a week-long workshop that gets you interview-ready for FREE. Here, you will cover the basics, work on projects, evaluate your preparation and get tips to better your CV! Isn't it enough to get your motivation back…??

What is this GFG Winter Interview Preparation….??
This Winter Interview Preparation Live Course by GeeksforGeeks will guide you to enhance the problem-solving skills that eventually lead you to crack any interview you sit for. In a span of 7 days, you will solve DSA questions, work on case studies & live projects, develop MVPs, and much more. Towards the end of this workshop, you would get acquainted with the frequently asked questions in interviews, know how to make your CV stand out & strengthen your confidence through mock interview sessions.
Let us tell you that irrespective of any stage in your coding career, this workshop aims to prepare you for your upcoming interviews by building up your foundation & structuring your learning.
*The Winter Interview Preparation Live Course is getting started from December 23, 2021. Book Your FREE Ticket Now!!*
Students studying in their second, third or fourth year of college and young working professionals shall benefit greatly from previous interview experiences, learning system design concepts, all the basic DSA concepts & an optimized approach to solve questions.
With the objective of boosting your skills, this workshop seeks to provide a free interview preparation experience with industry experts that would aid you in progressing your career the way you want to. Most importantly, this Winter Interview Preparation Live Course is being provided FREE of cost and you can directly register yourself for the course by following the below-mentioned steps:
Step-1: Visit the official page of the Winter Interview Preparation Live Course.
Step-2: Then, Click on the 'Register Now' Button and enter the required details in the form such as name, graduation year, etc.
Step-3: Also, you need to enter the invitation code: WINTERLEARNING to proceed further.
Step-4: After signing up, you'll get successfully registered for the course and will be able to attend the sessions as per the schedule.
For any query, you can drop us an email at geeks.classes@geeksforgeeks.org
Course Content
The day-wise course plan for this Winter Interview Preparation – Live Course is as follows: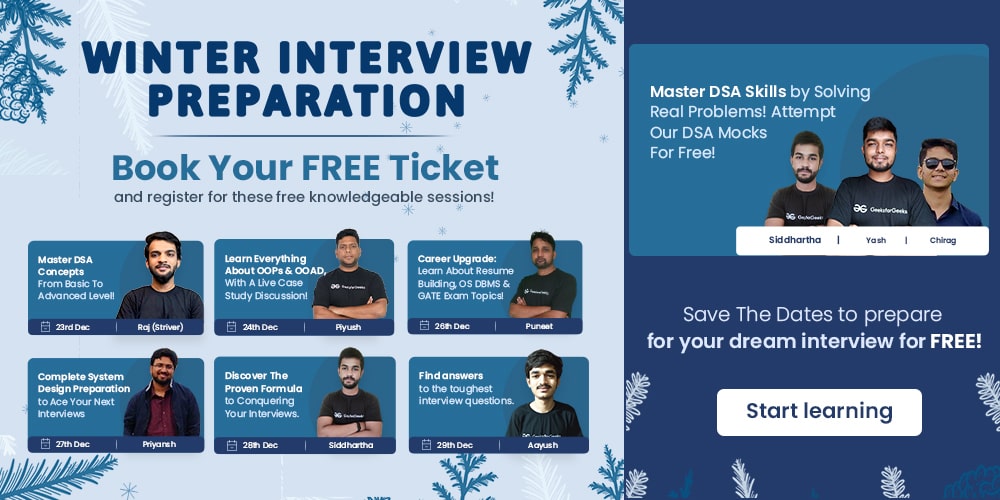 Session 01: Day 1
Master the Basics of DSA
Practice Coding Questions
Attempt the Assessment Tests
Preparation for Interviews
Session 02: Day 2
Overview of OOPS & OOAD
Case Study regarding the same
Real-world problems and projects
Develop scalable and extensible MVP (Minimum Viable Product)
Session 03: Day 3
Tips on Resume Building
OS / DBMS / CN top most asked questions
Relevance of these topics in the GATE exam
Session 04: Day 4
System Design Interview Preparation
Overview about System Design
Kind of questions asked in interviews
Optimized approach to solve questions
One case study to explain key concepts like scalability, throughput, or data sharing
Session 05: Day 5
Recently Asked Interview Questions
Session 06: Day 6
Most Asked Interview Questions
Session 07: Day 7
DSA Mocks
3 Mock Interview
Frequently Asked Questions (FAQs)
Q-1: Will the course content be available after the course end date?
Ans. The course content is available on our YouTube Channel – GeeksforGeeks.
Q-2: Do we have doubt support in this program?
Ans. No, this program doesn't have doubt-solving support.
Q3. How can I register for the course?
Ans. You need to sign up for the course from the official page: Winter Interview Preparation Live Course
So, what are you waiting for now…?? Register today for this enriching Winter Interview Preparation Live Course by GeeksforGeeks, give yourself a chance to receive 360 learning before you sit for your next interview, and end the year on a great learning note!
My Personal Notes
arrow_drop_up