Website Navigation and its Importance
Website Navigation, as name suggests, is a way to showing importance and relevance of pages, content, and information on website. It is way that helps users or visitors to find content that they want to see. It is simply a way of navigating pages, content and information on website using internet. It can be presented in different ways such as spider bars, menus in header or footer, etc. Simplicity is very essential and important for good website navigation.
Structure of Website Navigation
Structure of website navigation is very important as it have a greater impact on sales, user experience and SEO (Search Engine Optimization) rankings. It not only includes sketching pages but also include greater level of abstraction. It is not at all easy to design and organize website. Let us see an example: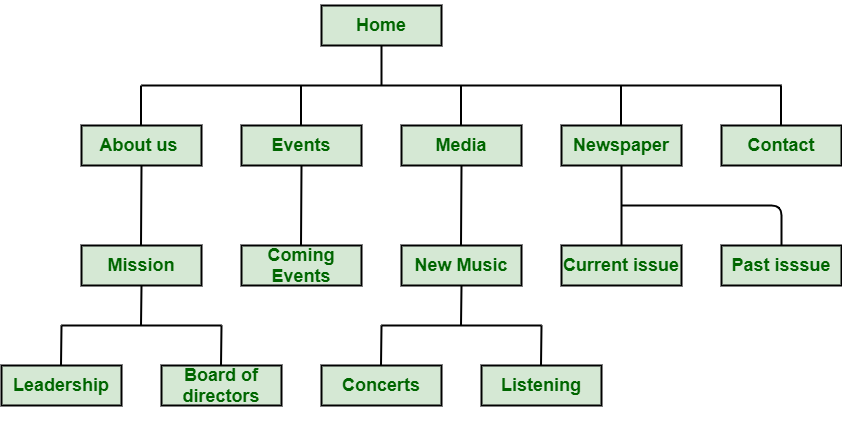 In above diagram, about us, events, media, contact, newspaper, etc., are all linked to home menu. To have access to other pages such as mission, coming events, new music, etc., you have to first visit about us, events, media, etc. Then you can open whatever you want to.
Importance of website Navigation
Website navigation is way by which one can easily increase audience or number of visitors on website. If website navigation is not good and effective, there is not point of having a creative website because users won't be able to navigate easily around it to find information they want. So, it's very important to keep to simple, effective to increase user experience and keep clients and visitors happy. Below are given some reasons that will tell you why website navigation is important. Let's have a look.
Increase duration of visit: Website navigation helps people to find information they want to see very easily and effectively. Good website navigation provides clear and simple navigation bars and links that encourages visitors or peoples to explore more and more. This in turn increase duration of their visit on website because navigation is very easy to use and understand and nowadays everyone wants it easy to get things.
Increased chance of sales: Website navigation generally helps in showing visitors what website is actually about without any wastage of time. This in turn increase time spent by visitors on website and visitors stays on website for longer time. Visitors then go through website and purchase product effortlessly and easily. This will automatically increase purchase of products and sale.
Improved user experience: Navigation is very important for website because without navigation, websites won't look good, and appear unorganized. Nowadays, no one to waste their time on determining how website works. Everyone wants to easily find what they want. Good navigation generally helps visitors to find information they want to search and increase speed of visitors search. Clear and simple navigation is simply to understand that in turn increase user experience.
Good Design: Good navigation make website look more attractive, effective and good. Navigation has a greater impact on how website is viewed by users or visitors and how longer they will stay on website. Design of website navigation have a greater impact on success of website. It almost affects traffic, SEO ranking, user experience, conversions, sales, etc. So, good navigation is very useful to boost website design and brand of company or business. Good navigation keeps visitors happy and satisfied.
My Personal Notes
arrow_drop_up