Top 7 Free Keyword Research Tools in 2020
Keyword Research and Optimization is the prior and one of the major parts of the SEO as it is the process of exploring, analyzing and using those keywords people often use to search for their queries. However doing the same is not that easy and without having a budget for paid tools, it becomes more complicated. But…how would it be if you get to know there exist some free tools as well which you can use to grow the traffic rate on your site. Yes, in this article, we will let you know about Top 7 Free Keyword Research Tools and how they work.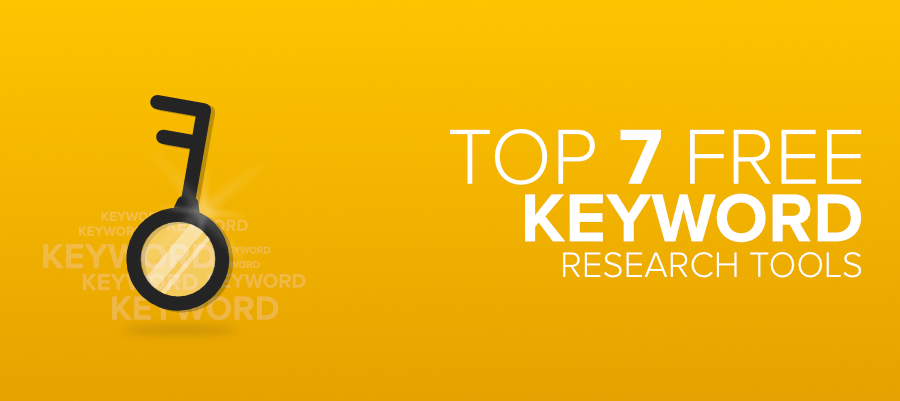 Statistically, the top 5 organic search results hold around 65% of all the clicks which majorly depends upon keyword optimization. With the help of Keyword Research Tools, you can find out what people are searching for and can get better ranking in search engines for those search queries by relevantly optimizing the content. The Top 7 Free Keyword Research Tools are listed below with their brief description.
1. Google Trends
Google Trends is one of the most popular free keyword research tools. It allows the users to compare the relative search volume of the searches between various keywords. It depicts the compared results of the search volume of different queries over time in the form of graphs. Also, you can analyze the keywords based on the geographical location.
In the above example, we have considered two search keywords – "red ferrari" & "blue ferrari". Now you can clearly see that keyword "red ferrari" is searched more number of times in comparison to keyword "blue ferrari". On the basis of such analysis, these keywords are added to the content. This is how Google Trends works.
2. Soovle
Soovle is a free tool that shows the query suggestions i.e., what people search based on your provided keywords. It provides these suggestion queries from various sources such as – Wikipedia, Google, Bing, Yahoo, YouTube and Amazon. The best part of Soovle is that it is very time efficient i.e. in a few seconds it comes up with hundreds of suggestions. Here in the below-provided example, for a search keyword "Digital Marketing", it shows various search queries for various platforms.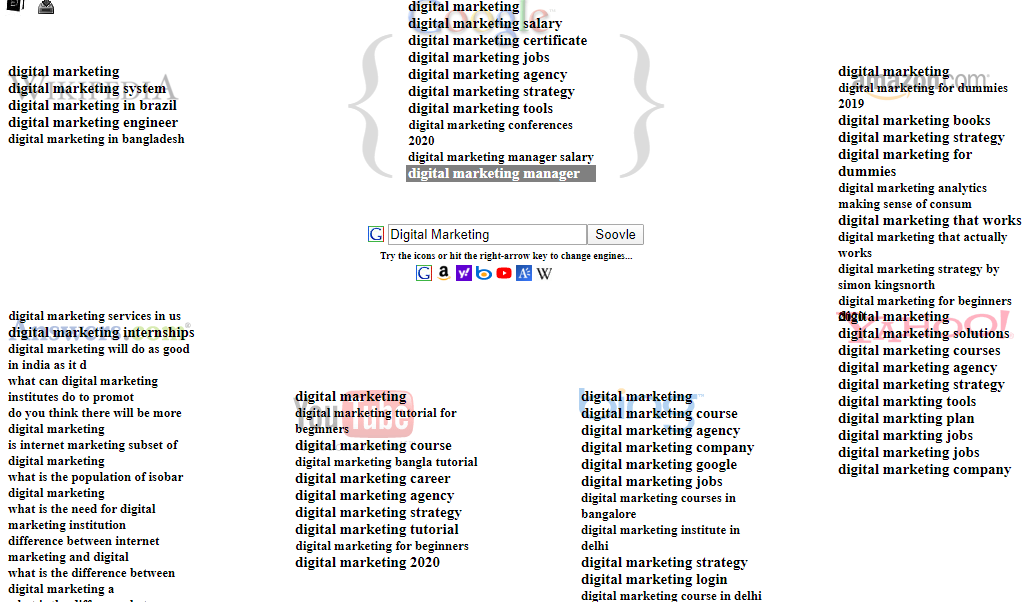 3. WonderSearch
It is a free keyword research tool that collects terms that are semantically related to a root keyword. Basically, it generates the keywords on the basis of Google's "People also ask" Feature. It is so easy to use that even there is not any requirement of account creation or log in. Let us consider an example, if you search for a keyword "best car", it shows you those keywords in result which are semantically related to the "best car".
Also, there is a feature of downloading all the resulted keywords with their search volume and other statistics in a CSV file format.
4. Keyworddit
Keyworddit is one of the most widely used free keyword research tool. You have to enter the term in the subreddit section and then choose one of the auto-generated subreddits. Also, If the subreddit you are looking for doesn't show in the suggestion list it simply means it's too small i.e. less than 10, 000 subscribers. Now, click on 'Get Keywords' to extract the keywords from selected subreddit. Let us understand it with an example, for a selected subreddit 'travel', it provides the number of keywords related to that particular subreddit.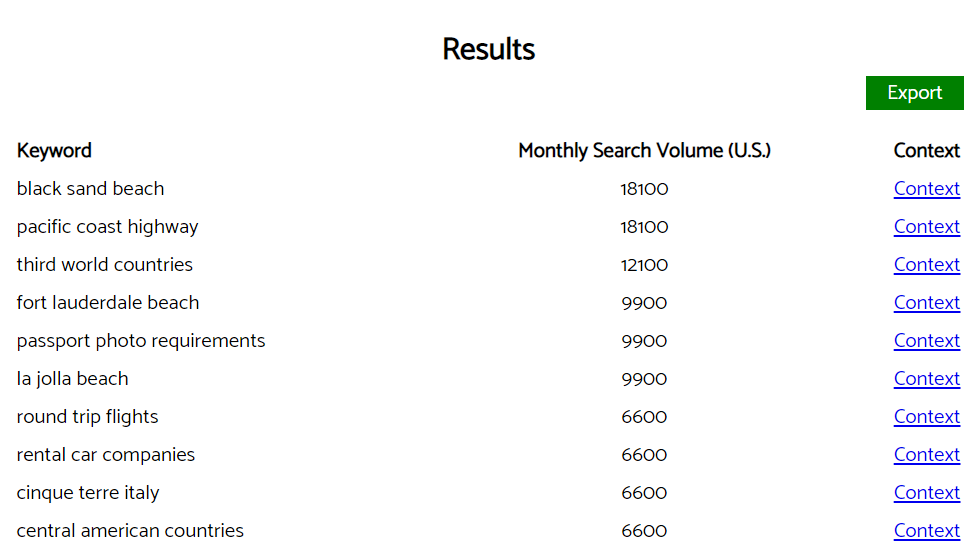 5. Keyword In
Combine your keywords the easy way! Yes, this is the tagline for Keyword In tool. By using this free keyword research tool, you can build a keyword list for Google Adwords or any other PPC program by combining your keywords. You can also find new phrases for the SEO of your site. What you have to do is provide the keywords in separate columns and select the match type i.e. Broad match or Phrase match or Exact match. Now, if any of your provided keywords is Optional you can opt for that and then Click on Generate button. A resulted keyword list will be displayed on your device screen.

6. Wordtracker Scout
Wordtracker Scout is a Google Chrome extension tool that turns the web into a large keyword generator platform. Scout provides you all the access to Big Data or you can say Big Keyword Data. You just have to plug it into your browser and you are ready to go. By using this tool you can analyze those relevant and authentic sites that attract your target audience and get to know about those keywords on which you should focus. It is very easy to use as you can get all the keyword ideas of any size from just a click of a button.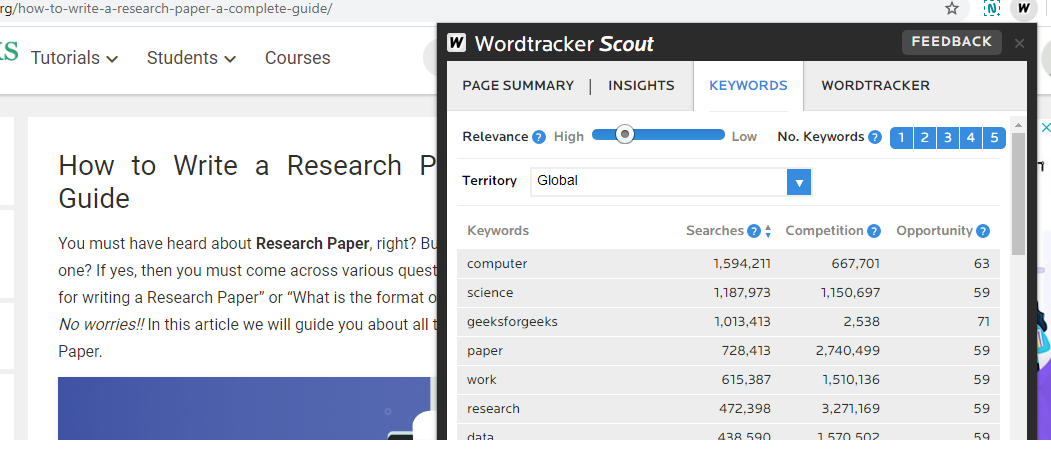 7. Seed Keywords
Seed Keywords is perhaps one of the best sources of research for keyword ideas. Nothing will be better for the keyword research process than knowing what do your target audience search for. You can find these keywords by simply creating a search scenario and asked the people how they would search for that query. This process consists of 3 Steps:
Create a search scenario for a query
Send the unique URL provided to your contacts
Watch your seed keyword list grow
Let us understand it with an example, I created a search scenario "How people search for the best laptop?". Now, after sharing the provided URL for that scenario, the resulted keyword list is formed.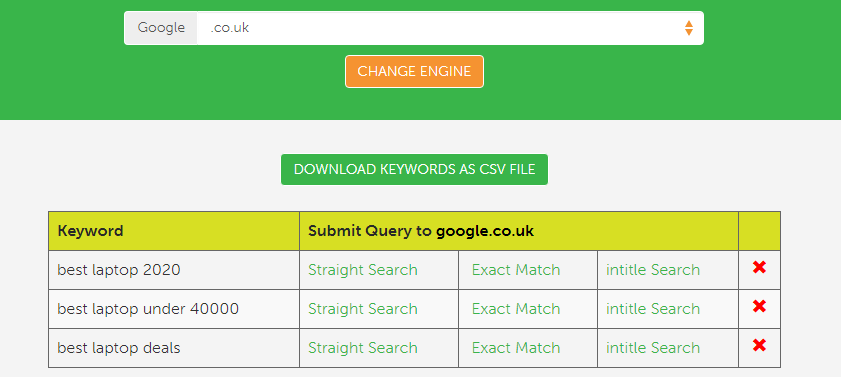 My Personal Notes
arrow_drop_up