Top 20 SEO Trends in 2020
Have you ever thought of mastering the art of doing SEO? If yes, then you must come across the difficult task of finding the latest Google search trends to get a better ranking for your site. As SEO is a very dynamically changing field, it is required to keep up-to-date with the latest SEO trends to maintain your position in the search engine results. Here we have provided that which SEO strategies and tactics will work and help you dominate in the SERPs in 2020.
Everyone prefers to visit the websites having high rank and for the high ranking of your site, you have to know about the latest SEO trends and techniques which are rapidly evolving based on changing the behavior of searchers and new technology advancements. Here are the top 20 SEO trends you need to know in 2020.
1. BERT
BERT (Bidirectional Encoder Representations from Transformers) is Google's neural network-based technique for Natural Language Processing (NLP). As per Google, BERT is helpful to understand the nuances and context of words in searches and be able to better match those queries with more relevant results.
2. Voice Search
Voice Search is getting huge now. In today's world, we are witnessing a voice search revolution with almost every generation getting comfortable with it. Okay, let us consider your case, what will you prefer – 'typing which is the highest trekking point in india' or 'just saying it on your smart phone with all your excitement'. Obviously, you will go for the second one and that is why Voice Search is the legit trend. Some of the stats regarding emergence of Voice Search are listed below:
Around 65 million Americans own a Smart Speaker.
By 2020, up to 50% of all search activities will be conducted through voice.
Voice search has grown 35 times since 2008.
As per Google, 20% of mobile queries are done through voice searches.
Average voice SERP loads in 4.6s, which is 52% faster than the average page.
3. Concept of E-A-T
E-A-T stands for Expertise, Authoritativeness and Trustworthiness. E-A-T, this concept in Google's search algorithm was first introduced in 2014 and received further significance in Google's Search Quality Guidelines in late 2018. Let us clear it with a brief description provided below:
Expertise: It is signified as the creator must be an expert in the relevant field. The content should indicate that the author is having extensive knowledge about the topic.
Authoritativeness: There should be a clean display of authoritativeness of the main content. It can be done by showing the author credentials, job title, certifications, bio, and experience, etc.
Trustworthiness: It is one of the most important factor of E-A-T SEO. A user will get back to you repeatedly only if there exists a trust factor. So, you need to convey the users that they can trust in your content or website.
Google has already stated that E-A-T is among the top three criteria for Page Quality. So if you haven't previously paid attention to the E-A-T concept, you must start doing it.
4. Video Content
As we know that a picture is worth a thousand words, similarly, it can also be said that a video is worth a thousand pictures. Including the video content is one of the major SEO trends of 2020. To engage the audience with videos is a considerable way to connect with them. It is observed that sites with video content get more backlinks and enjoy around 150% boost in search traffic. However, you must know about the Video SEO strategies before embedding the videos. Some of these strategies are listed below:
Mobile Optimization
Relevancy with the Content
Add the Captions
Proper Video Quality
Engaging Thumbnail
5. Mobile SEO
Every year, the number of mobile phone users is increasing rapidly. As per the stats, approximately 5 billion people have mobile devices in 2019 i.e., around 65% of people have mobile devices all over the world. So the point is, there is a prior need to build sites compatible for mobile along with the desktop compatibility as mobile is the future of search. The points to remember while doing Mobile SEO are provided below:
Responsive Web Design
Page Speed
Optimized Title and Meta Descriptions
Build Mobile Sitemaps
Structured Data
6. Featured Snippets
It is Google's new search feature which shows answers to a user's query on the top of Google search results i.e., at position 0. As per Google, the featured snippets come from their web search listings by looking at the web listings and determine if it would be useful to highlight one of them. Let us make it clear with an example – There is a query searched on Google "why data structure and algorithms".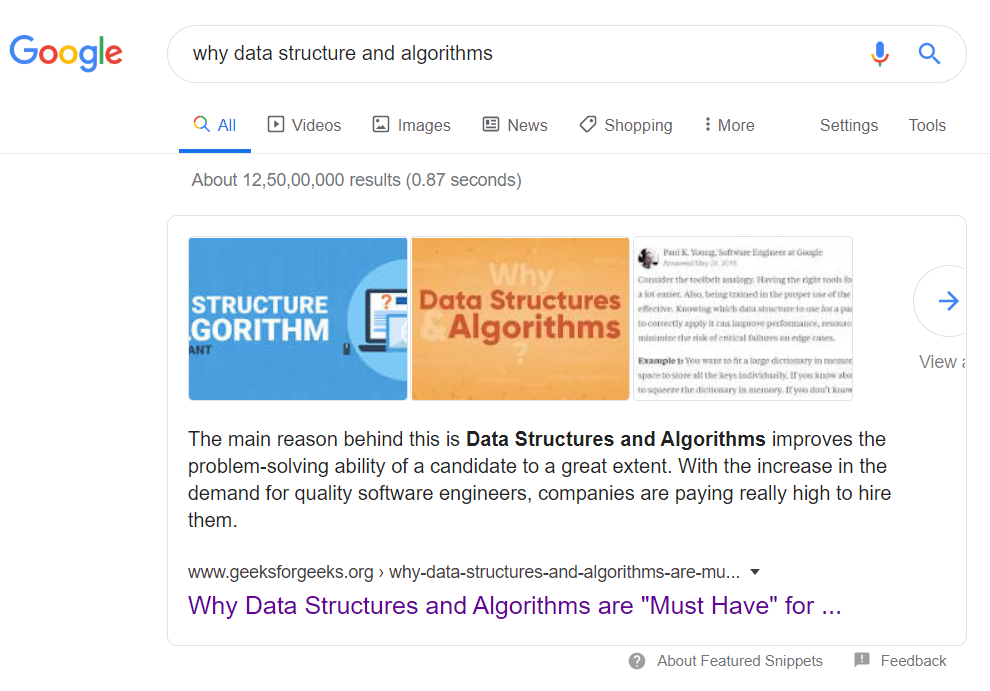 Now, as you can see, a snippet is featured by Google on the top of the search results as per its relevance with the searched query. The featured snippet is formed in paragraph, list or table format.
7. SEO for Local Searches
Yes, you heard it right! Local Search SEO is all set to become one of the major 2020 SEO trends that you need to look out for. As per the Google, around 46% of searches consists 'local intent'. It tends to those types of search queries which include 'near me' or other location-based keywords. Search engines recognize that the users' query is based on location, and so that is precisely what they offer up in the local search engine results pages.
However, local search is more important for small businesses as 8 out of 10 consumers use Google search to find local information and by not optimizing your site for local search, you could be missing out around 70-80 percent of your customers.
8. Site Speed
Site speed or loading speed of the pages has always been an important factor for Google's Algorithm to rank any website. Users won't prefer to go to the sites having slow loading speed. Moreover, it is observed that sites with higher page loading time lead to have higher bounce rates and lower average time. Google also rolled out the mobile page speed update by making page speed a ranking factor for the mobile search results. And that is why optimizing your site for better loading speed is no more optional.
9. Artificial Intelligence
From Alexa to Siri, Artificial Intelligence exists everywhere. And we all know, AI is the future of mankind. With the use of Artificial Intelligence & Machine Learning, Google improves its algorithm, making it more difficult to modify the rankings by illegitimacy and also improves its criteria to deliver the best results for the searched queries. The strategies need to be followed regarding the same are listed below:
Cluster & Predictive Analysis
Use of Optimized Keywords
User Reviews
Predict the User's Need
AI-Powered Chatbots
10. Content Length
However, high-quality content can indeed help you to get a better ranking at Google search result pages (SERPs). But along with the quality, quantity can not be ignored. Ideally, the length of the content should be of at least 2,000 words. It is observed that web pages with more than 1700-1800 words and with high-quality content are entertained by more visibility. While creating lengthy content, the factor of integrity must not be forgotten. Always provide the relevant information in the content as per the user's need. The articles with lengthy content increase the dwell time and, following it, Google increases the ranking of your site for the search query.
11. Link Building
Link building is the process of getting referrals links from other websites to your websites. Everyone is interested in building links to get referral traffic and enhance their site's authority. Building links is one of the many factors used in SEO because based on these links Google analyses the authority of your site. The sites with more genuine backlinks tend to get better rankings in Google search result pages. Several ways of building links are listed below:
Guest Blogging
Listing of your site in trustworthy directories
Media Outreach
Paid Promotion
Internal Linking
12. User Experience
User Experience is the major SEO trend where everyone should focus on in 2020 for better results. It includes the overall experience of the user from the initial stage interaction in the search results until the user leaves the site. The experience of the user can depend on various factors such as Site Speed, Content Quality, Content Relevancy, etc. The aspects where you need to work for better getting better user experience are – easy navigation of the site, better site structure, better site speed, structured data, etc.
13. Content Quality
Yes, Content is still the undisputed King. Even for getting success in 2020, you will have to write relevant and worthy content. The search algorithm of Google uses the quality of the content as one of the most important factors for SEO. Before writing an article, you must know about:
Who is your target audience?
What is the intent behind the queries?
How can you go differ with your article in comparison to other authors?
14. Site Security
Site Security is one of the major SEO trends. The lack of site security can have a major impact on your SEO performance. At first, HTTPS was treated as a ranking factor and from then it has become very famous in the context of cybersecurity in SEO. But it does not end at HTTPS and it does not mean you have a very secure website just because of HTTPS. However, there are several steps that site owners can follow to get better site security.
Keep up-to-date your website
Prefer safe web hosting platform
Timely change your login credentials
Use monitoring tools
Backup your site data
15. Technical SEO
Everything changes with time so do SEO! In the last few years, SEO become more complex than ever. The concept of Technical SEO raises the question of whether your site is compatible or not with the latest standards set by search engines. It has not any interference with the actual content of the site. The aspects which come under the Technical SEO are – site architecture, content duplicity, snippets, page speed, security, etc. Also, a technically optimized website must not have dead links and it consists of an XML sitemap.
16. Keyword Research
Keyword research is the process of exploring, analyzing and using those keywords people use to search for the information. Keyword research is considered as the first step for the SEO practice. Let us take an example – Search a keyword – "data structures"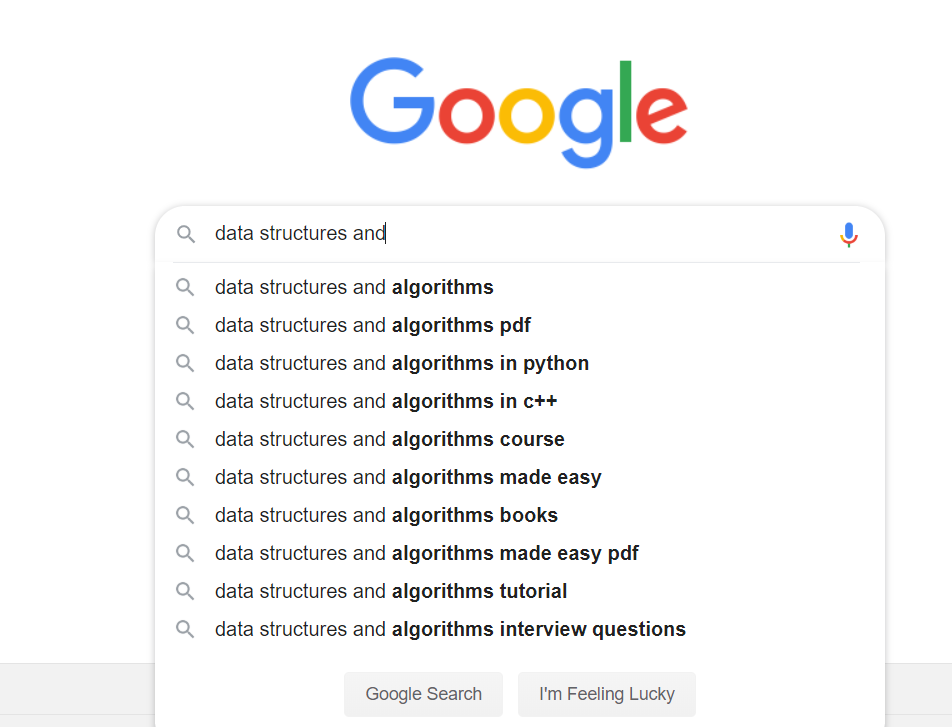 Now, see what terms are suggested by Google. It will be more effective to add these keywords in your content because these suggested keywords signify that the number of users is searching for these keywords.
17. Social Media Presence
Social Media is one of the major platforms to get brand exposure and so that it is important to have an optimized your site in accordance with it. However, it is true that social media is not a direct factor for Google ranking but it actually helps and enhances your SEO practice. Some of the latest Social Media Networks are provided below:
Facebook
Pinterest
LinkedIn
Instagram
Twitter
Snapchat
18. Structured Data
Yes, Structured Data is also the demand of good SEO practice. Structured data makes things easier for machines to perceive the meanings and understanding of information in the content. Also, having the schema markup prepares the site for upcoming situations where the AIs will be crawling the web and understanding the content before the further indexing.
19. Things beyond Google!
You heard it right! We all know that to be over-dependent on a single platform could be a threat to any business. However, we know that Google dominates the search engine market but yes there are many other search engines also which are ready to compete with Google in the coming times. The platforms like Youtube, Amazon, Bing expects from you to optimize your content as per their criteria. So you should also consider other search engines while creating the content for better exposure.
20. Programming
Last but not the least – Programming! In the journey of Good SEO to Perfect SEO, there is always a need for understanding of basic programming concepts. Some of the major aspects where it is required while doing SEO are Meta Data, Redirects, Canonicalization, Robots.txt, Sitemaps, No-follow link, etc.
My Personal Notes
arrow_drop_up