Top 2 MBA Programs After Engineering
Engineering is one of the most revered professions around the world. In India alone, each year, more than a million students complete the popular degree program named B.tech. If that was not enough, others are pass outs from diplomas or degrees such as BCA, MCA, etc. These candidates sometimes get confused about what option or specialization they should choose after graduation.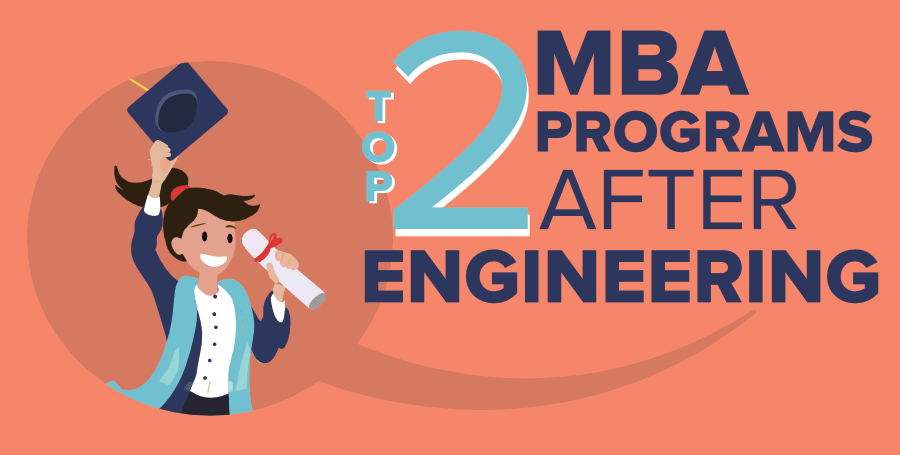 This list has been created after comprehensive research and consideration of various factors such as placements, average package, scope, etc. We have chosen two best alternatives (namely IT and operations) to other MBA options such as Finance, Marketing, etc.
1. Master of Business Administration in Information Technology
Well, everybody is aware of this prestigious master's degree which is one of the most sought courses around the world today. If you are interested in the field of technology, then this is surely the job for you. Like other MBA programs, this one also has a duration of 2 years. However, some colleges have a part-time program that can last up to 3 years. Various universities and B-schools in India and abroad offer this degree.
Eligibility: The eligibility criteria for this MBA program is same as general MBA and other MBA fields, barring only one difference which is that most of MBA(IT) degrees can be pursued by those undergraduates who are from technical or computer background (B.tech, BCA, etc.)
Admission Criteria: You'll need to clear the most popular management entrance exam in the country- CAT exam. After clearing the test, you'll need to clear the group discussion and personal interview rounds. Some B-schools even include a written essay in their assessment criteria.
Fees: Fees charged vary according to the type of institution, location, college rating, and of course scholarship status. Generally, government institutes charge a nominal fee as compared to hefty tuition fees charged by private colleges or institutes.
Curriculum: This is a diverse degree that focuses on fields such as IT entrepreneurship, big data, and data mining, new energy technology, bio-design, supply chain management, DBMS, E-Commerce management, IT fundamentals, technology management, computer networks and many more. So, you'll enjoy this degree if you are interested in the wonderful world of computers and technology.
Scope: MBA(IT) is dubbed as a lethal combination of two dynamic aspects namely management and IT. So, it offers a wide scope to its graduates. As the world knows that technology has the potential to transform the way we live, do, act and whatnot. Various universities provide campus placements to candidates. Successful candidates can work in government departments, IT companies, MNCs, E-Commerce firms, media firms, digital marketing firms, software development companies, etc. Indeed, this field offers various career prospects like IT manager, assistant manager, project manager, system manager, program manager, project manager, database manager, database administrator, and IT consultant. A person can even become a CTO (Chief Technology Officer) or an IT director if he manages to reach the apex level in your company. For those who want a bit of freedom, they can build their startups and kickstart their entrepreneurial journey in college time itself. And don't worry! You can become a freelancer too.
Salary offered: The average salary for MBA(IT) pass-outs is Rs. 40-70k per month. The average package offered ranges from 7LPA to 12LPA. Packages may even exceed Rs. 40LPA, which is a heartening fact, indeed. And this very fact makes the MBA IT a promising career option. Well, for a government job, salary varies according to pay scale and grade.
Advantages: Various benefits of this program include working in a wide range of environment, versatile work, cutting edge innovation, non-ceasing career growth, high profile work (perks related to big projects), ever-growing information funnel, etc.
2. Master of Business Administration in Operations Management
This is one of the most sought MBA programs by engineers and engineering students. This degree acquaints candidates with production management, shop floor management, product development, etc. Undoubtedly, it is a boon for engineering candidates. It has a duration of 2 years.
Eligibility: Candidates who have obtained a Bachelor's degree in any discipline from a recognized university in India are eligible for this program, unlike MBA (IT).
Admission Criteria: You'll need to clear the most coveted management entrance exam in India- the Common Admission Test or CAT. After clearing the test, you'll need to clear the group discussion and personal interview rounds, and a written essay in some B-schools.
Fees: The average fees for this program range between 4 lacs to 17 lacs for the entire two- year program. The tuition fee can depend on factors such as institution type, location, college rating, co-curricular activities, accommodation costs, etc.
Curriculum: The major subjects included in the syllabus are business skill development, production management, supply chain management, operations strategy, managerial economics, production planning & control amongst others.
Scope: It offers a wider scope and uncovers a world of endless possibilities for graduates in numerous fields including plant management, inventory control, process management, production management, logistics management, area operations, general operations, etc.
Salary offered: The average pay highly depends on the institute, student skillset, experience, knowledge base, and other factors. So, it can range from 4-7 LPA. Further, the job profile also matters a lot in MBA. For instance, quality analysts can even earn a whopping salary of Rs. 26 lakh per annum, which is extremely high when compared to industry standards.
Advantages: Every career option has certain perks. Being an operations manager also can entitle you to certain benefits. Some of these include in-depth knowledge of business processes, development of dynamic skills that will come handy for other industries as well, acquaintance with new developments, lucrative career opportunities, consistent professional growth, etc.
We hope we have covered enough content in this article. We hope that students will get a complete overview of the MBA(IT) and MBA (Operations Management) program. This article will surely motivate you to go for an MBA in the field of technology or operations, whichever is your goal, passion, and interest of course.
My Personal Notes
arrow_drop_up