TCS is one of the largest Indian companies by market capitalization ($80 billion). TCS is now placed among the 'Big 4' most valuable IT services brands worldwide. TCS alone generates 70% dividends of its parent company, Tata Sons. In 2015, TCS is ranked 66th overall in the Forbes World's Most Innovative Companies ranking, making it both the highest-ranked IT services company and the top Indian company. It is the world's 10th largest IT services provider by revenue. As of December 2015, it is ranked 10th on the Fortune India 500 list.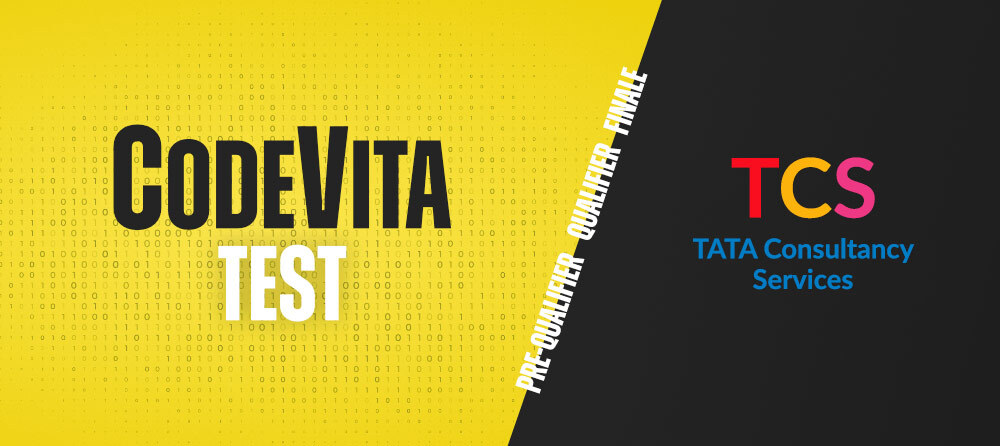 CodeVita is organized by TCS every year in which any graduate students can participate and give their best. It is used to promote competitive programming and grow your programming skills. Also, top rankers get the opportunity to interview with TCS for job offers. First CodeVita was organized in 2012 in India to spread awareness about competitive coding and various application and codings.
Why participate in CodeVita?
You will get a Global Ranking which will boost weightage in your resume.
Top 3 Rankers will get a chance to win USD 20,000.
Participation certificate for those who qualify first round(Qualifier Round).
Job opportunity with world's number one organization(As per 2021 listing) TCS.
CodeVita Rounds:
| Rounds | Name of the Round |
| --- | --- |
| Round 1 | Pre-Qualifier |
| Round 2 | Qualifier |
| Round 3 | Finale |

Round 1(Pre-Qualifier):
You have 6 hours online coding challenge.
It should be complete within 24-hours at your comfort times.
If you qualified this round with a good rank there may be high chances to get an interview with TCS.
Round 2 (Qualifier):
Shortlisted students from Round 1 will get a chance to attend Round 2.
You will get 6 hours to complete questions but this time questions will be difficult than round 1.
The benefit of getting a good rank in this round is a good hike and a chance to get allocated in the latest technology project.
Round 3 (Finale):
You will get an invitation to one of any TCS Campus for this round and participants who are from another country out of India their expenses are held by TCS.
Top 3 Rankers will get a chance to win USD 20,000.
How to clear CodeVita?
You should have strong data structures and problem-solving skills.
Good speed in writing code.
Comes up with brute force and optimized solutions.
Please refer TCS CodeVita Interview Archive for all the TCS CodeVita Interview Experiences.
My Personal Notes
arrow_drop_up