Steps to create an Express.js Application
Express is the most popular minimalistic framework. It is built upon the built-in module HTTP of NodeJS to facilitate the simple and easy interaction between frontend and backend logic through API, and also it enables us to organize our business logic in so much pretty manner. It is much flexible and we can use it for both the web and android. Also, it provides a very simple error handling procedure.
Approach: Below is the fundamental steps to write an express app. Here we are covering the topics like setting up the environment with the installation of modules, creating an application, running the web server, and performing basic communication with the server. Must-Know how to use the node package manager for basic works, basic knowledge of the terminal for installing dependencies and modules, basic knowledge of how a web application works, and a good knowledge of ES6.
Step by step Implementation:
Step 1: Write this command in your terminal, to create a nodejs application, because our express server will work inside the node application.
Syntax:
npm init
This will ask you for few configurations about your project you can fill them accordingly, also you can change it later from the package.json file.
Note: Use `npm init -y` for default initialization
Step 2: Install necessary dependencies for our application.
npm install express
Something like this will be shown on successful installation,
Step 3: The project structure will look like following.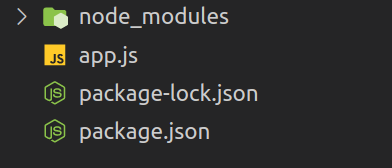 Create a file app.js, for this article we will write the whole express code in that file. This will be our folder structure. Now Inside app.js, Import express with require keyword and create an app by calling the express() function provided by the express framework. Set the port for our local application, 3000 is the default but you can choose any according to the availability of ports. Call the listen() function, It requires path and callback as an argument. It starts listening to the connection on the specified path, the default host is localhost, and our default path for the local machine is the localhost:3000, here 3000 is the port which we have set earlier. The callback function gets executed either on the successful start of the server or due to an error.
app.js
const express = require('express');

const app = express();
const PORT = 3000;

app.listen(PORT, (error) =>{
    if(!error)
        console.log("Server is Successfully Running, 
                   and App is listening on port "+ PORT)
    else 
        console.log("Error occurred, server can't start", error);
    }
);