Python Programming Examples
The following Python section contains a wide collection of Python programming examples. These code examples cover a wide range of basic concepts in the Python language including List, strings, dictionary, tuple, sets, and many more. Each program example contains multiple approaches to solve the problem.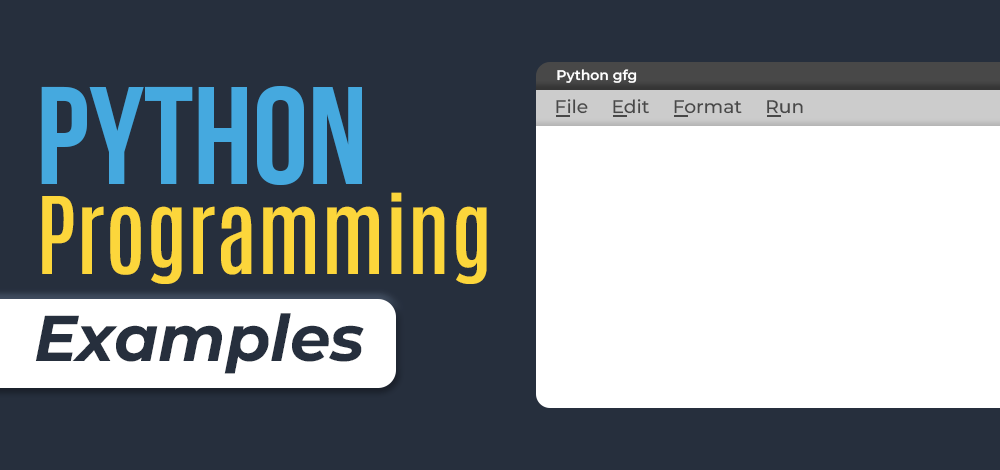 Python Programming Tutorial
Recent Articles on Python !
Python Output & Multiple Choice Questions

Topics :
Basic Programs:
Array Programs:
List Programs:
Matrix Programs:
String Programs:
Dictionary Programs:
Tuple Programs:
Searching and Sorting Programs:
Pattern Printing Programs:
Date-Time Programs:
Python Regex Programs:
Python File Handling Programs:
More Python Programs:
1. Geeks Classes Live
Get interview-centric live online classes on Data Structure and Algorithms from any geographical location to learn and master DSA concepts for enhancing your problem-solving & programming skills and to crack the interview of any product-based company – Geeks Classes: Live Session

2. Complete Interview Preparation
Get fulfilled all your interview preparation needs at a single place with the Complete Interview Preparation Course that provides you all the required stuff to prepare for any product-based, service-based, or start-up company at the most affordable prices.

3. DSA Self Paced
Start learning Data Structures and Algorithms to prepare for the interviews of top IT giants like Microsoft, Amazon, Adobe, etc. with DSA Self-Paced Course where you will get to learn and master DSA from basic to advanced level and that too at your own pace and convenience.
If you like GeeksforGeeks and would like to contribute, you can also write an article on https://write.geeksforgeeks.org. See your article appearing on the GeeksforGeeks main page and help other Geeks.
Please write comments if you find anything incorrect, or you want to share more information about the topic discussed above.
My Personal Notes
arrow_drop_up