Images are a great way to enhance audience retention and present complex information in an easy manner. Images make content more appealing to users which results in better performance of websites and web applications. Photo editing, manipulation, and creation have always been tough tasks for designers so a lot of IT organizations released different photo editing software to ease this task. People often get confused in choosing the right software so we will compare two famous photo editing and image manipulation software, Adobe Illustrator and Procreate. Both of these softwares are very advance and provide a large number of robust tools to ease designing tasks.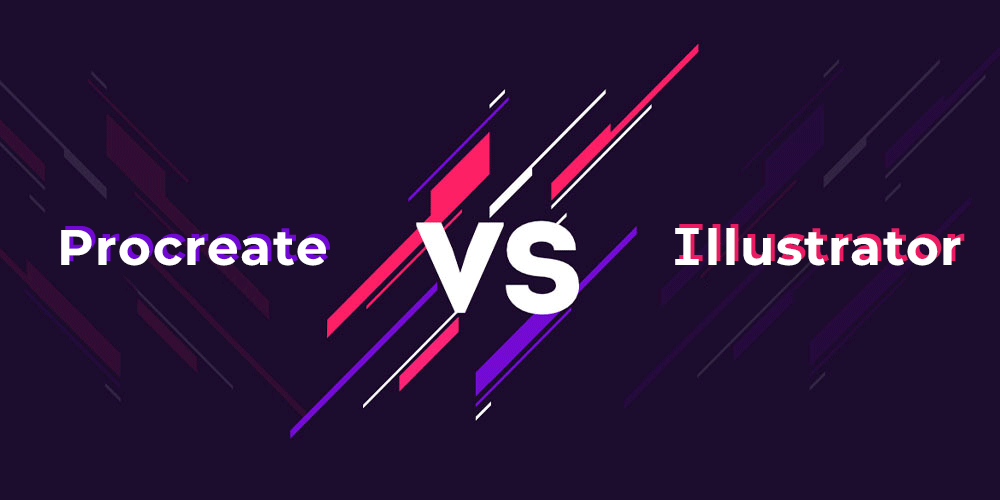 Procreate is a computer application that is used to edit raster graphics. It was developed by Savage Interactive. It was developed for iOS and iPad OS only. Initially, it was launched in 2011 and its latest version was launched in 2022. It helps in making realistic digital images, some of the big projects include making posters of movies like Logan, Blade Runner, etc. It comes packed with a large number of tools like brushes, layer functionality with blending mode, and much more which makes it an efficient graphic editing software.
Advantages of Procreate
It supports different file formats like .jpeg, .png, .psd, .tiff, gif etc.
It supports animating features means no need to buy animation software.
It allows users to create custom brushes according to their needs.
It has a palette folder that gives a large number of colour options.
Disadvantages of Procreate
It does not allow working with vector images.
It does not allow any free trial to users.
Illustrator also known as Adobe Illustrator is a computer application for creating and editing vector graphics. Originally it was developed for Macintosh. Initially, it was released in 1987 and its stable version was launched in 2022. Adobe Incorporation is credited for the development of this software. It contains all the tools to create vector as well as non-vector images. It is written using C++ and ActionScript.
Advantages of Illustrator
It supports nearly all types of file formats.
It has a simple interface that allows beginners to work easily.
It uses a direct selection tool to create objects rather than node editing.
It is an industry-standard software that produces quality images.
It has large community support for its customers.
Disadvantages of Illustrator
It requires high RAM to function smoothly.
It is not available for lifetime purchase only monthly or yearly subscription plans are available.
Following is a table of differences between Procreate and Illustrator:
| | | |
| --- | --- | --- |
| | Procreate | Adobe Illustrator |
| 1. | It can be understood as a graphic editing tool to create and manipulate raster images. | It is computer software for creating, editing, and manipulating free form, raster, and vector images. |
| 2. | Its subscription starts at $9.99 per month. | Its subscription starts at $20.99 per month. |
| 3. | It was developed by Savage Interactive. | It was developed by Adobe Incorporation. |
| 4. | It does not allow automatic tracing of images. | It allows automatic tracing of images. |
| 5. | It is built using Swift programming language. | It is built using C++ and ActionScript programming languages. |
| 6. | It saves files with the .procreate extension. | Its files are saved with the .ai extension. |
| 7. | It is only available for iOS and iPad OS only. | It supports Windows as well as Mac operating systems. |
| 8. | It does not support EPS file formats. | It allows editing of EPS files. |
My Personal Notes
arrow_drop_up