Preparation Tips for Verbal Ability and Reading Comprehension (VARC) Section in CAT
The CAT exam (Common Admission Test) is a computer-based entrance exam in India for students wanting to secure the coveted MBA seats in various management institutes of the country such as IIM's, FMS, DMS, etc. CAT is conducted every year by the IIMs on a rotational basis, and it scores the candidates using three sections, namely Quantitative Ability, Verbal Ability & Reading Comprehension (VARC) as well as Data Interpretation & Logical Reasoning (DILR).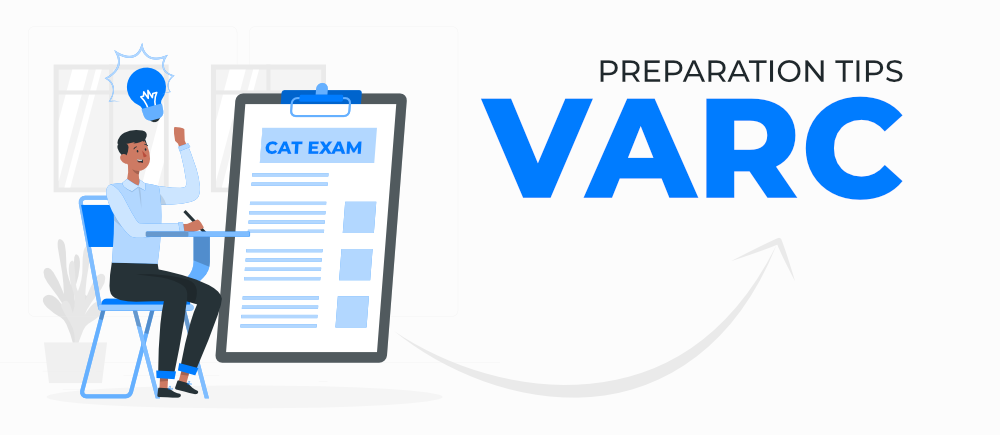 Among these sections, Verbal Ability and Reading Comprehension forms a major chunk of the CAT exam as it has 34 questions out of the total 100 questions in CAT. Also, developing good verbal skills is extremely helpful not just for acing CAT but also after admission while doing your MBA. So this article focuses on some important Preparation tips for Verbal Ability and Reading Comprehension so that you can best prepare for both the CAT exam and beyond!!!
Pattern for Verbal Ability and Reading Comprehension in CAT
To devise an overall strategy for the VARC section in CAT, it is important to first understand its overall pattern (based on CAT 2019, 2018, etc.). It is as follows:
Section
Total No. Of
Questions
No. Of
MCQ Type
Questions
No. Of
Non-MCQ Type
Questions
Total Marks
Time Allocated
Verbal Ability and
Reading Comprehension
34
26-27
7-8
34×3 = 102
60 minutes
You need to know that the exam pattern for CAT 2020 was significantly changed (due to pandemic reasons) compared to CAT 2019 and other previous years' CAT Exam. There were 26 Questions in the VARC section (instead of 34 Questions) that needed to be solved within a given duration of 40 minutes. Though, there is no such official notice has been released yet for CAT 2021 Exam.

Syllabus for Verbal Ability and Reading Comprehension in CAT
The syllabus for the Verbal Ability and Reading Comprehension (VARC) section in CAT is as follows:
Reading Comprehension
Para Jumbles | Para-Summary
Antonyms | Synonyms
Sentence Exclusion | Sentence Completion and Correction
Fill in the Blanks
Analogies | Idioms
One-word Substitutions | Error-Spotting
The most effective tips to handle all the topics in the above syllabus are given as follows:
1. Reading Comprehension
RCs form the majority of the question paper. The problem that most people encounter in this section is reading comprehensions of genres that they are not comfortable with. So, for that remember the magic word RAVAMAS: READ AS VARIED AS MUCH AS POSSIBLE. Make it a point of solving at least two RCs daily. When you finally sit for CAT solving RCs should have become muscle memory.
Try to understand that RCs are not a jumble of random words, but a flow of thought illustrated in the paper. So all you need to do is try and catch that flow. Take any scenario, like even while having a conversation you have a certain thought process which you are expressing. The trick is comprehension and not speed, understanding what is being conveyed is important. Many aspirants start reading the passage but due to lack of concentration and unfamiliar domain their mind wanders, and they are unable to retain what they have read and have to re-read it. So, what you need to master is reading without losing concentration and keeping up with the thought process of the writer.
2.Para-Jumbles
Always use elimination. If you are stuck in Para jumbles make use of all information that is provided and no it's not the sentences it's the options. Always find the combination that you know will definitely come together and then use options to eliminate the ones that don't have that combination together.
Instead of finding the entire passage find groups of lines that will come together, this way you will have chunks of that passage, which will help you view the big picture faster.
3. Summary Based questions
The tips for this section are the same as those for RCs with just a minor addition. While reading any editorial or a passage make it a point of summarizing it. What you need to do while summarizing it to include the idea, writer's opinion, what are the different ways of summarizing it. Always look for at least two different ways you could summarize the passage. Doing this activity daily will help you ace this section.
4. Sentence exclusion
Sentence exclusion is similar to solving Para-Jumbles. All you need to do is find what sentences can be grouped together and what cannot.
The second approach to these types of questions is getting the idea of the passage the sentences would form and finding the sentence that does not conform to that idea.
Some General Tips for Verbal Ability and Reading Comprehension
These are some general tips you can follow while preparing for the VARC section of CAT:
The most important tip for CAT reading comprehension is doing 2 RCs daily. For this, you can refer to any source you want.
You should remember while attempting mocks and paper, that you need not do ALL THE QUESTIONS but should only mark the answers you are confident about. This is a major problem encountered by most students. Remember, don't pick options that appear right but rather those that you know are right.
Try speed reading and don't try to attempt all the questions in an RC rather even if you attempt 3-4 questions, it would be more than enough but losing marks is not an option.
Try to get the gist of the RCs while reading it, it will help in summary-based questions and descriptive answers.
Develop a healthy reading habit, take out 30 mins of your day for reading a novel and another half to one hour (depending on your speed) to read at least the editorial section of the newspaper.
There has been a shift from questions that focus on just grammar or vocab to the ones that require reading a large amount of data, processing it, and answering questions. This is why almost all the points mentioned above focusing on improving your reading habits and English usage.
The most important difference between VARC and other sections of CAT is that this section is not about finding the right answers but rather finding the wrong ones and eliminating them. Many options might appear correct, so you need to develop logic and understand why they are wrong and not the other way around.
How to Prepare for the CAT Exam?
For the most efficient and effective preparation of the CAT exam, GeeksforGeeks brings you the CAT 2021 Preparation Test Series. This course covers all three sections i.e. Quantitative Ability (QA), Verbal Ability & Reading Comprehension (VARC), and Data Interpretation & Logical Reasoning (DILR) – and here you'll get timed tests of different difficulty levels that are designed to help in tracking both speed and accuracy. In addition, theory regarding important sections is also provided in the tracks which aid both in concept building and revision.
The course consists of 27 Sectionals Tracks, 27 Sectional Contests, and 3 Full-Length Mocks, and let us tell you that both the tracks and the contests assess you on three levels of difficulty to help you prepare for the question of any difficulty level you might face in the examination.

The CAT 2021 Preparation Test Series is being provided to you at a student-friendly price, INR 499/- Also, you'll be provided with a detailed explanation after the test completion for all the required questions. It will surely help you in clearing the doubts and improving your problem-solving skills.
You are just a click away to level up your CAT 2021 preparation game – register now for the CAT 2021 Preparation Test Series asap!!
My Personal Notes
arrow_drop_up