On-Campus vs Off-Campus Placements – Which is Better?
You enter college with lots of dreams and ambitions. There, you explore your interests, gain skills, learn fundamentals, and implement those in your projects. After completing graduation, now comes the time when you will be going to experience a transition in your career i.e., entering into the corporate world. But before this, you should have a placement offer in your hand.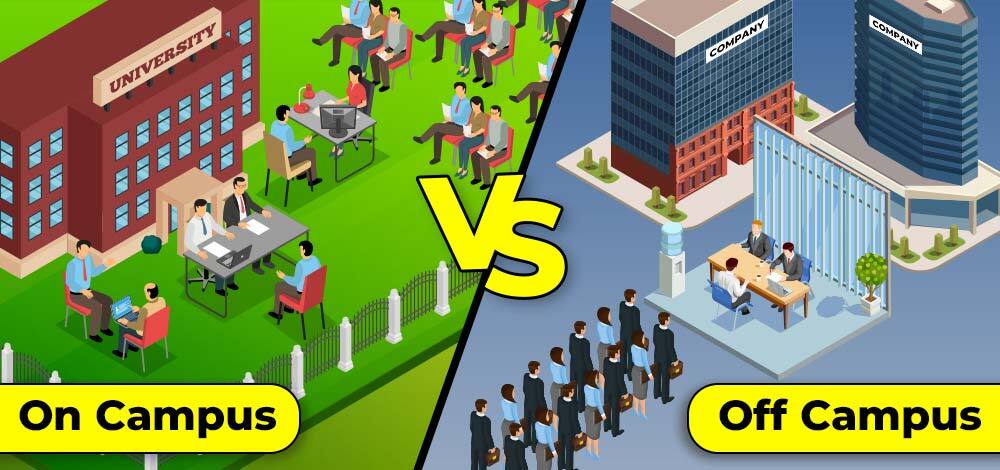 There arise several questions such as, Will I get placed or not? What's the process for placement?
Getting placement is a process in which you apply for companies, give test rounds, and get selected or rejected based on your test. Placements are categorized into two types: On-Campus or Off-Campus Placements. Both have their own benefits and drawbacks as well.
But before this, let's understand the difference between On-Campus and Off-Campus Placements. This article will help you understand their benefits, and preparation tips, and also will help you in being clear with the confusion.
Must Read – Placements (On-Campus, Off-Campus, and Pool Campus)
On-Campus Placements
On-Campus Placements have their own charm and every student wishes to get one. On-Campus placements are those placements held in the college where colleges connect with companies, visit them, and perform mass recruitment by conducting various rounds. The rounds include:
Group Discussions
Aptitude and Technical Round
Interview Rounds (Technical followed by HR)
Although these rounds aren't fixed, they vary from company to company. Some companies have all the rounds whereas some omit a few rounds. On-Campus placements are not easy to crack. Colleges perform this to have a 100% placement record since nowadays students choose college after seeing the placement record which is worthy. After spending lakhs of rupees, everyone wants to have a decent job without any hustle. College's placement cell is responsible for the placements and invites top companies and asks them to hire students by conducting various interview rounds.
Pros of On-Campus Placements
Saves time and effort: On-Campus placements offer jobs to deserving candidates. It helps you in saving time and also you don't have to wander in search of a job. Colleges are held responsible to connect with companies and ask them to hire candidates based on skills they have. You don't have to go through the long process of submitting a resume and waiting for the interview dates. All the interview rounds are pre-fixed, your responsibility is to get all the rounds cleared and secure a job. Since all these responsibilities are taken care of by the college, hence, all your time, effort, and money are saved.
Assured Placement: Generally, in On-Campus placements, companies have a target to hire maximum candidates and that's why mass hiring takes place. The placement cell coordinates with the recruiters, arrange the interview dates, and does all the formalities. So, if you have the required skills and a string base, your placement is sure. Your resume should have the required skills by the company and your placement is for sure. Also, if your college has a high reputation, companies get attracted and visit it for recruiting.
Less Competition: When you sit for an on-campus placement, it is sure that competition is less where you have to compete with hundreds or maybe thousands of students of your college. Unlike, off-campus placements in which lakh of students apply, where the competition is high and thus your chance of getting an offer is less. Here, the chances of getting placed are inversely proportional to competition.
Good Academic Performance: If you're a rank-holder or one who has a good academic background, the chances of getting hired become high. Companies look for candidates who have good academic records.
Cons of On-Campus Placements
Limited Companies: You have to apply to those companies which visit your college. The count may be 5-6 companies. In this case, you can not explore much and get limited to a few companies. This may also result in getting a low salary package.
Partiality: Partiality happens in colleges where top companies visit colleges like IITs or privately owned ones whereas in some cases big MNCs don't visit tier 3 colleges which reduces the chance of good placements for skilled candidates. Candidates having desired skill sets couldn't get placed with higher packages due to this partiality.
Do read some of the interview experiences:
Off-Campus Placements
If you have missed the chance of landing your dream job, off-campus will help you acquire one. Off-Campus Placements are placements that are held outside colleges. In this, the process involves
Applying for the companies by going through their official websites career page
Applying for the desired job by filling out the form (contact details and resume)
Waiting for the response through the mail (Mail has details of the interview rounds and dates)
After you clear all the rounds, a confirmation mail with the attached offer letter
Now, the journey begins
You can also apply for jobs using multiple platforms such as LinkedIn. Don't forget to check out GFG – Hiring Portal which helps you to filter jobs as per your need.
There're some major drawbacks to this placement type such as you don't get rejection mail and also after filling out the form, you may have to wait months and months for the company's response.
Off-Campus placements come to the rescue for those who couldn't get a job in on-campus placement. Although off-campus placements hold the second position after on-campus, still some students who search for a particular job role, go for off-campus placements. Having a tech resume is a must. It is not required but having a strong connection on LinkedIn adds a plus point to your path.
Pros of Off-Campus Placements
Options are diverse: When you go for off-campus placements, you get diverse options unlike on-campus where companies and their roles are prefixed. Based on the skills or expertise you have, you can choose the designated role and also the company you want to work for. For this, you have to stay updated with the latest hiring and job openings.
Exposure: Off-Campus placements help you to go beyond your comfort zone. No spoon-feeding is entertained, you have to take the first step and connect with companies. The best way to do this is to connect with the CEOs of the companies on LinkedIn which helps you in getting great exposure. You try to communicate with people which helps you in understanding the outside world.
Gaining Confidence: When you go through various phases while hunting for a job, it's a unique experience. It builds your personality and eventually, you develop self-confidence which will definitely help you in your career when you enter the corporate world. Also, you gain wide knowledge, a feeling of self-pride, and experience immense satisfaction.
Negotiation: Although, some companies during on-campus placements entertain negotiation but majorly don't. Whereas off-campus placements give you the opportunity to negotiate the salary, date of joining, and other factors.
Cons of Off-Campus Placements
More Efforts: You have to put effort constantly, being updated about the tech world, and hiring and openings of the job role. After your daily search, you get to find a few jobs for which you apply.
High Competition: Unlike On-Campus where you compete with hundreds of candidates, here you have to compete with thousands of candidates who are brilliant. So, the chances of getting placed are low.
Be it off-campus or on-campus placements these 10 Tips and Tricks For Placement Interviews will explain some of the key factors you should know to experience a smooth interview.
Also, go through the below-mentioned guides in order to get a happy placement

Do check out Complete Interview Preparation – Self Paced course to be industry ready with all the tech and non-tech skills.
Both will land you in your dream job. Both have the same final destination, but the way to achieve is different. Also, both of them have their own advantages and disadvantages as well.
My Personal Notes
arrow_drop_up