Numerify (Digital.ai) Recruitment Process
This article will give you information about the company, its recruitment process, sample questions that have been asked previously, lots of experiences shared by other aspirants, and the portal where you can apply.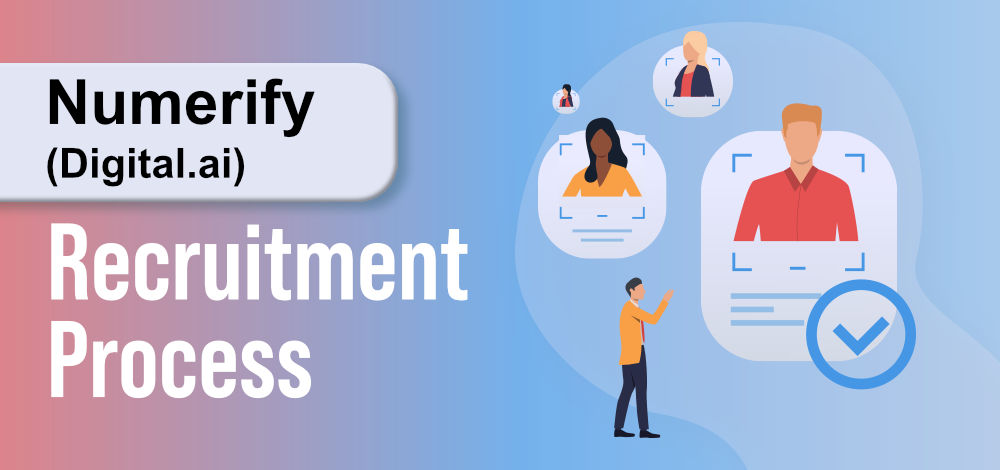 About to company:
Numerify is now Digital.io. Digital.ai is an industry-leading tech company dedicated to helping 5000 global enterprises achieve their digital transformation goals. Throughout the software lifecycle, the company's AI-powered DevOps platform provides integrated, secure, and predictive insights. Digital.AI gives organizations the tools they need to grow their software development teams, consistently deliver software with high quality and security, find new market opportunities, and boost corporate value through sensible software investments.
Recruitment Process:
Round 1: Written Test
Round 2: Coding Test
Round 3: Technical Interview
Round 4: HR Round
Eligibility Criteria: Bachelor's and/or Master's degree in computer science or equivalent experience.
Written Test: This round is in 2 parts: The Aptitude test and the Technical test. Verbal Ability, Quantitative Aptitude, and Logical Reasoning include the topics asked in the Aptitude section, and the technical section in C/C++, Data Structures, as well as Networking, Operating Systems, and DBMS.
Tips: There are no basic aptitude questions asked in the test but it's not hard you just need to be familiar with it. so strong your aptitude on General Aptitude.
Coding Test: ask 2-3 easy to medium-level coding problems.
Tips: Practice on practice.geeksforgeeks.org and Make your DSA strong.
Technical Interview: In this round, the interviewer will ask you questions on OOPs concepts, IN, DBMS, SQL, puzzle problems, and coding problems. Discussion on previously performed projects and scenario-based questions.
HR Round: Common HR questions and general discussion
why Numerify(Digital.io)?
Do you have done any internships?
Tell me about the gap in your resume.
what can you contribute to this company?
salary expectation.
Interview Experience: It is always beneficial if you know what it is to be there at that moment. So, to give you an advantage, we provide you with the Interview Experiences of candidates who have been in your situation earlier. Make the most of it. To check all types of interview experiences please go through Numerify.
Questions Ask in Numerify(Digital.io):
Where to apply:
My Personal Notes
arrow_drop_up