jQuery Cheat Sheet – A Basic Guide to jQuery
What is jQuery?
jQuery is an open-source, feature-rich JavaScript library, designed to simplify the HTML document traversal and manipulation, event handling, animation, and Ajax with an easy-to-use API that supports the multiple browsers. It makes the easy interaction between the HTML & CSS document, Document Object Model (DOM), and JavaScript. With the help of jQuery, the multiple lines of code can be wrapped into methods, which in turn, can be called with a single line of code to perform a particular task. This, in turn, jQuery makes it easier to use Javascript on the website, along with enhancing the overall performance of the website.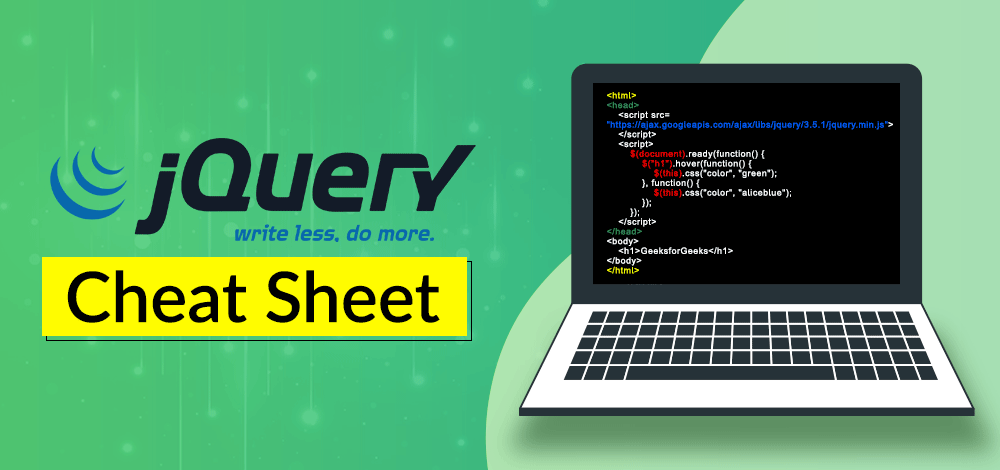 What is jQuery Cheat Sheet?
The jQuery Cheat Sheet will give quick ideas related to the topics like Selectors, Attributes, Manipulation, Traversing, Events, Effects & many more, which will provide you a gist of jQuery with basic implementation. The purpose of the Cheat Sheet is to provide you with the content at a glance with some quick accurate ready-to-use code snippets that will help you to build a fully-functional webpage.
Table of Content
jQuery Basics: jQuery is a lightweight, feature-rich Javascript library that helps to simplify the overall complexity of the code by implementing the Selectors, Attributes, Events, Effects, etc, with the use of the required API to perform the particular task.
CDN Link:
<script src="https://ajax.googleapis.com/ajax/libs/jquery/3.5.1/jquery.min.js"></script>
jQuery Selectors: The selector in jQuery is a function that selects nodes i.e. elements from the Document Object Model. In simple words, it is a function, that is used to select/manipulate one or more HTML elements using jQuery. The list of selectors with their basic description & syntax is given below:
jQuery Methods: The methods in jQuery can be utilized to set or return the DOM attributes for the specific elements. The list of methods with their description & syntax is given below:
jQuery Manipulation: The different kinds of methods in jQuery can be used to manipulate the DOM. These methods can be categorized in 2 ways, namely:
Setters: In this case, some kinds of methods can be used to simply change the attributes of an element, whereas other kinds of methods set the element's style properties. There are still a few other kinds of methods that can be used to modify entire elements or groups of elements themselves, by inserting, copying, removing, and so on, in order to change the values of properties.
Getters: In this case, few of the methods which acts as getter, such as .attr(), .html(), and .val(), etc., can be utilize to retrieve the information from DOM elements for further use.
The list of methods used for manipulates the DOM is given below:
jQuery Traversing: In jQuery, traversing means moving through or over the HTML elements to find, filter, or select a particular or entire element. Based on the traversing, the list of following methods is given below:
jQuery Events: Event refers to the actions performed by the site visitor during their interactivity with the website (or webpage). An event can be any of the types which may include the button clicks, mouse pointer movement over the image, any key pressed from the keyboard, etc. The list of the following events with their descriptions is given below:
jQuery Effects: There are several techniques through which the animation can be implemented on a web page, which are facilitated by the jQuery library. These may include simple or standard animations to customize with sophisticated custom effects. There are various jQuery Effects that can be implemented to customize the effect, which is listed below:
jQuery AJAX: The jQuery library provides various methods & functions for AJAX functionality that allows the loading of the data from the server without refreshing the browser page. AJAX operates on the client-side for creating asynchronous web applications. There are some of the jQuery AJAX methods that are used to request text, HTML, XML, or JSON from a remote server using both HTTP Get and HTTP Post, which are listed below:
jQuery Core: jQuery facilitates the DOM Element Methods, properties, utilities, jQuery Object, Deferred Object, Callbacks Object, etc, to add the functionalities with customization options that help to enhance the overall interactivity of the website. The list of various methods and properties with their descriptions is given below:
jQuery is an open source JavaScript library that simplifies the interactions between an HTML/CSS document, or more precisely the Document Object Model (DOM), and JavaScript. You can learn JavaScript from the ground up by following this jQuery Tutorial and jQuery Examples.
We have a similar cheat sheet to help you with HTML, CSS & JavaScript concepts as well. Check it out here HTML Cheat Sheet, CSS Cheat Sheet & JavaScript Cheat Sheet.