ISRO SC/Engineer Recruitment for CS Students – Eligibility, Exam Pattern, Syllabus
ISRO, an Indian Space Research Organization, was formed in 1969 and headquartered in Bangalore. ISRO is concerned with the Research and Development activities in the development of Space Application, Space Science & Technology and to design and build Launch Vehicles and Communication/Remote Sensing Satellites. The organization is one of the premier organizations of India and comes up with various worthwhile career opportunities regularly. And among all these career opportunities, one of the most recommended for all Computer Science graduates is Scientist/Engineer 'SC' Recruitment. If you're looking forward to making a career in the Government sector, you are strongly recommended to go for the ISRO Scientist/Engineer 'SC' Recruitment.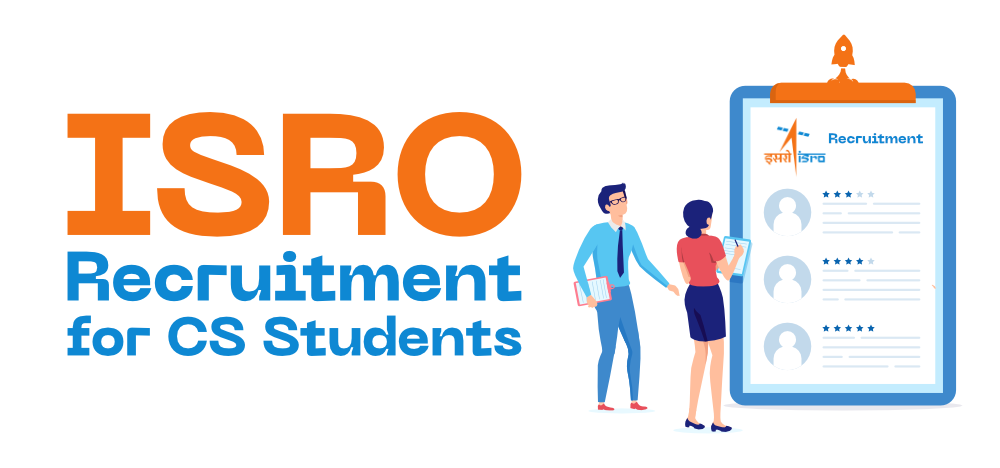 Exam Conducting Body: ISRO Centralized Recruitment Board (ICRB)
Type of Job: Central Government Jobs
Website: www.isro.gov.in
Now, let's take a look at all the details and specifications of ISRO Scientist/Engineer 'SC' Recruitment:
ISRO Scientist / Engineer Job Profile
Involves developing, designing, and testing of different systems that will be used in ongoing or future projects of ISRO.
Reporting of day to day activities to the higher authorities.
Based on the project allocated, one has to conduct experiments and research work on a daily basis.
Manage and guide the subordinate staff, etc.
Pay-scale and Perks
The candidates recruited as a Scientist/Engineer 'SC' will receive the Level 10 of Pay Matrix and will be paid minimum basic pay of Rs. 56,100 per month. Furthermore, you will also get Dearness Allowance (DA), House Rent Allowance (HRA), Transport Allowance, etc. additionally. Apart from the above-mentioned benefits, some additional benefits such as Leave Travel Concession, Free Medical Facility, Pension & Provident Fund, House Building Advance will also be provided as per Central Government orders.
Eligibility Criteria & Exam Dates
Though ISRO Centralized Recruitment Board (ICRB) has not released the notification for Scientist/Engineer 'SC' Recruitment yet, however considering the previous year recruitment process, let's take a look at the eligibility criteria and expected exam dates for ISRO Scientist/Engineer 'SC' Recruitment 2021:
Eligibility:
The maximum age allowed 35 years and the minimum age for applying is 21 years.
BE/B.Tech or equivalent qualification in first class with an aggregate minimum of 65% marks or CGPA 6.84/10
Those who are in their final year can also apply for the examination but on the condition that they will submit their final degree by July 31 of the exam year and attain at least 65% marks or CGPA 6.84 on a scale of 10.
Exam Dates:
ISRO Application Form Release Date: 2nd week of October 2020
Deadline to submit the Application Form: 1st week of Nov 2020
ISRO Exam Date 2021:- 2nd week of Jan 2021
Result Announced – Feb 2021
Selection Process
The ISRO Scientist/Engineer 'SC' Recruitment selection procedure is divided into two stages: Written Test and Personal Interview.
After the form is submitted, the exam conducting authority will invite the aspirants for the written test.
The written test is only the first-level screening and the score obtained in the written test will not be counted for the final selection process.
Based on the performance in the Written Test, students will be short-listed for the next level i.e., interview.
The final selection will be made on the basis of the performance of the candidates in the Interview.
The candidates who will score a minimum of 60% marks in the interview will be eligible for consideration for empanelment in the selection panel, in the order of merit.
Exam Pattern
The question paper will have 80 questions overall.
Candidates are required to complete the entire paper within one and a half hours.
ISRO Scientist Engineer Recruitment Questions will be of objective type.
Every candidate will get 3 marks as a reward for the correct answer and a deduction of 1 mark for an incorrect answer.
Syllabus
There is no syllabus officially released by ISRO but as per the previous year's papers, the syllabus is mostly similar to that of GATE. Some of the most important topics are listed below:
Data Structures and Algorithms
C language
Operating System
DBMS
Computer Networks
Compiler Design
Theory of Computation
Digital Logic Design
Engineering Mathematics
Discrete Mathematics and Graph Theory
Software Engineering
Network Security
Web Technology
The level of questions is similar to GATE. Moreover, many times ISRO has repeated the previous year gate questions so, practice gate questions of last 10-15 years. Also, as accuracy plays a great role, so practice as many questions as possible. Try to give mock tests and keep track of the time you are investing in each question. All the topics are equally important. ISRO asks questions from almost all of these topics. So try to cover the entire syllabus.
Tips for Interview
Prepare for all the above-mentioned computer science subjects pretty well.
Do not ignore subjects like Software Engineering, web technology which are not asked in GATE, but they may be asked here.
One question is always from Programming Languages. When asked for a programming language, always tell that language in which you are most comfortable. It is not the case that if one tells Python or Java, he/she will be in an advantageous position.
Study your B.Tech project deeply. You must know the concepts behind it and its applications.
One more important point is that be confident and honest with your answers. Also have basic knowledge of ISRO's future projects, ISRO annual budget, founder of ISRO, etc. You may also be asked about your current employment and why you want to join ISRO.
My Personal Notes
arrow_drop_up