Since its conception, the Internet of Things has been effectively employed by a variety of sectors to manage their operations and provide services to their customers. IoT has found applications in a wide range of activities, leading to the development of different paradigms based on the type of data sources, devices, and peripherals, as well as the applications they support. In this part, we'll go through a few of these topics and their associated IoTs.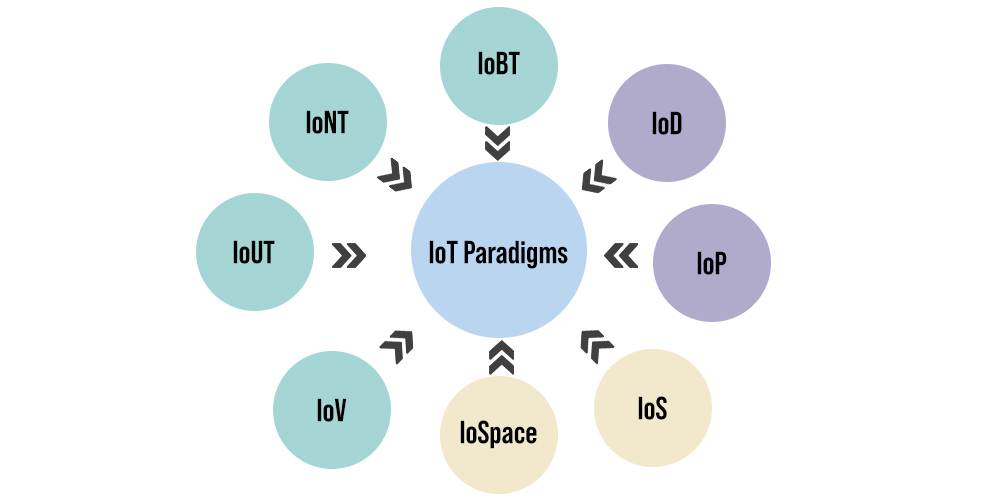 1. Internet of battlefield things (IoBT):
This category is in charge of linking troops to the Internet of Things. IoBT researchers want to create a suite for soldiers that includes implanted biometric and location sensors. The data from these sensors helps soldiers to maintain track of their troops and exchange information on enemies, putting the entire squad on the same page. Furthermore, sophisticated analysis based on machine learning algorithms allows for the development of superior tactics in real-time. However, there are certain drawbacks to IoBT, most notably energy restrictions and data rates. Soldiers must send large amounts of data quickly, necessitating the efficient use of bandwidth and battery power.
2. Internet of Drones (IoD):
It aims to improve the user experience while reducing user interaction. The deployment and management of unmanned aerial vehicles fall within the IoD category. IoD is used by service providers for a variety of purposes, including package delivery, animal surveillance, rescue operations, agriculture, photography, and more. Developers must, however, cope with operating drones in regulated and uncontrolled airspace, as well as dictating navigation coordinates. Developers must integrate air traffic control networks, cellphone networks, automation, and the Internet to ensure that IoD runs well.
3. Internet of People (IoP):
The Internet has a variety of profiles that represent people, as well as interwoven ties that serve as relationships between them. These peer-to-peer networks are connected through the Internet of Things (IoT). Social graphs are widely used in social computing research for representation and inference. Direct device-to-device, person-to-person, and company-to-person interactions are all made possible by IoP compatible apps. IoP also expands the potential for crypto-currency to be used as a way of transferring incentives/payments in exchange for services. Such frameworks make it easier for service providers and customers to communicate. IoP also provides a platform for making safe and transparent payments.
4. Internet of services (IoS):
This category is for manufacturers and service providers, that is, the manufacturers and service providers. industries. Manufacturers may now combine hardware and software under the IoS umbrella. For example, a car manufacturer may construct a vehicle with sensors already installed. They will subsequently be released. To improve the user experience, software updates are delivered through the Internet. Furthermore, this approach provides the door for crypto-currency to be used as a payment mechanism. Factory monitoring, sensing, and actuation are all examples of IoS applications units, as well as the generation of remote alarms in the event of an emergency. IoS also reaches out to smartphones with multitasking capabilities.
5. Internet of space (IoSpace):
For providing seamless connectivity services over uneven demographic areas, this category of IoT relies on low earth orbit (LEO) satellites. However, such satellites have drawbacks in terms of development and deployment costs, as well as loss due to orbital failure. These satellites have the potential to significantly reduce network latency.
6. Internet of vehicles (IoV):
This type of IoT is in charge of communication between smart connected vehicles, which is usually done via vehicular ad-hoc networks (VANETs). Smart vehicles are equipped with a variety of sensors, such as cameras, GPS, infrared, and others. These vehicles can communicate with other vehicles, their drivers, roadside units (RSU), and other mobile and fixed infrastructures thanks to the Internet of Vehicles (IoV). Intra-vehicle, vehicle-to-vehicle (V2V), vehicle-to-infrastructure (V2I), vehicle-to-cloud (V2C), and vehicle-to-pedestrian (V2P) communication are all supported by IoV. Despite the fact that IoV faces a number of challenges related to mobility, changing states, and dynamic signal quality, it has a number of benefits.
7. Internet of underwater things (IoUT):
The goal of this IoT category is to connect underwater sensors and communication infrastructure to the Internet on the surface. Sensor nodes in the Internet of Things are smart devices that are typically powered by batteries. They're also much smaller than traditional sensors and can communicate wirelessly using acoustic signals.
8. Internet of nano things (IoNT):
The interconnected systems in the Internet of Things, which typically include a combination of sensors and actuators, can be miniaturized to nanometer-scale devices. Miniaturized sensors in vehicles, as well as those responsible for environmental monitoring, are examples of these devices, which are application-specific and take up very little space.
My Personal Notes
arrow_drop_up