Internet Administration is basically a group that coordinates and guides the Internet with its growth and development. It makes sure that all the protocols are followed by the devices and network for the smooth functioning of the internetwork. Some of the organizations that overlook the growth and development of the internet are –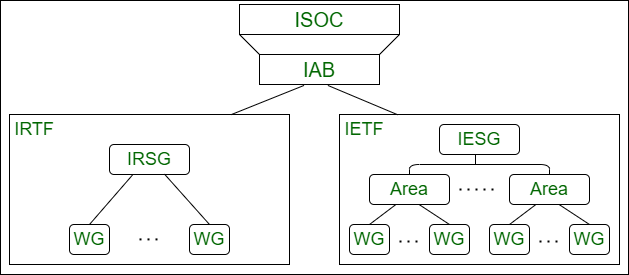 Internet Society (ISOC) :
An international, non-profit organization, ISOC formed to provide support for the Internet standard process accomplishes its goals by maintaining and supporting other Internet administrative bodies such as IAB, IETF, IRTF, and IANA. It also promotes research and other activities relating to the Internet.
Internet Architecture Board (IAB) :
The technical advisor to the ISOC, the IAB's main purpose is to oversee the continuing development of the TCP/IP Protocol Suite and to serve in a technical advisory capacity to research members of the Internet community, which is accomplished by its two components, the Internet Engineering Task Force (IETF) and the Internet Research Task Force (IRTF). Additionally, IAB is also the editorial manager of the RFCs and is the external liaison between the Internet and the other standards, organizations, and forums.
Internet Engineering Task Force (IETF) :
Managed by the Internet Engineering Steering Group (IESG), the IETF is a forum of working groups responsible for identifying operational problems, proposing solutions to them, and developing and reviewing specifications intended as Internet Standards. The groups are collected into areas, like, applications, routing, security, protocols, and network management, and each area concentrates on a specific topic.
Internet Research Task Force (IRTF) :
Managed by the Internet Research Steering Group (IRSG), the IRTF is a forum of working groups focusing on long-term research topics related to Internet protocol, technology, applications, and architecture.
My Personal Notes
arrow_drop_up