How to Run Android APK on Windows?
As we all know that the new Windows 11 has arrived. It is a very special version of Windows because it allows us to sideload our applications and games from other devices like Android phones. We can now run these APK files on our Windows devices easily. For that purpose, we require a special type of application known as the APK Installer on WSA.
WSA stands for Windows Subsystem for Android (WSA). It allows the users to sideload various Android apps on their Windows devices. It allows this by creating a virtual machine engine on their Windows device that installs these APK files first. The APK Installer takes the APKs of the popular applications and games through the Amazon Webstore which also contains the Android format-based APK applications. Then it converts these APK files through virtualization into the virtual machine engine so that can run on the Windows device. It is only supported on the latest version of Windows 11 and Microsoft Store.
Installing APK Installer on Windows
Follow the below steps to install APK Installer on Windows:
Step 1: Visit the official website of APK Installer using any web browser like Google Chrome, Microsoft Edge, etc.
Step 2: Press the "GET" button on the website to start the download of the APK Installer Application.
Step 3: It will then automatically re-direct you to the Windows Store App by Microsoft for the Windows device and the download will start in the background.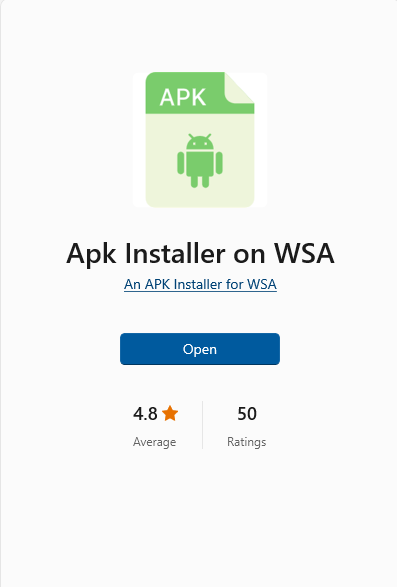 Step 4: After the download gets finished, the APK Installer app will get installed within 2-3 minutes. It will then show up on the all programs list of the Start menu.
Step 5: Then open the APK Installer application. This app works with the latest version of the Microsoft Windows Store to install Android-based APK Files to be installed on a Windows device.
Step 6: Then click on the Open APK file option by choosing the appropriate games or applications that you want to install the Android-based applications on. It shows you the list of the supported recommendations of these APK files which are available on the Play Store on Android only.
Step 7: Then it will show you a dialog box to enter the file name and the location where you want to install that APK file on your device. Enter the file name and click on the Open button. Then it will download that APK file via Amazon Store which supports Android and then show it you to install it on your Windows device. Click on "GET" of that selected application from the Installer to install the APK files on your Windows device.
Congratulations!! At this point, you have successfully installed the APK application on your Windows device.
My Personal Notes
arrow_drop_up