How to Prepare For Campus Placements?
The moment you enter college, the very first thought which comes to your mind is getting a good placement in one of the top companies. There was a time when Tier-1 and Tier-3 colleges had differences when it comes to companies doing on-campus placements as the priority was given to Tier-1 colleges mostly. But now, things have changed a lot and anyone can apply to any company provided they fulfill the criteria and have the required skills. Getting placed in big MNCs (be it product-based or service-based) is a dream come true for students. According to a report in 2021, more than 76% of the students were placed during COVID.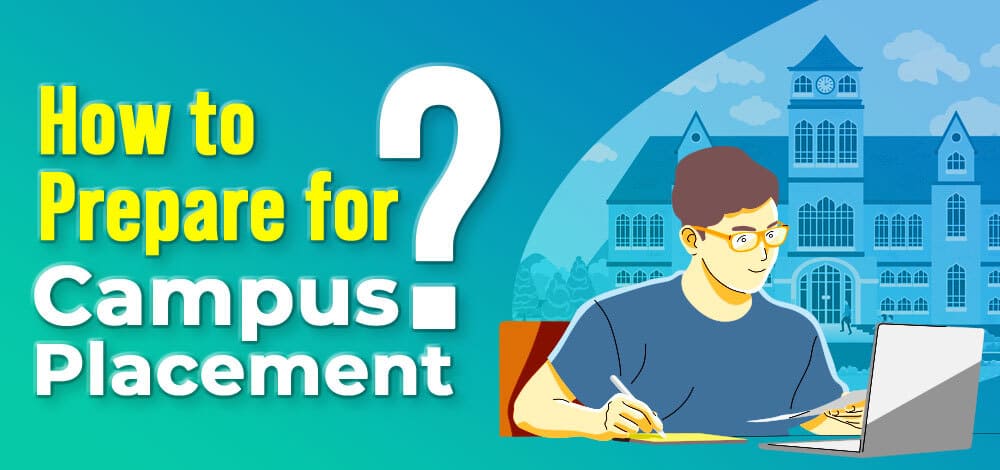 All of us have that one dream company for which we want to work for. Since placement season is on the way, let's know about some of the important preparation methods you can follow for getting your dream company.
Let's understand what Campus Placement means –
What is Campus Placement?
Campus Placement refers to the activities held at colleges/universities to hire young talents and provide them with job opportunities. In this process, companies visit colleges and hire candidates who clear all the rounds (Aptitude, Coding, Technical Interview, and HR Interview) with a good score.
Also, there are 2 types of companies:
Product-Based Companies: Google, Amazon, Microsoft, Facebook, etc.
Service-Based Companies: Accenture, Infosys, Mindtree, TCS, Wipro, etc.
You can also read Interview Experiences of different Product-Based and Service-Based Company and prepare yourself in a better way.
Now, when you are all clear about placements, it's good to know the types of placements
What are the Types of Placements?
On-Campus Placement: In this placement type, colleges invite companies during the final year of the graduation program and companies have their interview process done to hire candidates.
Off-Campus Placement: In this placement type, colleges are not involved in the hiring process. Students could directly connect with companies, and the interview process is done by getting their resumes shortlisted.
You can also check out Get Hired with GeeksforGeeks to apply for different companies as per your qualification and different criteria.
Let's move ahead reading about all steps involved in the hiring process.
1. Shortlisting or Aptitude
Shortlisting Resumes: Often, Product-Based Companies shortlist candidates by having a look at their resumes. A perfect resume with all the required details paves the way to your booming career. Don't have one? Free Online Resume Builder By GeeksforGeeks – Create Your Resume Now! will help you in creating one which every company looks for.
A perfect resume must contain wonderful projects. Haven't Created One? No Worries! Here's a collection of Computer Science Projects you can check and start building projects.
Aptitude Round: Generally, Service-Based Companies conduct this round to check the problem-solving ability of a candidate, where questions related to mathematics, logic building, and grammar are asked. It provides the employer with a greater insight into the capability of the candidates.
2. Coding
The next Round is the Coding round where participants are asked to solve 3-4 coding questions using any programming language (C++, Python, and Java). In this round, there's a time duration of one and a half or two-hour to solve given coding questions in an online compiler.
Also, if you're someone who has not started coding yet, have good command in any one programming language C++, or Python. Java.
Self-Paced Courses By GeeksforGeeks
When we talk about coding or technical round for interviews, DSA can't be ignored. To begin with DSA, Data Structures, and Algorithms – Self-Paced has quality content and is worth learning about. Once you gain the basics, the Complete Roadmap To Learn DSA From Scratch. is the roadmap which helps you with the step-by-step procedure.

Solve questions based on questions asked in companies, based on topics, and also difficulty-level using GeeksforGeeks Practice Portal.
3. Technical Interview Round
Next is Technical Interview Round, followed by the coding round where participants are asked questions related to technical concepts such as:
They are even asked to code some basic questions and the interviewer checks how well-optimized the code is.
4. HR Interview Round
When you're done with all rounds, the HR round is the final one which is all about a formal conversation where the interviewer checks your confidence level and fluency in speaking. If you're still confused, you can check out this article – How to Prepare for HR Interviews.
Do check out Complete Interview Preparation – Self-Paced where you'll get 360-degree preparation for your placements.
Important Resources
My Personal Notes
arrow_drop_up