How to Prepare for AWS Certification Exam?
Have you ever thought of earning the renowned AWS Certifications but then postpone or drop the plan just because of lack of awareness or guidance?
Undoubtedly, AWS Certifications are one of the most preferred and demanding criteria by the companies while recruiting for Cloud Professionals. If we go with the numbers, the AWS market is all set to reach around $250 Billion by the year 2021 (quite impressive!!). And with the same concern, students as well as working professionals aspire to earn this certification to advance their professional careers. But once they start their preparation for the certification exam, they find various questions in their mind such as: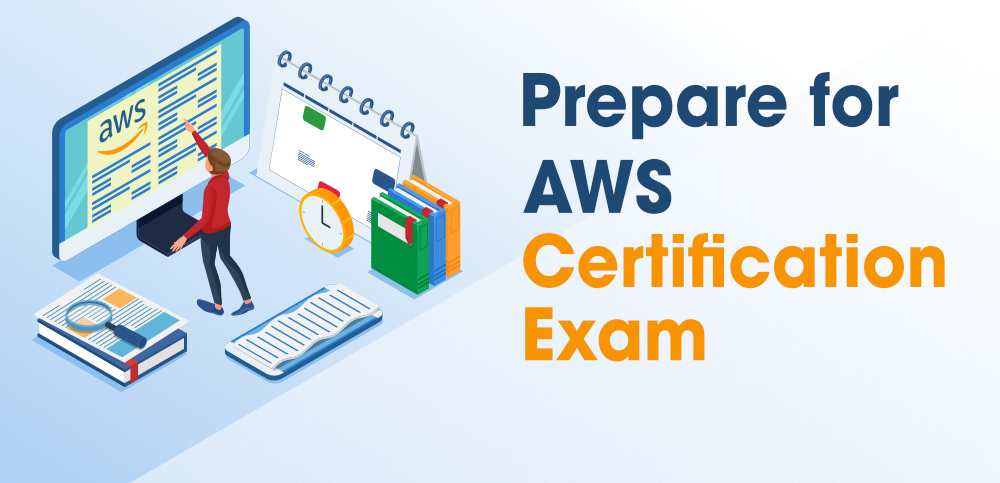 Which AWS certification should I choose?
From which resources should I prepare?
How to get practical exposure? and many more.
However, it is quite normal to have these questions juggling in your mind and to overcome this barrier you're required to have a worthwhile strategic-plan for your AWS Certification Exam preparation (that we'll discuss in this article!!). But before moving further, you must know that Why should you earn AWS Certification? AWS Certifications not only helps you to validate your expertise in the cloud skills but also gets you several worthwhile career opportunities in big tech giants. Moreover, it also helps you to connect with other individuals through AWS Certified community and comes up with various other worthwhile benefits such as Subject-Matter Expert (SME) Program, AWS Partner Network (APN), and many more.
Here, in this article, we'll take a look at step-by-step approaches that will help you to prepare for the AWS Certification more conveniently & efficiently and to get success as well:
1. Know Everything About the Required AWS Certification Exam
First and foremost, you need to explore and know everything about the particular AWS Certification Exam. You can start it by picking out the relevant role-based learning path such as Cloud Practitioner, Architect, Developer, and Operations along with the particular expertise level like Foundational, Associate, Professional, and Specialty as per your preferences and requirements. Furthermore, you need to know about the curriculum of the targeted certification exam along with various other crucial aspects such as exam format, time duration, exam cost, etc. You're recommended to use the official exam guide offered by AWS on its website to get the accurate syllabus and other information for the exam.
2. Learn the AWS Concepts & Skills
Once you'll get done with the above-mentioned process, now you're required to learn the AWS concepts and skills to prepare yourself for the certification exam. You need to have a thorough understanding of the concepts to get success. You can start the learning process in various ways, some of these are mentioned below:
Join Online Training Courses: You can enroll yourself for any renowned online AWS course or training program to prepare for the exam. The course will guide you and cover the entire syllabus for the exam in a more structured and organized way. Moreover, AWS also offers the training modules for preparation purposes however, you must note that any type of training course or program is not mandatory for the certification exam.
Read Most-Recommended Books: Indeed, books are the best way to learn fundamentals as well as advanced topics. Hence, you're recommended to pock out several worthwhile books for the AWS Certification preparation. Some of these most-recommended books are – AWS Certified Cloud Practitioner Study Guide, AWS Administration Cookbook, Amazon Web Services in Action, and many more.
Use Official Resources such as AWS White Papers, FAQs, etc.: You're also recommended to opt for the official resources and preparation materials like white papers, sample questions, frequently asked questions, exam guides, etc. for the AWS Certification preparation. The best part about these official resources is that you can get them at zero cost i.e. Free from the AWS official website.
3. Hands-On Exposure on AWS Labs
Now, let's take a step forward in the AWS Certification exam preparation process. You need to gain some practical exposure and hands-on experience with the AWS working environment. You can create an AWS free tier account and practice your skills and services such as EC2, S3, IAM, etc. with the AWS console. The practical exposure is also necessary while preparing for the AWS Certification exam as a majority of the questions asked in the exam are based on practical & implementation-based scenarios. Hence, it will surely boost your exam preparations as you'll get a chance to implement your knowledge and learnings in a real-time environment.
4. Solve Practice Papers
It is one of the basic, yet most underrated aspect of the AWS Certification exam preparation. You're required to solve the maximum number of practice papers to become familiar with the exam format and the type of questions generally asked in the exam. It also helps you to analyze your preparation level for the certification exam. You can get practice papers for AWS Certification exams from various online or offline resources. Moreover, AWS also offers practice papers for all learning paths and level that you can get from your AWS Certification Account by paying a specific amount. And yes, you'll get a score report email with relevant feedback after the completion of the AWS Certification practice exam.
5. Join Relevant Discussion Forums
Last but not least – you're recommended to join several prominent and worthwhile discussion forums to reach out to other students and professionals as well that can help you in resolving your queries and doubts. These discussion forums also help to create a healthy competitive environment among the candidates and you can discuss your preparation strategies, topics, etc. with each other to find something more fruitful. You can also get various study resources and other crucial insights regarding the AWS Certification exam from such discussion forums. Although, you must keep in mind that don't spend too much time on such discussion forums as it may have a negative impact too on your preparation.
So, this is the pathway that you need to follow to prepare for the AWS Certification exam. However, it is quite true that earning an AWS Certification is not that much easy and it requires a lot of hard work and dedication from your side to pass these exams but it is worth to achieve as you'll not only become eligible for various ravishing career opportunities but will also get the preference by the employers. Now, what are waiting for? Prepare yourself, schedule the exam, and get the most-renowned AWS certification to advance your career!!
My Personal Notes
arrow_drop_up