How to Install MySQL on MacOS?
MySQL is an open-source database managing system. It is used for implementing databases. For any website or any other application, there must be some database required. This database is a type of server. You can implement a database & connect it to the server. It will help to extract data from the database using quarries. It is the same operation as we do in SQL query language. We can add, access, format data in the table of MySQL.
Feature:
It is open source and easy to download and install.
It is a very fast database language.
Implementing a database and using is very simple.
It can be installed in any operating system.
Installing MySQL on macOS
To install MySQL on macOS follow the following steps
Step 1: Go to the official website of MySQL using any browser and Scroll down there you will find the following link.

Step 2: Then click on the MySQL Community Server link.
Step 3: If you are using the latest machine, then simply you can click download there. But if you are using an older machine then go for archives. As my machine is an older one I have to move to Archives.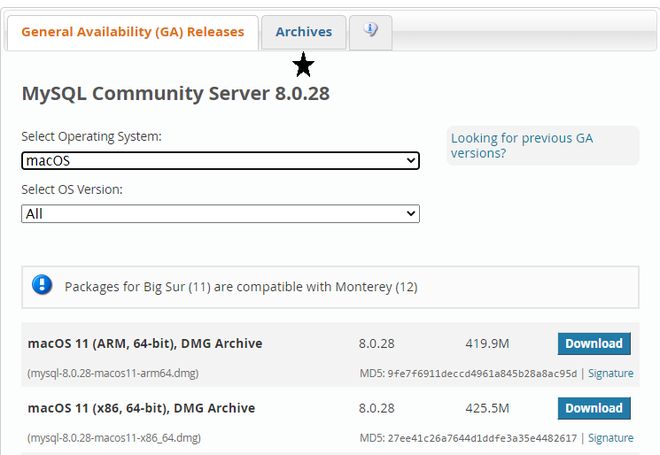 Step 4: Then choose the version there and download the proper software.
Step 5: Then start the installation process, click on continue button.
Step 6: Then click on install button to move forward.
Step 7: Wait for the installation process to complete.
Step 8: Then click on Next button for the next process.
Step 9: Provide some strong passwords and then click on Finish button.
Step 10: Wait for some time till the process is going on.
Step 11: Then you will find your installation is successful.
Step 12: At last, go to system preferences, there you will find MySQL is installed.
How to use MySQL?
Steps for using MySQL:
Step 1: For working with MYSQL, you need to open your terminal. Then navigate to the installed folder.
Step 2: Then you have to run the following command. Whenever you need to work in MySQL, this command should be run fast.
mysql -u root -p
Step 3: Then MySQL will start working. Then write the following command. This command will show how many databases are there in your MySQL Server.
show databases;
Step 4: Now, if you want to add a new database, you need to run the following command. It will create a new database.
create database <database_name>;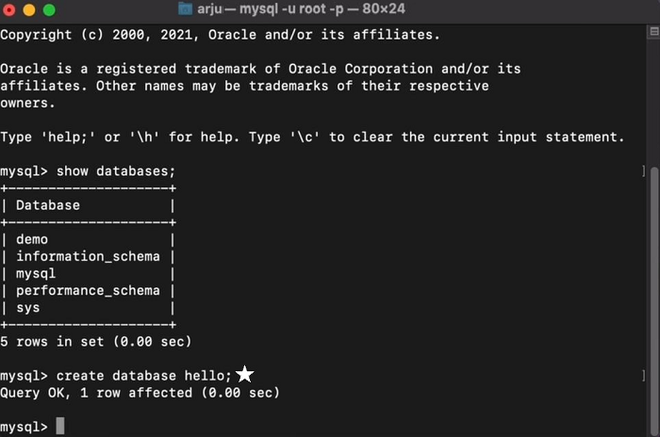 Step 5: Then again run the following command, there you will find your database is added to MySQL.
show databases;
My Personal Notes
arrow_drop_up