How to Install Dolby Access on Windows?
Dolby Access is a special type of application created by Dolby Laboratories to allow the users to customize their audio driver's experience and quality according to their own music taste and songs. It allows the users to introduce new audio channels by creating a new effect through your speakers even before they play. It processes the audio with some automatic features like noise reduction, audio compression, and expansion, along with some new virtual reality features like Spatial audio.
Dolby Access allows the application of the Dolby Atmos technology developed by the audio companies which specialize in these high audio formats. It compresses the whole audio into a shorter file which is then processed to create into a Dolby format which is editable according to the customer's choice of music personalization. This application is only for specialized high-quality devices like premium headphones and speakers. It is available on PCs that have Windows and the macOS.
Installing Dolby Access on Windows
Follow the below steps to install Dolby Access on Windows:
Step 1: Visit the official website of Dolby Access using any web browser like Google Chrome, Microsoft Edge, etc.
Step 2: Press the "GET" button on the website to start the download of the Dolby Access application.
Step 3: It will then automatically re-direct you to the Windows Store App by Microsoft for the Windows device and the download will start in the background.
Step 4: After the download gets finished, the Dolby Access app will get installed within 2-3 minutes. It will then show up on the all programs list of the Start menu.
Dolby-listed-in-all-programs-in-start-menu
Step 5: Click on the Dolby Access app to open it. Now it shows the home screen of the Dolby Access showing about its various pages and commands. Then click on the Next button to enable the drivers installation.
Step 6: After the Dolby Access app opens, it will show you a variety of tabs containing the "Home", "Products" and "Settings" tab to provide you with the different features of the app. Dolby Access is used for enhancing audio drivers quality in the headphones and other audio devices. So, click on the Products tab to go to adjust your audio drivers using the Dolby Access app.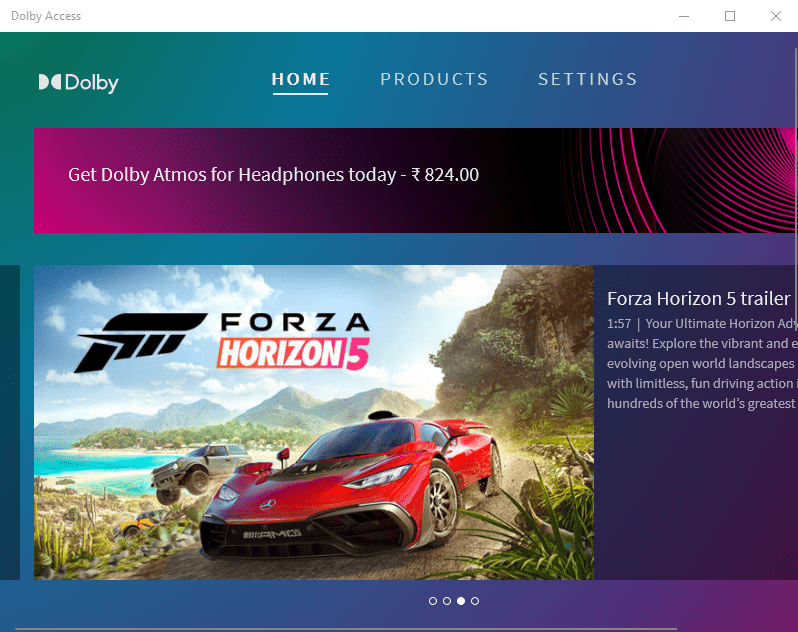 Step 7: After the products tab in the Dolby Access app opens then choose your subscription service. You can try Dolby Access free for 7 days limited to each user account only or otherwise you have the option to buy the premium service. After that, click on the Headphones icon to go adjust your audio drivers.
Congratulations!! At this point, you have successfully installed Dolby Access on your Windows device.
My Personal Notes
arrow_drop_up