How to Improve UX With Machine Learning?
User Experience (UX) is all about the overall experience of a user while interacting with a product that anyone can use in the form of a website, mobile application, etc. And, in a similar context, UX Designers are mainly responsible for making the interaction of the user with the product quite engaging and worthwhile. However, many designers either UI or UX feel confused between UX and Usability. And it's quite obvious getting confused as usability is an unavoidable part of UX which describes the ease of a user while using a product. The main question now arises – "Is it possible to improve the User Experience using Machine Learning?" Yes, it is and for that, you're required to choose various datasets of user behavior.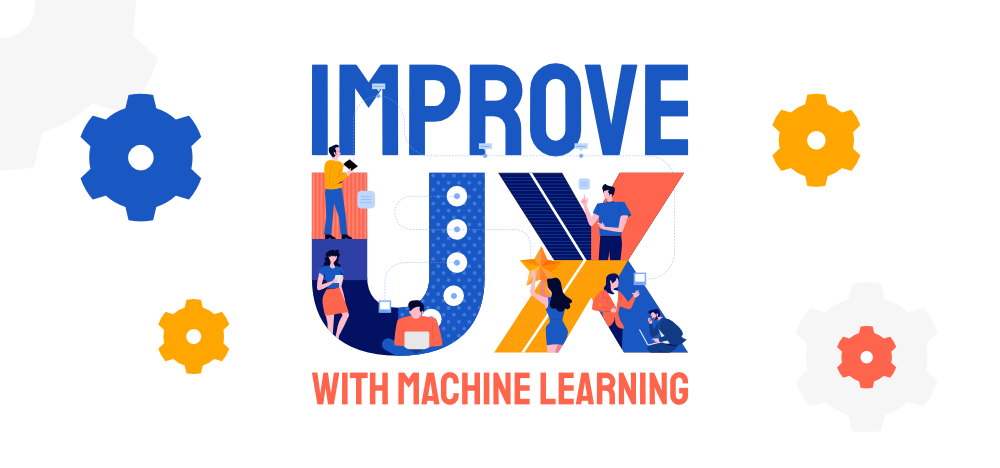 Now, you train a Machine Learning model, with some specific features that not only understand & predict a user's intent but also help a user a lot in achieving goals. Curious to know those roundabout ways in which ML is improving User Experience (UX)? Let's get warmed up and start with the top 7 ways in which you find ML significantly improving the user experience:
1. Step-by-Step Sentiment Analysis to Measure Customer's Intent, Emotion
Sentiment Analysis, in simpler terms, expresses the detection of sentiments. Now, these sentiments can be either negative or positive. And to detect those, a sentiment analysis model can be developed which first:
Splits the sentiment-oriented text (like a blog, forum, news, review) into sentences, phrases, and if required – then entities too.
Now, topics and their corresponding words will surely be identified so that sentiments can be applied accordingly.
At last, you have sentiments but still no understanding about the customer/user's intent or emotion. Don't lose hope since natural language processing and a few much-required ML techniques will help in assigning scores to every sentiment like -1,0,+1.
Since scores are assigned which signify that particular emotion is positive or negative, measuring the intent of the user towards your website or application is simplified. With such an analysis, corporates and other technology ventures can now analyze the exact picture of a user's (or set of users) emotions and later on, use it for producing better content, advertisements, and products solving accurately a user's needs thereby able to increase profit margin and performance-based growth.
2. Get Started with Time-Critical Chatbots
Suppose you have launched a startup and are busy with some operational activities. Meanwhile, one of your clients wants to meet you & your team to know better about the policies. What will you do now as you can't practically be present at two places? For avoiding such mishappenings, time-critical chatbots whose core is Machine Learning algorithms will:
take a drastic drift towards improving or creating positive UX by answering all such time-based questions even in emergencies.
And offering intuitive plus integrated customer support won't be that challenging as the approach is machine-driven which is strictly against negative UX.
Indistinguishably, these chatbots are way beyond a human being in scaling their tendency of handling complex questions by detecting similarities or you may say the common patterns of conversations with a user. With this, one may expect enhanced speed and quality of creating a positive user experience even at hard times. And who knows, all this will likely or unlikely influence a user's attention towards the purposeful and useful benefits of your product that is appealing, usable, effective, and efficient.
3. Responsive Layout Equals Better UX
Users can neither be restricted to using mobile phones nor laptops just to open an application or website. And if this is true, then users will access a website/an application on varying screen sizes (say 19 inches or 15-inch). But what if the information i.e. content isn't well-represented? Here, the responsive layout comes to the rescue by:
Automatically changing the original size of a website, followed by its shrinking or enlarging.
Or, by doing the same with an application thereby making it look visually appealing on all devices (desktops, tablets, and phones).
Planning to adopt an adaptive design instead? It may propose better solutions tailored with appropriate optimization and replacement of the incorrectly placed website's or app's elements but it is costly and sometimes less user-centric (than responsive ones). Hence, whenever a developer hired by you or some company decides to reconfigure sequentially various design elements for better UX, he/she must go for a responsive layout not bound to forcefully add multiple sizes (in a fixed design).
4. ML Based Classification Formulated by Reviews and Purchases
Predicting the customer churn rate (it describes the percentage of customers who stopped using services your company is offering like subscriptions for premium content) is something in which every business is showing interest. The reason is that businesses can analyze why their customers have stopped themselves from using your services? Tensed with how to tackle such situations? No need to worry because ML Based classification will classify text data so that:
It would be easier for companies to segment or classify their customers on the basis of content they like, types of purchases or products in which they are interested, etcetera.
Moreover, boosting up the percentage of positive online reviews and products' purchases won't be that challenging as all the requirements (like interest in a particular service, improvements in the ones a customer is already using) of customers are identified in a supervised manner with the high-quality recommendations ML-based classification produces.
Hence, instead of focusing on how to speed up sales, it would be better for the businesses to predict churn rate where customers are classified as per their interests, reviews, or purchases. All this will enhance user experience since a user/customer will now neither search the products manually on a business website nor look for another service provider interacting with a customer or set of customers for answering their time-sensitive questions in a fun-loving, delightful manner.
5. ML Personalization
Possibly, personalization can implicitly or explicitly communicate with the needs, psychographic (meaning traits like self-awareness, confidence), or demographic (meaning weather and lifestyle of the city or a state) characteristics of users who are reading or viewing the content a company structured on various web pages. Indeed, the approach ML personalization uses is one-on-one rather than focusing on multiple users on the particular period so that:
Customer satisfaction, improved marketing results can be achieved by a business via a group of personalization algorithms whose datasets identify well the beliefs and interests of a customer/user.
Later, it filters out content in accordance with the behavioral histories of a user so that he/she can be retained through individual promotions and emails like, "Missing something? Subscribe to the newsletters, blogs of XYZ."
Therefore, if you are running a business that can't work well with segmented users, then utilizing the performance metrics of such personalized algorithms would be a better choice for achieving satisfactory UX for quality lead generation and better engagement of users towards your service, brand.
6. Use of Fast and Forward Prototyping Tools
Prototyping tools, with their collaborative and interactive libraries, sound beneficial to a lot of UI/UX designers. This is because those tools are equipped with different levels of fidelity due to which designers can actually review every detail of the final product for producing the best possible designs as per the requirements of a particular user base.
Questioning whether it is possible for UX designers to find traces of machine learning in those fast-and-forward prototyping tools? Yes, the models these tools use are ML-based/AI-based so that they can efficiently solve users' problems thereby creating a positive user experience without committing any significant mistakes. So, if you are a UI or UX designer thinking creating good design is expensive with these prototyping tools, then you also research how it feels when you get an incomplete design even after spending so much on product testing?
7. Understand Your Customers via Customer Feedback Tools
Unable to find out what your customers really need? With the actionable insights of credible & best customer feedback tools, brands whether big or small can flexibly and accurately find issues in any of their product or apps somewhere harming brands' relationships with their customers segmented on the basis of age, intent, and demographics.
Besides, they (i.e. competitive brands) need not worry about how to increase the customer lifetime value of the businesses they are handling because these feedback tools (categorizing well data whose analysis will be managed by ML models) make sure that the interaction of a customer with a brand is delightful. In a nutshell, user experience is enhanced and from now onwards, customers will review brands from a different perspective.
My Personal Notes
arrow_drop_up