How Cloud Contact Center Will Transform Your Business?
A Cloud Contact Center is usually a central point of contact hosted on Cloud Servers which handles all the incoming and outgoing communications with the customer. These can be accessed virtually from anywhere around the globe and can handle communications through different channels including but not limited to Voice calls, Emails, Social Media, Web Forms, etc.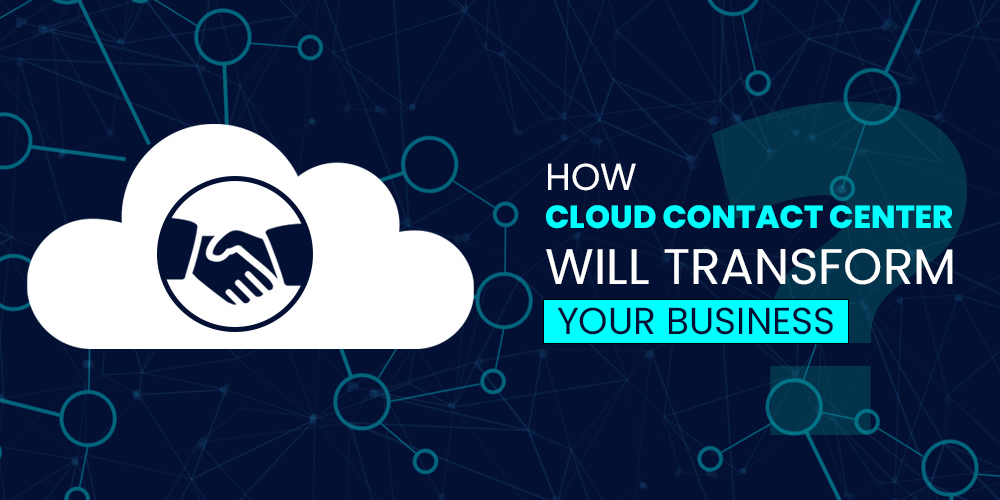 According to a report by Statista, India alone has around 29% Social Media penetration and is expected to increase in the upcoming years. Due to this increased usage of digital media, it becomes very important for businesses to align with the preferred choice of communication channels of their customers. While large organizations may come across several hurdles while handling multiple communication channels at the same time, Cloud Contact Centers can prove to be a one-stop solution to manage them all at a single point and virtually accessible from any part of the world.
Some of the most common problems faced by organizations adopting the traditional communication channels to interact with their customers include –
Customers want to use their own preferred channel for communication which creates a need to manage multiple communication channels at the same time for businesses.
Routing calls and messages to the correct department might take some time because all the communications are attended to manually by agents.
Managing agent's time becomes an issue because of the lack of automated tools and the high volume of calls or messages at some point in time.
The unavailability of analytical tools and dashboards prohibits businesses to optimize their services to provide a seamless experience to their customers.
Here are some ways through which large businesses and enterprises can leverage the use of Cloud Contact Centers for their businesses.
It integrates different channels of communications into one single system allowing agents to communicate with their customers regardless of the type of communication.
It is hosted by the cloud service providers on cloud servers which allows businesses to eliminate the need of maintaining hardware resources.
It gives access to high-end analytical solutions which would help businesses to get knowledge of their customer base and optimize their services accordingly.
It includes advanced call-routing features with automated and interactive voice responses which would allow businesses to route their calls to the accurate department to handle customer queries.
It allows businesses to scale their services and provides flexibility in adopting multiple options.
It helps businesses to reduce costs and allows efficient resource management as with the adoption of Cloud Contact Centers, most of the work becomes automated.
Now, we need to understand the differences between in-house and cloud-based contact centers. It helps to have a detailed understanding of the industry and the choices when selecting the best call center software for your business. The four most general forms of call center software are as follows:
Onsite Call Centers – This setup ensures that your call center's networking hardware, applications, and facilities are all housed and maintained in your office. Dedicated networking servers come in a number of configurations, including PBX and IP PBX. Your IT team is in charge of all facets of implementation, repair, and upkeep under this scheme. All is handled internally, from call servers to headsets to tech support.

Cloud-based Software – Unsurprisingly, a corporate phone service provider hosts mobile-based contact center solutions offsite in the cloud. Users need an interface on their computer or mobile device to control telecommunications service. This solution requires internet connections with enough bandwidth to easily serve all users as well as other internet activities. The data of your organization or contact center is stored in the cloud, and the associated servers are either operated by the internet provider or leased from a third party, such as Amazon Web Services.

Hybrid Hosted – Your call center's infrastructure is hosted off-site and accessible over the internet or intranet with hybrid software. This approach incorporates the advantages and disadvantages of the previous two versions, providing a balance between entirely immersive and onsite worlds. Hybrid configurations can seem to be optimal, but they have some possible pitfalls. Startup costs are lower than on-premise options, and the company would not need physical storage space for servers. However, third-party support is also needed for modifications and troubleshooting, making an on-premise system less scalable than cloud call center solutions. Users can't be introduced easily, and call routing mechanisms can't be modified on the fly.

Browser-based – A category of cloud-based computing is browser-based software. The benefits and disadvantages are essentially the same, with the exception that users must access their phone system and dialer from an internet browser rather than a separate installed program. For your convenience, most cloud-based computing systems can have both an in-browser and a downloadable app version of the framework.
Some tips that would allow you to choose the right cloud-based contact centers for your business are –
Before you start interviewing contact centers, you should have a clear idea of what you need or want.
Obtain referrals and chat with previous customers.
Check to see that they have the best staff and services to work with your customer service and support.
Check to see how your contact center data can be combined into your CRM system.
Don't hesitate to use social media as well.
Chat with them about your goals and whether they can help you to achieve them.
Discuss surveillance and privacy controls, as well as rules and procedures.
Know for what services you will be charged and how you'll be charged.
With the ever-increasing cost to maintain and upgrade traditional call centers, it would certainly be a wise decision for businesses and other enterprises to switch over to fully automated, virtually accessible Cloud Contact Centers. It allows businesses to centralize all the communication channels to a single point thus providing options to businesses to expand their reach on more sophisticated and high-end communication channels available these days. With the availability of cutting-edge analytical tools, businesses can get useful insights related to the customer database allowing them to optimize their services in a better way.
My Personal Notes
arrow_drop_up