How 5G is Going to Change the World?
2G, 3G, 4G, and now 5G is going to change the world – such a revolution-of-tech-upgrades has created a positive as well as unexpected impact to our generations most often interested to know about the potential of the technological advancement adopted. This solves a prime purpose – accessing the services we require to change our lives to a particular extent. You may wonder whether or not it is possible to experience the magic of zero lagging time and higher reliability either at your workplace or other geological location! Yeah, this has really been made possible with the benefits offered by the fifth-generation network at healthcare, retail, agriculture, or entertainment.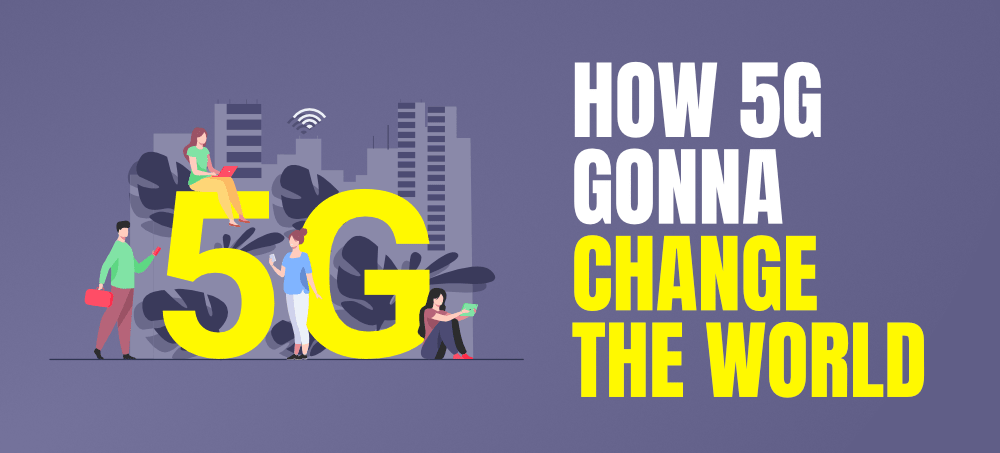 Let's take a look at the benefits 5G is modeling well for solving the real-time problems of any of the aforementioned sectors like agriculture and so on.
1. 5G will Revolutionize the Concept of Smart Cities
Smart cities have become a dream for the aspiring minds of the current era. That mind may either be of youth or middle-aged person depending upon the level of creativity. You may imagine what concept would smart city support! Autonomous weapons, Self-driving cars, Robots performing complicated surgeries, and buying essential commodities for us – the list will keep on growing if we begin discussing the concept of smart cities. All these facilities supported by smart cities may not only raise our standards of living but also drive the economy of a country in a boosted manner. Here, 5G Network offers a huge leap to support such transitions in a full-length mode via its high speed, mammoth bandwidth, and unstoppable scalability while adding users in accordance with their requirements. Now, we may expect the services we order to get delivered to us in a flexible and smart manner with no time delays. And who knows how and when these smart ways offered by the smart cities will act as oxygen in each and every sphere of our lives in a positive and lucky course of action.
2. 5G will Re-Construct the Healthcare Sector
The Healthcare Sector consisting of clinics, hospitals, and other emergency venues may only monitor the condition of a person (say mental or physical) well if and only if the equipment they are using support rapid technological advancements. Such advancements are like data-driven medicines, automated diagnosis, video medical assistance, and so on. To let the healthcare sector comply well with these technological advancements rapidly, 5G Network is acting as a boom to the sector so that it may deliver the required quality of care to the admitted or non-admitted patients through surgeries or medical operations. High-speed and massive bandwidth is required to deliver such sort of care and through the infrastructure of 5G, many of the repetitive medical operations at the time of diagnosis are automated thereby saving time and money for patients.
There are many examples depicting the quality of care offered via the 5G network and from those, the one that can be mentioned is 5G Connected Ambulance. You may call this your mini-hospital because it is connecting well the patients, medical experts, and ambulance workers in an innovative manner. Even this mini-hospital is able to detect and solve medical cases (mostly complex) more swiftly after the incorporation of the capabilities of 5G bandwidth and frequency. So, patients need not traverse longer routes to reach the venues since, with this, the healthcare sector is able to increase the duration of continuity in care offered with no objections and other moral obligations.
3. 5G will be the Future of Hypnotic Entertainment
Entertainment is hypnotic and will always be. This is because it can potentially bring together people from various parts of the world and let them share a bond of companionship that can divert anybody's attention. Outside the landscape of many types of businesses, the entertainment industry is celebrating the release of 5G Network as this network has offered the medicine of well-being and balanced health to trillions of users. Games like Pokemon, Star Wars, Fallout, and Batman demand higher bandwidth and boosted up data transmission capacity for purveying real-time gaming with no technical glitches. And all this has been made possible with the revolution brought by the 5G network and its enhanced abilities. Due to this, users are able to experience a world full of adventures and mysteries proposed by such games. Even at times, they get bored, the speed and scalability offered by 5G Network to those games make them think, "See what will be coming now or a few moments later!" So, the Network has presented its capabilities to the entertainment industry which won't hesitate in choosing 5G as their current or futuristic choices.
4. 5G will Smoothen the Day-To-Day Retail Operations
Day-to-day retail operations include premises maintenance, inventory optimization, store design, shoplifting prevention, and much more. Now, you may think all this can be done by 4G Network at reasonable costs! Yes, this is possible but the thing which will lag behind is satisfactory personalized experience because disparities will be there while connecting day-to-day retail operations on a daily basis. To overcome those disparities (like locating inventories for optimizing them for better results, imbalances created while designing the store layouts, etcetera), 5G can synchronize well with the location beacons so that they may offer precision and faster results in the day-to-day operations at reduced costs. With this, the retail stores will be capturing personalized customer experience in a nut-free manner. Later, they may ask for alternatives via gestures or voice commands enabled by those problem-solving beacons and proceed ahead with the other benefits supported by the ultra-fast 5G Network.
5. 5G will Responsibly Align with Public Safety
Public safety or we may say ensured protection of the citizens need not be afraid of the 5G revolution. Rather, this revolution is offering improvisations to public safety with its massive bandwidth and super-fast reliability. Even at times, the frontline workers get stuck at how they may spread situational awareness, this highly robust network empowered with enormous bandwidth can be used for presenting a clearer picture of the situation to the general public. Besides, this revolution has intelligently synchronized well the commitments of various surveillance workers, through the enhancement of computing power of available extraordinary tracking systems, with the trust and confidence of the public for whom they are working and will always be. Henceforth, public safety is much closer to accessing advance-level 5G solutions that focus on imbibing deeper levels of understanding and patience in the hearts of workers and the public too.
6. 5G will Precisely Track the Agricultural Sector
The agricultural sector is somewhere dependent on power efficiency. Imagine yourself in a situation where you are working for an agricultural department and they have no strategies planned that may reduce the consumption of power. Will you be wholeheartedly involved in generating leads for them? Obviously not! This is because it may impact the performances on which your promotion and growth will rely upon. With the massive machine-type communications supported well by the power efficiency 5G network, the agricultural sector may expect an enhanced version of sustainable development thereby decoupling excessive energy consumption from overall economic growth. Figuring out what contribution the 5G network will offer! The best example would be sensors. They can assist farmers in monitoring as well as optimization of crops sincerely adaptive towards the seasonal changes. So, the farmers won't feel less confident in calling themselves smarter since they will be involving themselves whole-heartedly with the working methodologies of these sensors precisely sustaining well with the development of this ever-growing agricultural sector.
7. 5G will Open the Doors for Virtual Spaces
Virtual Spaces are those unique environments that support shorter lagging times. Now you may question what the lagging time is actually? This is the time between the occurrence of two events closely interrelated to each other. The shorter the lagging time is, the better are the chances of high-speed in required times a network may offer. In 5G, this time i.e. the lagging time is magnificently shorter than you can't even imagine (one may estimate this as less than 20 milliseconds) and with this, we can experience the benefits of applications promisingly accepting such virtual spaces anywhere, anytime. Those applications are InCell VR, FullDive VR, Netflix VR, Google Cardboard, and much more. With all this, we need not wait for the limited bandwidth of 4G (as compared to 5G) to exceed its capability as this will take more than seven years so that 4G can become a dominant player with such an extended capability. All the credits go to 5G infrastructure due to which we need not wait for so long to access the merits of applications or systems supporting these speedier and readily available virtual spaces.
My Personal Notes
arrow_drop_up