GeeksforGeeks Black Friday Sale: Best Deals & Offers on Courses
Looking for amazing hot deals on your favorite programming online courses? Your search for the best discount on online courses ends here as GeeksforGeeks is joining the ultimate Black Friday Sale 2022. Upskill yourself by availing of heavy discounts on more than 20+ GFG courses.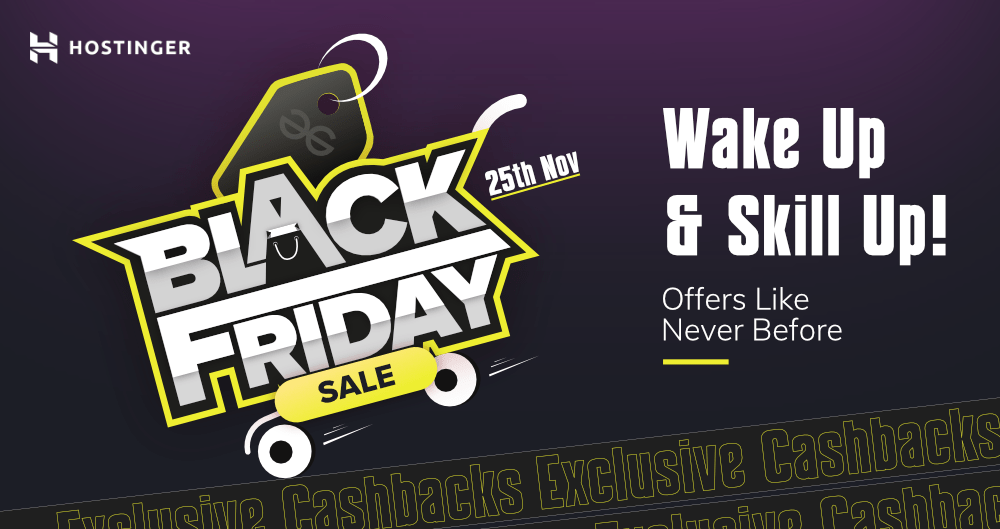 If you're wondering what's Black Friday Sale?
It is an ongoing tradition in the USA that marks the start of the Christmas shopping season and many brands offer highly promoted sales at discounted prices. We couldn't help ourselves but join this gala by showering hefty discounts on all of our courses – all-day on 25th November 2022.
Are you one of those unfortunate souls who missed our previous sale deals?
Well, this is your last chance this year to grab the best deals on our online courses and invest your time and money exactly where you need them. Get the best study resources at an affordable price without hustling around. All you need to do is to click the "Sign Up" button, and register for the course before paying and the course is yours to devour!
Black Friday Sale 2022 India: Grab Deals on GeeksforGeeks Courses
We're sure now that the excitement is bubbling up inside you to be the one to put all the best online courses in your cart. Don't let this excitement die down as we reveal the event timings below:
The GFG Black Friday Sale is all set to go live on 25th November 2022 (12:00 PM IST) and will run till 26th November 2022 (12:00 AM IST).
During these 36 hours of sales, you'll get the opportunity to get a 25% Discount on all GFG courses along with Exclusive Cashbacks. Upgrade your career level and unlock your achievement potential by getting these premium certification courses in one tap.
The Black Friday Sale 2022 will go on all day so you don't have to wait for the best time to purchase your course or wait in line. You can consider opting to buy the below courses which are most loved by students when it comes to preparing for top tech companies:
Prepare yourself to get placed in India's top product-based company or service-based company. An interview-centric course designed to prepare you for the role of SDE. It has been designed to provide you with the best quality content to help handle all the questions in your next coding interview with ease.
Learn the building blocks of programming with this self-paced course. DSA is of utmost requirement when it comes to learning programming and with this course, you can enhance your data structures and algorithms foundational skills and master DSA from basic to advanced level.
Fulfill all your placement needs with this complete test series where you'll be able to prepare for coding rounds of top service-based companies like TCS, Wipro, Accenture, Capgemini, IBM, and many more. This complete test series also includes practice problems for cracking recruitment exams such as TCS NQT, Wipro ENTH, CoCubes, and eLitmus.
Learn the ropes of Data Science through this course which will help you to learn Data Analysis with Python and SQL along with learning other important concepts of Data Science.
Cracking the GATE exam has become easier than ever. Ace the GATE exam with this course which is designed by GATE toppers to ease your GATE preparation. Get all GATE resources in one place.
If you're someone looking to crack SDE, SSE, Architect, Technical PM, or SDM jobs, this is the ultimate course for you. This course will teach you the optimized approach to solving questions and design concepts with real-world examples!
You thought that was it? Not at all. You'll get a 25% discount on all courses throughout the day. With the current recession and massive layoffs going on, the need to upgrade skills is needed more than ever now. GeeksforGeeks got your back with this Black Friday Deal!
Exclusive Opportunity! Build a website with WordPress by utilizing Hostinger Black Friday deal – just ₹129 per month.

Get a free domain, 100 GB SSD storage, free unlimited SSL certificates and extra 10% off with coupon code BLACKFRIDAY

For such more details please go through Hostinger Black Friday Sale!! post.
My Personal Notes
arrow_drop_up