Get Placed in Google with Google Test Series By GeeksforGeeks
Pretty much sure, getting a job in the tech giant Google is on the bucket list of a majority of the tech individuals whether it be a fresher or an experienced working professional. And why not, as those ravishing salary packages, utmost learning exposure, better career opportunities, wonderful perks, etc. offered by Google to its employees is something that is unbeatable!
But to crack the interview of this leading tech company is a bit challenging job and you need some serious level preparation to get into your dream company.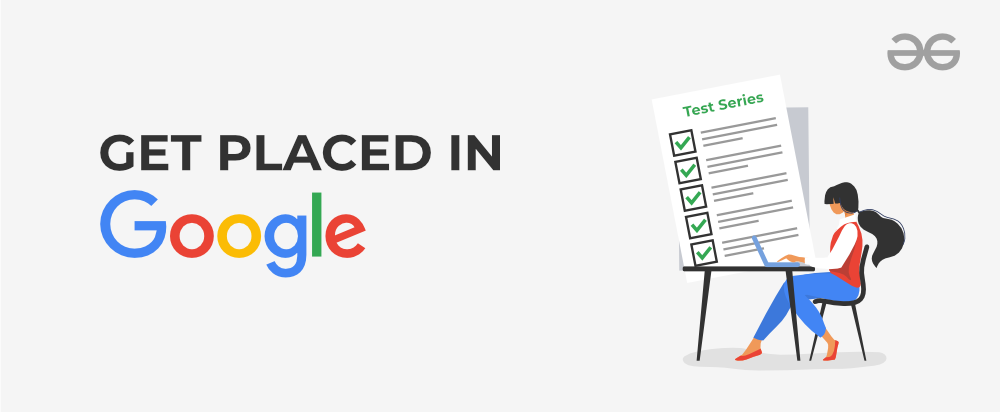 From applying to the relevant job opportunity at Google to get your resume shortlisted to cracking the multiple interview rounds – you will need to have the right preparation plan and strategies by your side. However, you don't need to be much afraid of this as to make things quite easier for you, GeeksforGeeks is coming up with an online Google Test Series course that will act as the one-stop solution for you to become Google-ready!
What is this Google Test Series…??
We all know that every company has its own requirements from the candidates during the interview and especially when you're preparing for a giant company like Google, the company-specific interview preparation is much needed. Keeping this in mind, GeeksforGeeks has designed this online Google Test Series that will effectively prepare for cracking the Google Interview.
In this test series, you'll be provided with advice on how to apply, prepare and crack the Google Interview along with dedicated tracks that cover various concepts of Data Structures and Algorithms popularly asked during the interview process. Here, you will also learn how to tackle design problems, improve time management skills by participating in mock tests and practice contests and get a curated list of commonly asked interview questions at Google.
Some of the additional prominent features of this test series are provided below:
Lifetime Access to the Course
Internship Opportunities at GeeksforGeeks
Access to GeeksforGeeks Job Portal
Assessment Tests
This online Google Test Series is being provided to you at a discounted price of INR 499/-. You can easily register yourself for this course by following the below-mentioned steps:
Step 1: Visit the GeeksforGeeks Google Test Series Page.
Step 2: Click on the Signup Button and enter the required details in the form such as name, contact number, etc.
Step 3: Then pay the required fee, and you'll get successfully registered for the course.
Moreover, you can also get the additional feature of doubt support. All you have to do is while purchasing this course, click on "Add to Cart" for Doubt Support and Assistance.
Course Content
The content that will be provided in this test series is mentioned below:
Google Interview Overview: Learn about how to apply, prepare and crack the Google interview.
Data Structure and Algorithms: Dedicated topic-wise tracks to help improve your coding skills.
Online Coding Assessment: 10 assessment contests to help prepare for the online coding round for google.
Mock Tests: Get Google ready through 4 mock tests based on actual Google interview experiences.
Frequently Asked Questions (FAQs)
Q-1: What are the programming languages supported in the contests?
Ans: The participants can submit their codes in C++ or Java or Python.
Q-2: Will I get any Placement Assistance along with the course?
Ans: Let us tell you that the opportunities from the different companies can be viewed on the hiring platform where you can see their current opening & once you have enrolled for this course you can apply for any of the openings.
Q-3: Does the test expire if I do not take it on time?
Ans: No, the test doesn't expire. You can take the test anytime after its start date as per your convenience.
Q-4: I have purchased DSA courses from GeeksforGeeks. Is Google Test Series still beneficial for me?
Ans: Google Test Series may contain some repeated problems from DSA courses. However, you will still get some additional problems to solve specifically asked in Google Interviews, also we will keep on adding new practice problems to tracks. Moreover, we have 10 practice contests that are completely unique and designed specifically based on Google coding interview rounds which are not available in any of the DSA courses.
Q-5: Can I pay through online mode for the test series?
Ans: Yes, the payment of the test series subscription can be made via online banking, credit/debit cards, UPI (Google Pay, PayTM, Phone pay, etc.).
So, if you don't want to miss out on the opportunity of getting recruited in the globally leading tech company, Google – then do register yourself for this online Google Test Series asap!!
My Personal Notes
arrow_drop_up