Geek Week 2021 – The Biggest Festival For Programmers
The month of October brings along with itself festive vibes, good food & so many holidays too! Add to all that, a bit of geeky-ness. GeeksforGeeks is here to be a part of your October journey with our own festival too because, why not? For all the programmers out there, Geek Week 2021 is finally here!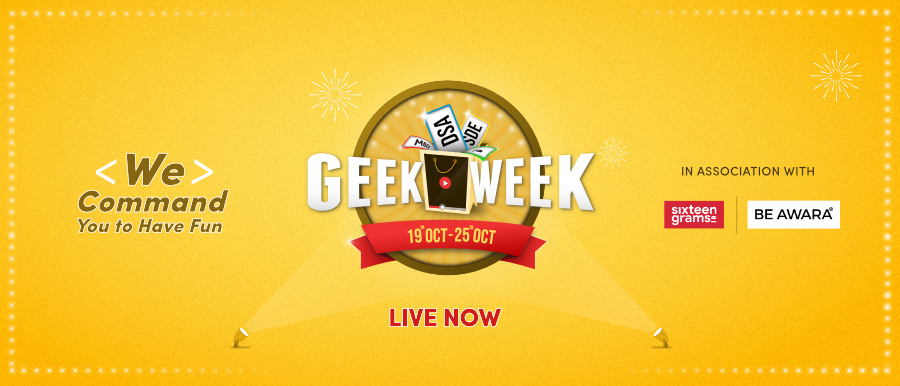 After the success of Geek Week 2019 & Geek Week 2020, we're back again with more rewards, more discounts & more events! In association with SixteenGrams & Be Awara, Geek Week 2021 has so many opportunities within a week, it's safe to assume it's the biggest festival out there, exclusively for our geeks.
Geek Week 2021 is going to be a 7-day event from 19th-25th October 2021. A combination of events, Geek Week shall witness programmers joining in from across the world for learning, coding competitions & of course, a whole lot of other opportunities.
What do we want from you? Well, to not miss this once-a-year chance? Easy! Find out all about what we have in store for you below:
Geek Week wouldn't be complete without job opportunities. And thus, we are bringing numerous vacancies for you to fill with your expertise.
2. GEEK ARENA
A bunch of six events that promise you fun. We swear. Choose your pick. Or all, actually. The more, the merrier!
What's Your Coding Personality Quiz: Are you the serious C++? Or the cool Python? Maybe a complex JavaScript? Well, take this quiz to find what kind of programming language you'd be & share it with your friends!
Merge It Up: 6 days. 6 codes. Merge them to get a coupon code! Sounds easy? We'll see!
Idea Summit: Do you have that crazy start-up idea no one believes in? It's okay! Gather your mates & get a chance to receive guidance from an entrepreneur himself! And of course, rewards.
Wheel of Fate: A virtual wheel that spins to bring you the surprises that your fate has in store for you. Stand a chance to get amazing discounts, prizes, and much more, spinning at your fingertips.
Time v/s Mentor: What happens when a GeeksforGeeks mentor challenges himself in front of the world to create an app in front of you all? Pressure, the pressure! Tune in for an hour-long live coding session.
What If: A hiring challenge for product designers where you'll be asked to design our course listing page & if we love what you've done, you'll get a chance to be a part of our team! The best designs will be shortlisted and the best designer will get hired!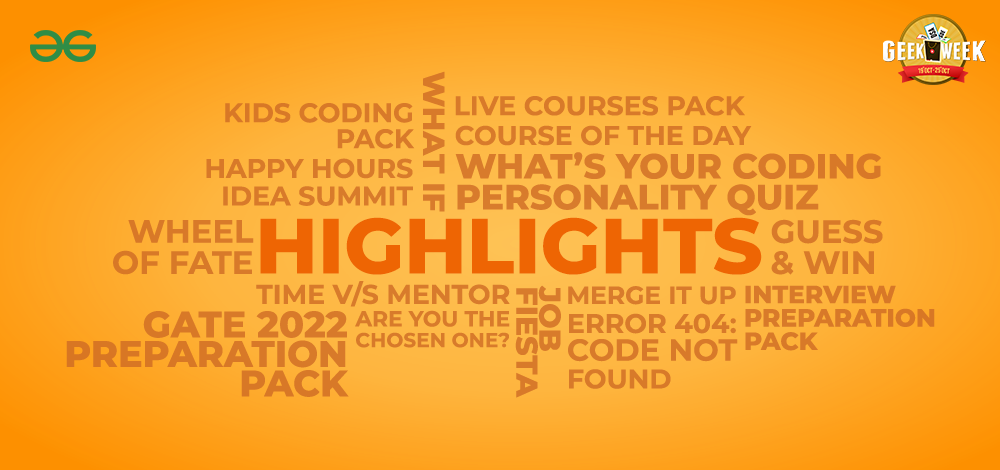 3. LEARNERS CORNER
An all-in-one platform for our tech enthusiasts who prefer learning over everything! Here you find your favorite courses with supreme discounts.
Guess & Win: How well do you know us? Yes! This game is about testing your knowledge about our courses. Guess the last digit of the course's price and boom! The course is all yours.
Happy Hours: An event where you'd want to gulp down all the offers we've got in store for you. Get your hands on these deals and make sure you grab these on time.
Course of the Day: Each day, witness our premium courses at unbelievable discounts. After all, a coding course a day will keep the bugs at bay!
4. SUPER SAVERS FOR SUPER LEARNERS
A combination of courses at incredible prices! We picked some courses for your all-around preparation that'll be shipped to you at a discounted price. Have a look –
Interview Preparation Pack: For a 360-degree interview prep, get the Complete Interview Preparation course, along with Must Do Coding Questions & SDE Test Series.
GATE 2022 Preparation Pack: This bundle is specifically curated for the GATE CS 2022 aspirants. It includes all our GATE courses as well as the GATE-CS Test Series 2022.
Live Courses Pack: The live courses shall be part of these bundles too. Get your hands on them before you miss this opportunity.
Kids Coding Pack: Start early, not for the competition, but to be coding literate because that's going to be the future of our world. Meant exclusively for school students, this pack consists of Python Programming, First Step to Coding & First Byte of Programming.
5. ARE YOU THE CHOSEN ONE?
Why do you want this particular course? Why do you want DSA? Or CIP? Or Full Stack? Choose any course you want & describe your reasons for wanting it, on LinkedIn. The user with the most VALID reason wins the course!
That's the error before you step into the arena to code! This is for all the competitive programmers out there. Get ready to battle with many & come out victorious.
Geek Week is all about enhancing your programming skills with as much fun as possible. So, are you excited about this surprising 7-day Geek Week journey? If yes, then what are you waiting for? Postpone all your programs for Geek Week 2021 and get ready to participate in the biggest programming festival!! See you all at Geek Week 2021.
My Personal Notes
arrow_drop_up