FireShot – Take Webpage Screenshots
Fireshot is a web browser extension using which one can take full webpage screenshots. You can edit, save and capture screenshots in whatever format you want like PNG/JPEG/GIF/PDF. One can even give the print command or copy the image to the clipboard. There is no spyware, ads, or unnecessary permissions required. All it takes is a couple of clicks to take a screenshot using this extension.
Features:
Save the screenshot to disk as PDF, JPEG, and PNG.
No ads or spyware.
No need to scroll if the webpage is lengthy, Fireshot does the scrolling.
Capture only selected part or visible part of the web page.
Send the screenshot to your Gmail.
Copy screenshot to the clipboard and print screenshot.
Advantages:
Delivers fast access.
Provides intuitive controls.
No ads or spyware.
Are cross-platform and adaptation for any browser.
You can even integrate those objects that would seem to be unacceptable.
Merge cloud storage and systems into a single workspace.
Disadvantages:
Require constant updating, which can be hectic.
The various browser needs their own adapted version of the program.
Add-ons often require the ability to read or even change everything on web pages user visits, which in various cases can lead to terrible accidents of data breaches, capture the passwords, track browsing, etc.
Installation:
Installing Fireshot is like installing any other browser extension and involves only three steps:
Step 1: Visit Fireshot in either Chrome Web Store or Firefox Add-Ons.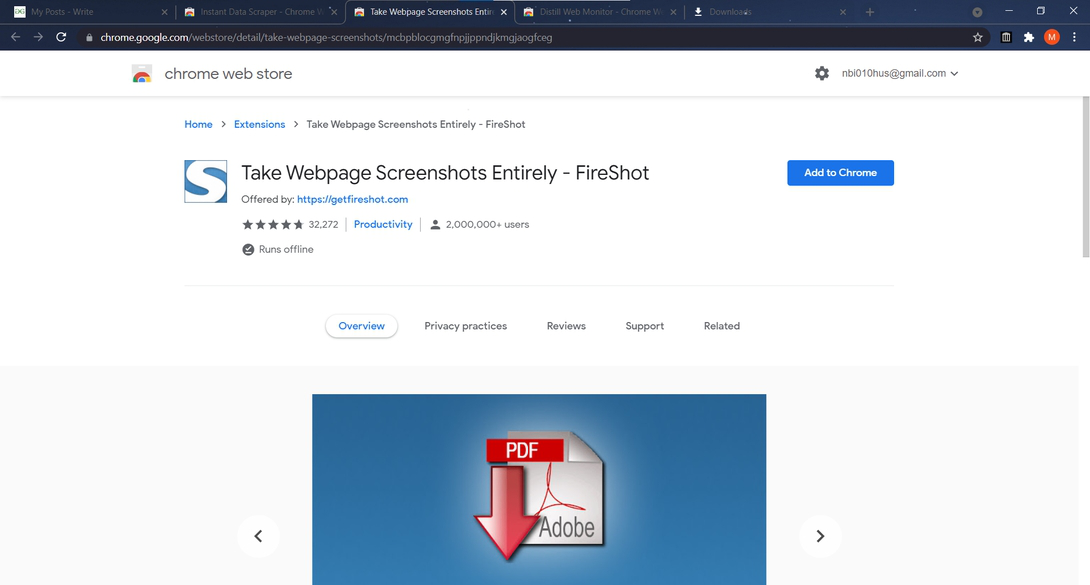 Step 2: Click on Add to Chrome or Add to Firefox, depending on the browser you are using.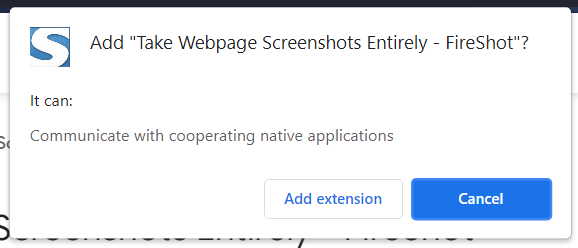 Step 3: Then select Add extension.
Usage:
Using Fireshot is simple. Just go to the web page whose screenshot you want to take and then simply, right-click and select fireshot. Yes, it's that simple.
Capture the entire page:
Example 1: GeeksforGeeks
Using fireshot one can take a screenshot of their entire page and then send it through email, or print it straight away.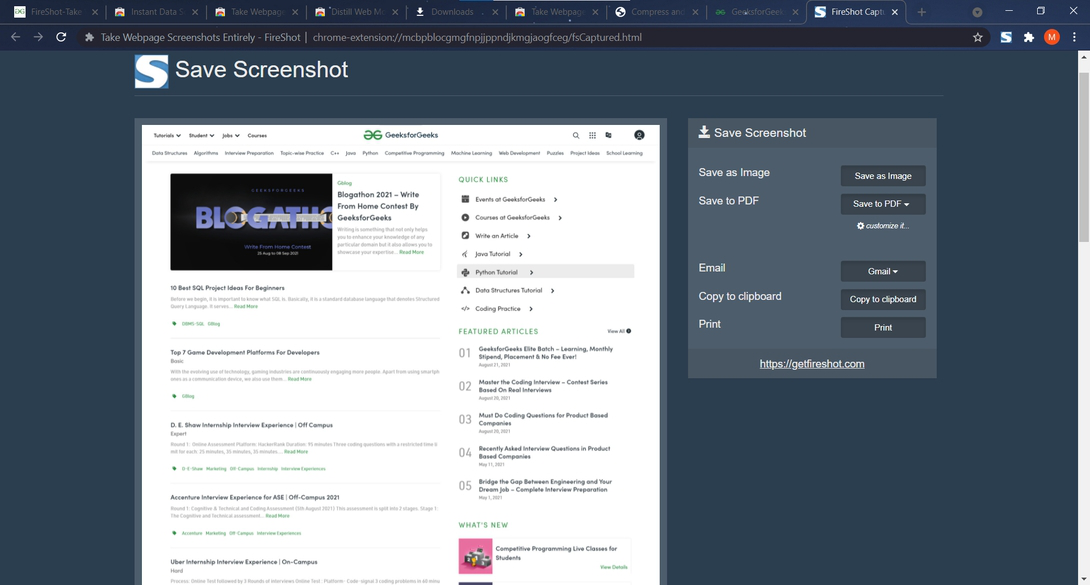 Now on the right, we can see the options of how we want to save this screenshot, whether we want to print it or email it, or copy it to the clipboard. Also, we don't need to scroll the webpage to capture it fully as fireshot does the scrolling on its own.
Example 2: Youtube
Let's take another example, say we want to take a screenshot of the Youtube home page, simply go to Youtube and right-click, select fireshot, and then capture the page entirely. Tadaaa!!! there you have your screenshot. Easy, right?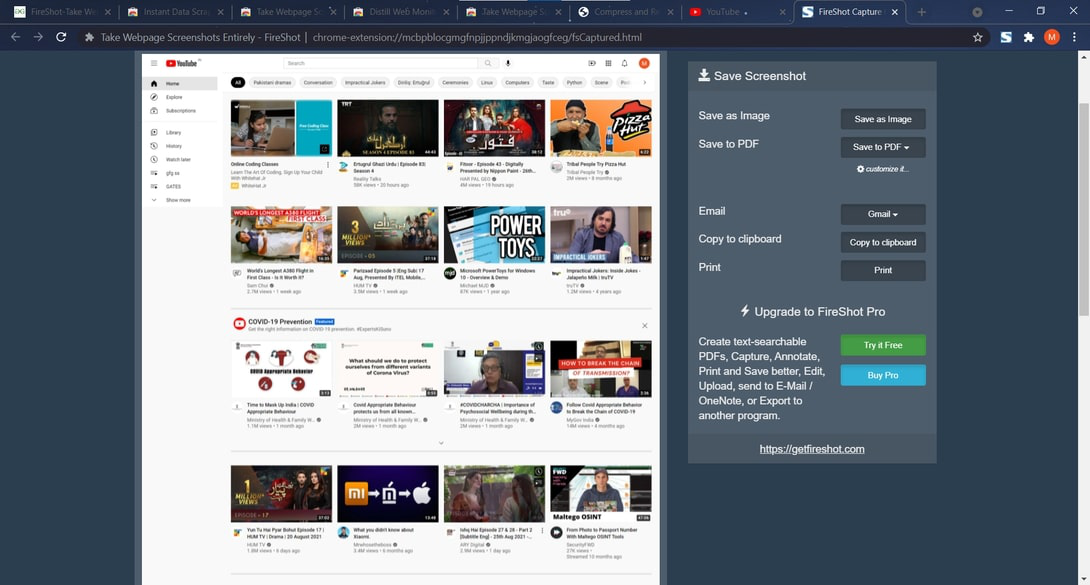 Capture visible part:
Example 1: Geeksforgeeks
Now, what if we don't want screenshots of the entire page, but want only the part that is visible to us. We can do that too with Fireshot. Simply go to the web page whose screenshot you want and right-click, select fireshot and then click on capture visible part.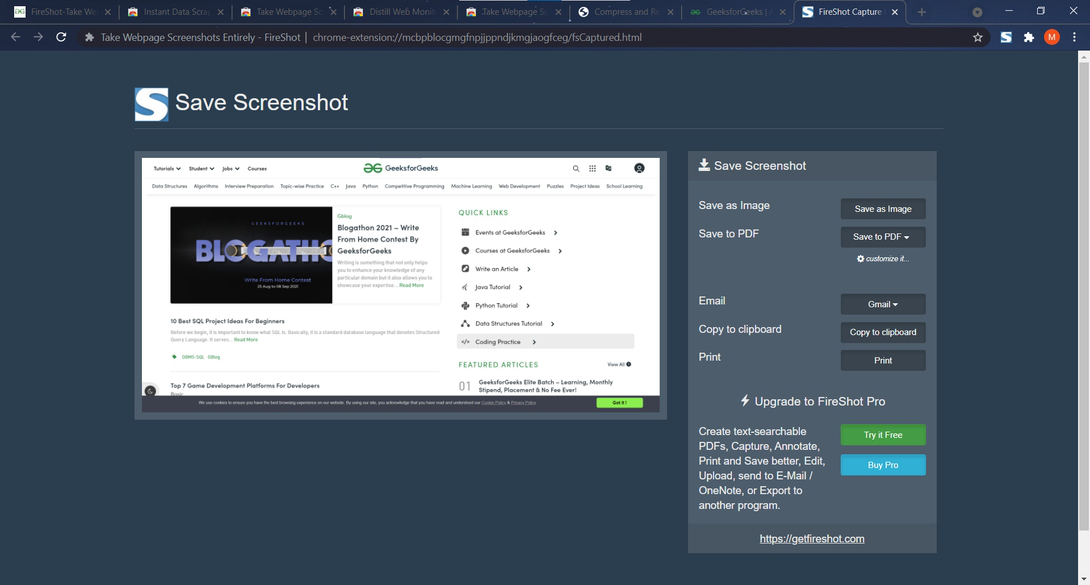 Example 2: Youtube
Let's take another example, this time we will capture the visible part on Youtube. We can compare the screenshot given below to the one shown under "capture page entirely" and see that both options aren't the same.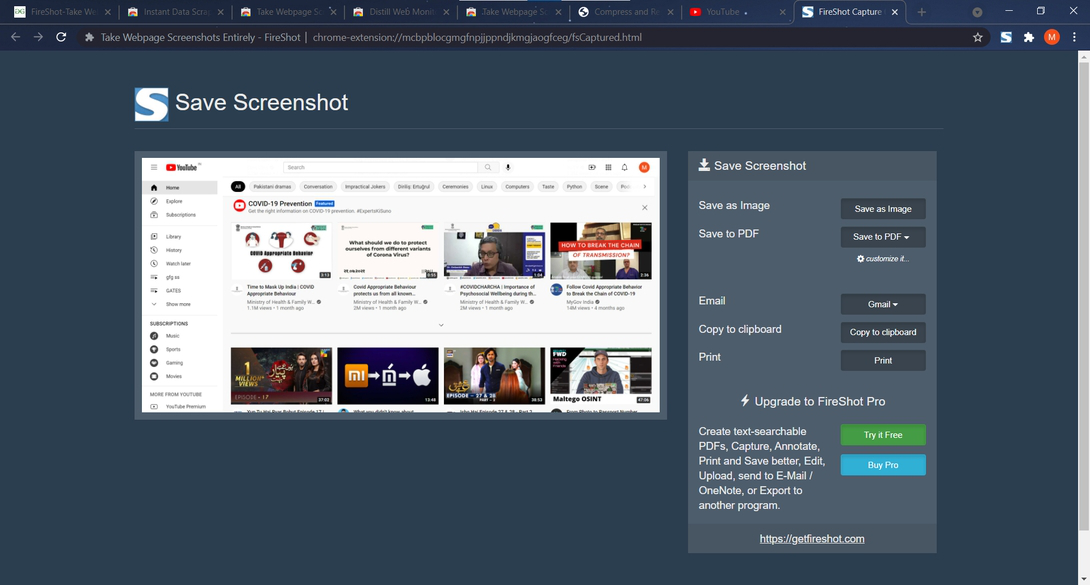 Capture selection:
Example 1: GeeksforGeeks
There is another option in fireshot to capture only selected parts, not the entire page, not only the visible part but the selected part. To use this option, right-click, select fireshot, and then select capture selection.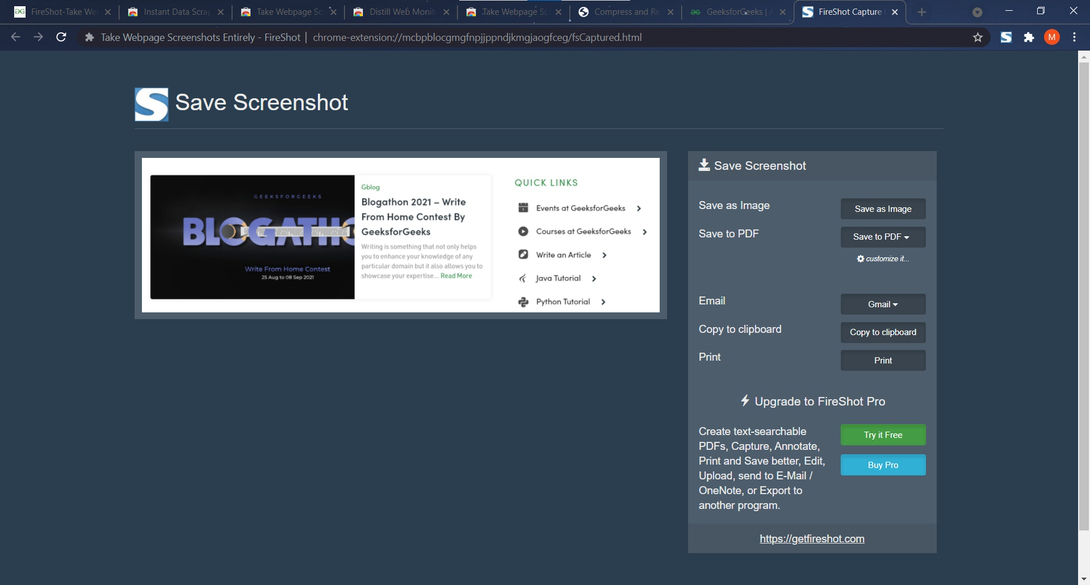 Example 2: Youtube
Let's take another example and this time we will capture the selected part on Youtube.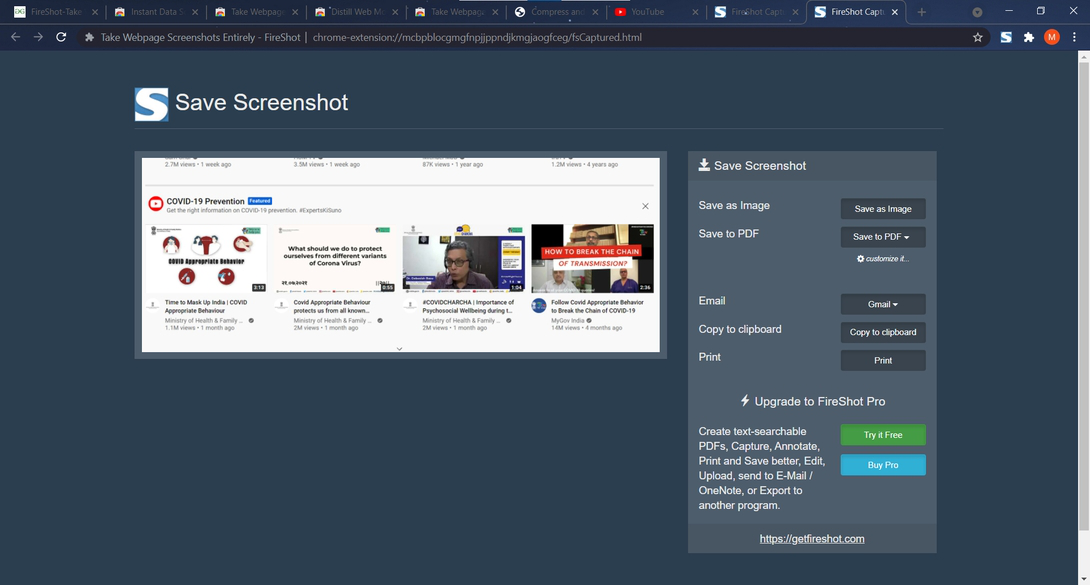 In conclusion, Fireshot can be useful as it's a shopping place where one can select the image format, give the print command, email it or save it as pdf, and pretty much everything a person needs regarding a screenshot. One can even use the shortcut Ctrl+ Shift+ S to capture a selected area. Plus, there are no ads or unnecessary permissions required which fed up the users. So, fireshot is all in one useful browser extension for users.
My Personal Notes
arrow_drop_up