Who is Love Babbar?
Love Babbar is a famous Youtuber, a graduate from NSUT Delhi who has also worked as a Software Engineer in Amazon.
What is a DSA Sheet?
A sheet that covers almost every concept of Data Structures and Algorithms.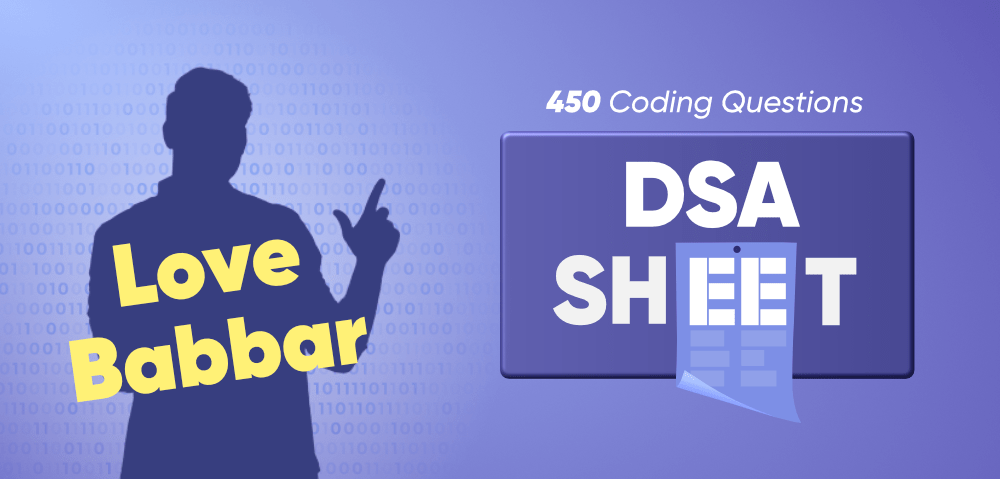 So, this DSA sheet by Love Babbar contains 450 coding questions which will help in:
Understanding each and every concept of DSA.
Clearing the DSA round for the Interviews, as these are the questions generally asked in the companies like Amazon, Microsoft, Google, etc.
Pre-requisites for DSA sheet:
Basic Knowledge of Data Structures and Algorithms.
Know how to use STL as it will make data structures and few techniques easier to implement.
Below is the topic-wise distribution of 450 questions:
This sheet can be completed within 2-3 months without any cheat day.
So, Start solving this 450 DSA Cracker from today itself.
Keep a track of all the problems mentioned below: Practice Love Babbar DSA Sheet
If you have reached here without any cheating then you have cracked the
CODE to DSA 😎