Content Improvement League 2022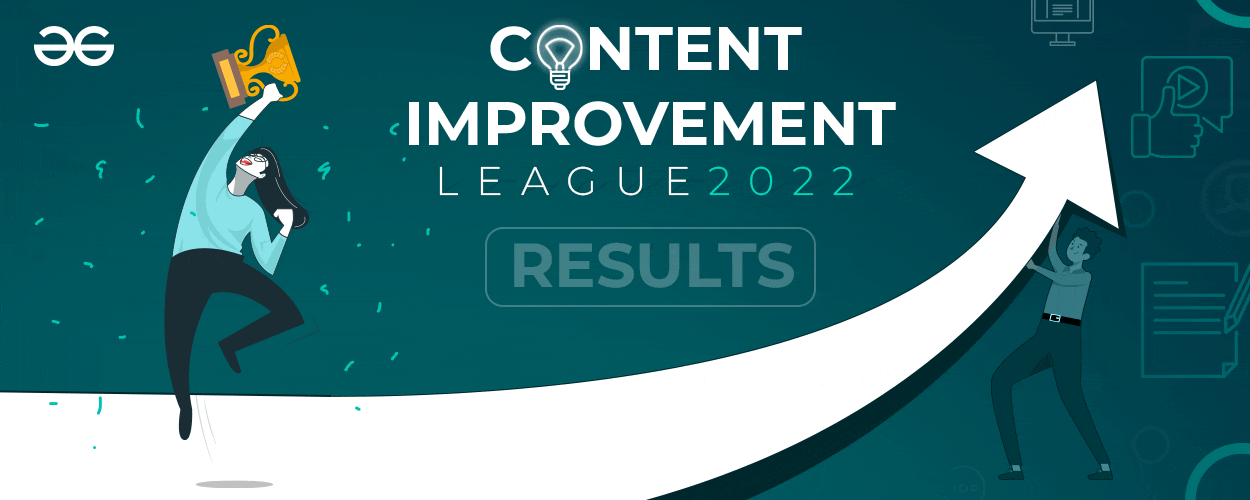 The Content Improvement League event has ended and We are happy to announce the winners.


Below is the list of Top-10 winners:




Note: Winners are decided by the team on the basis of the count of the improvements and quality of Improvements
GeeksforGeeks is organizing an event for the Improvements for the first time. This event is all about improving the existing GFG articles. Simply begin studying or reading the articles, and if you find anything that can be improved, added, or modified, start improving that article using a simple process and be a part of this event, get paid, and win exciting prizes.
Event Details
There is no eligibility criteria for this event i.e., anyone can take part in this event.
Event Date: May 20th to June 20th, 2022
Result: June 30th, 2022

The result will be declared on the basis of Quality, type and count of Improvements.
Prizes
For the first time, you can get rewarded to improve an existing article. It takes effort to make a good article to its best and rewards are the best way to encourage the efforts of participants. Keeping that in mind we will also reward you for the best quality Improvements. Every participant will get INR 100 to INR 250 for each published Improvement. Additionally, the top 10 participants will get the exciting prizes as mentioned below:
1st Prize – 20,000 Cash Prize + GFG Goodies + Certificate
2nd Prize – 15,000 Cash Prize + GFG Goodies + Certificate
3rd Prize – 10,000 Cash Prize + GFG Goodies + Certificate
4th Prize – 7,500 Cash Prize + GFG Goodies + Certificate
5th Prize – 5,000 Cash Prize + GFG Goodies + Certificate
6th – 10th Prize: GFG Goodies + Certificate
Note:
Candidates will be eligible for the prizes only if they have more than 30 published improvements.
The Prizes are not Applicable for the Participants Outside India.
The Prize distribution process will start after 10 days of result announcement.
How to Participate?
An article will require improvement when the author finds out that any valuable information is missing in that article that can be added.
The process of improving the article in Content Improvement League 2022 is very easy. Follow the below-mentioned steps:
You can help other geeks by improving an existing article on GeeksforGeeks. There are buttons "Improve Article" at the top-right and below the article's tag corner of each article on GeeksforGeeks.
After clicking on it, you will get a copy of the same published article where you will be able to edit the content. Please make your improvements there and resubmit them for review. We will approve valid improvement(s). Your Credential (Your Name) for improvement will be added there by the system itself.
During submission of Typo/Spelling mistake Mention 'Specific Typo/Spelling mistake' in the Reason to Improve box and Select Type – Typos and then click on Submit for Review.
During submission of Code Addition Mention 'LanguageName – Code Addition' in the Reason to Improve box Select Type – Code Addition and then click on Submit for Review.


Remuneration
You can get paid for the changes that you have done to an existing article. The payment may vary from INR 75 to INR 250 per improvement, which will be determined on the basis of the type of improvement.
Some prominent terms and conditions are listed below:
As mentioned above, the amount paid per improvement will depend upon the type, content, quality of your improvement, and several other factors.
The content you write for improvement must be unique and must not be published somewhere else even in your name.
In case of any dispute regarding remuneration, the final decision will be at the company's discretion.
Every participant will get INR 75 to 250 for each published improvement according to the types mentioned below:

DS/Algo – INR 250
Code Addition – INR 125
Others – INR 100
Typos – INR 75
Types of Improvements that we are accepting:
DS/Algo: An alternate option is always helpful, same way you can add new approaches in DS & Algo articles to reduce complexity, or Fix the test cases and correct code if something is going wrong.
Code Addition(C++, C#, Java, Python, and JavaScript): You can add code in different above-mentioned languages for existing approaches. During submission of Code Addition Mention 'LanguageName'.
Others: Make modifications to the existing article like Fixing broken links, and adding differences and adding complexity. if necessary add relevant information if you feel it's suitable.
Typos: All types of typing mistakes and spelling mistakes are considered Typos. If a character is missing in a word is also considered Typos.
Important Guidelines
Select correct types of Improvement before submission.
If no changes have been done for 2 days, Improvement will be discarded automatically.
Only 25 articles can improve at a time
Describe the reason to improve.
Improvements in Title are not allowed.
Improvements through mails are not considered in the event.
In Code Addition, at the beginning of every program, please write a line to tell the purpose of the program :
Example:

// C++ program to illustrate sum of two numbers
Any plagiarism detected in the improvement will disqualify you from the event.
In case of any doubt please drop a mail to improvement@geeksforgeeks.org
Try to submit your Improvement before the last date of submission.
Improvements on Interview Experiences and Cheat Sheets are not acceptable.
Frequently Asked Questions (FAQs)
Q-1. How many Improvement I can do?
Ans. You can Improve 25 articles at a time.
Q-2. Can I add more information to the article ?
Ans. Yes but that information must be useful or required in that article.
Q-3. After I submit the Improvement, how much will it take to for publishing that Improvement?
Ans. The process of reviewing and publishing an Improvement generally takes 3 working days.
Q-4. How to apply for Remuneration?
Ans. Apply for the payment using the Remuneration link till 20th june and our team will process the payment by the first week of July 2022 for the improvements published till that date. Similarly, you can apply in the next month for the remaining published improvements.
Q-5. How to register to participate in the event?
Ans. To take part in the event, there is no need to register.
My Personal Notes
arrow_drop_up