CAT 2021 Test Series – Improve Your Speed and Accuracy
Common Admission Test (CAT) is one of the prestigious exams in India and is primarily designed for the aspirants having some inclination towards getting an MBA degree from the renowned and acclaimed B-Schools. To clear this exam, you must be proficient with Quantitative Ability, Verbal Ability & Reading Comprehension, and Data Interpretation & Logical Reasoning as the exam assesses you based on these 3 domains. Though to effectively prepare for these three sections and securing a descent CAT Score is not that easy.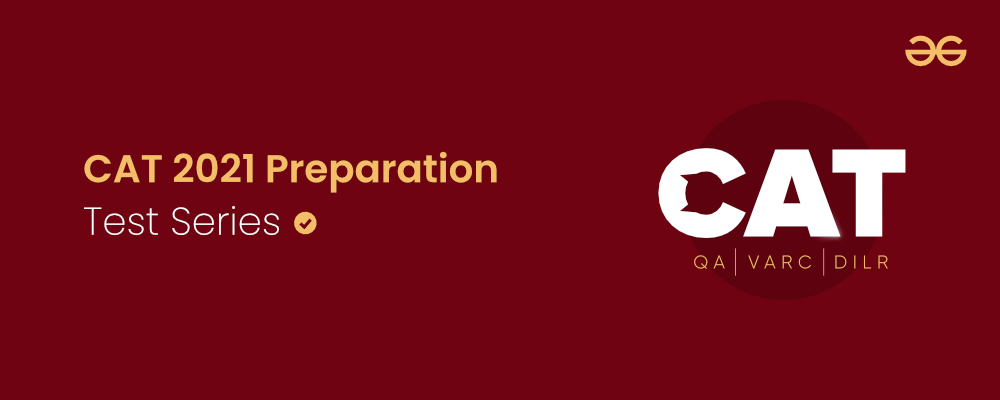 You can't even imagine cracking this exam in 2021 without having an effective preparation roadmap. And this roadmap doesn't only concern the right preparation strategies, but you should have access to quality learning resources or study material as well to get success. For example, an appropriate timetable, a better understanding of concepts' fundamentals, proper revision, practicing with previous year question papers, mock tests, etc. all fall under an ideal preparation plan for the CAT Exam. And that's not enough! The speed and accuracy in solving the questions also matter a lot in cracking the exam and giving you an edge over other candidates.
And if you're thinking about how you would be able to get the right preparation resources for CAT 2021 Exam or how can you improve your speed and accuracy for the exam – then let us tell you that GeeksforGeeks CAT 2021 Preparation Test Series will help you out in this. With more than 1500 questions on all the three-section, the course will take up your CAT 2021 Exam preparation to a higher level and will increase your confidence level so that you can finish the exam strategically before time. Also, you will be doing full-length and sectional mocks here to strengthen your level of expertise.
Course Details
This CAT 2021 Preparation Test Series designed by GeeksforGeeks covers all three sections – Quantitative Ability (QA), Verbal Ability & Reading Comprehension (VARC), and Data Interpretation & Logical Reasoning (DILR) and here you'll get timed tests of different difficulty levels that are designed to help in tracking both speed and accuracy. In addition, theory regarding important sections is also provided in the tracks which aid both in concept building and revision.
In particular, 27 Sectionals Tracks, 27 Sectional Contests, and 3 Full-Length Mocks will be there to give you the utmost learning and practice exposure. Also, the tracks and the contests here assess you on three levels of difficulty to help you prepare for the question of any difficulty level you might face in the examination. Some of the additional features are:
Articles related to CAT Exam
Targeted preparation strategy for each section and Mock analysis.
Over 1500 questions and detailed solutions for all the needed questions
It can be accessed from anywhere, anytime
The content is tailored well and very much recommended to all CAT 2021 aspirants
Yes, you'll be provided with a detailed explanation after the test completion for all the required questions. It will surely help you in clearing the doubts and improving your problem-solving skills.
The CAT 2021 Preparation Test Series is being provided to you at a very affordable price, INR 499/- Also, you can register for this course by following the below-mentioned steps:
Step 1: Visit the official page of the CAT 2021 Preparation Test Series Course
Step 2: Then, at the right bottom, there is a green-colored Sign-Up Now Button. Hit that to fill in all your details like Name, Graduation Year, etc.
Step 3: After this, you will see Pay Fee Online written below What's Next? Use that and pay the fee.
Step 4: Now, you are successfully registered and ready to compete with 2021 CAT students!!
In case of any further queries and doubts, mail us at review-team@geeksforgeeks.org
Course Content
The content which you will get in this Preparation Test Series Course will be:
1. Important Articles on CAT 2021:
CAT Exam 2021 – Important Dates, Eligibility Criteria, Exam Pattern & Syllabus
Preparation Tips for Quantitative Ability (QA) Section in CAT
Preparation Tips for Verbal Ability and Reading Comprehension (VARC) Section in CAT
Preparation Tips for Data Interpretation and Logical Reasoning (DILR) Section in CAT
Best Books to Prepare QA, VARC, and DILR For CAT 2021
2. Quantitative Aptitude
Number System [Level 1, 2, and 3]
Arithmetic [Level 1, 2, and 3]
Algebra [Level 1, 2, and 3]
Geometry [Level 1, 2, and 3]
Modern Mathematics [Level 1, 2, and 3]
3. Verbal Ability and Reading Comprehension
Verbal Ability [Level 1, 2, and 3]
Reading Comprehension [Level 1, 2, and 3]
4. Data Interpretation and Logical Reasoning
Data Interpretation [Level 1, 2, and 3]
Logical Reasoning [Level 1, 2, and 3]
5. Mock Tests
CAT 2021 Full Mock 1
CAT 2021 Full Mock 2
CAT 2021 Full Mock 3
Note: The questions included are well-researched and will prepare you according to the 2021 CAT exam pattern.
Frequently Asked Questions(FAQs)
1. How should I register for the CAT test series?
All you need to do is use the Register Button, and get yourself enrolled for the CAT course. In case there are issues, create your free account for successful course registration. You can also SignIn using Google/Facebook.
2. Will I get solutions after attempting the Test?
Yes, there is a detailed explanation of every question that you'll get as soon you finish your test. With this, the aspirants have been able to nourish their problem-solving skills.
3. What would be the content of this course?
The course includes:
Articles of each section of preparation
Theories of really important section/sections
Sectional Tracks & Contests
Mock Tests which you need before the exam
4. Will there be full-length mocks?
Yes, there will be three full-length mocks.
5. What are Sectional Practice Tracks?
Sectional practice Tracks focus on the section-wise preparation of this CAT exam. There are a total of 27 tracks that cover 9 topics and all three sections of CAT. And the details of every section will be in the course content.
My Personal Notes
arrow_drop_up