Calculator using PySimpleGUI – Python
Prerequisite: PySimpleGUI, eval
PySimpleGUI is a Python package that enables Python programmers of all levels to create GUIs. You specify your GUI window using a "layout" that contains widgets (they're called "Elements" in PySimpleGUI). In this article, we will learn, how to make a calculator using PySimpleGUI in Python.
Before starting we need to install this package:
pip install PySimpleGUI
Approach:
Import the PySimpleGUI Module
Create GUI layout and Window
Add any number of widgets to the main window
Apply the event Trigger on the widgets.
Below is what the GUI looks like: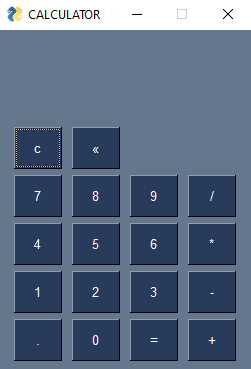 Let's create a GUI-based simple calculator using the Python PySimpleGUI module, which can perform basic arithmetic operation's addition, subtraction, multiplication, and division.
Let's Understand step by step implementation:-
Step1: Create Text Box, Buttons
For creating a text box, we will use Txt() method.
Syntax: Txt(Enter Text, *attr)
Here will use the read button using ReadFormButton() method.
Syntax: ReadFormButton(Enter Button Text, *attr)
Step 2: Create an infinite loop, read the button value and perform the operation.
Python3
# Result Value
Result = ''
# Make Infinite Loop
while True:
# Button Values
button, value = form.Read()
# Check Press Button Values
if button=='c':
Result = ''
form.FindElement('input').Update(Result)
elif button=='«':
Result = Result[:-1]
form.FindElement('input').Update(Result)
elif len(Result) == 16 :
pass
# Results
elif button=='=':
Answer = eval(Result)
Answer = str(round(float(Answer),3))
form.FindElement('input').Update(Answer)
Result = Answer
# close the window
elif button=='Quit' or button==None:
break
else:
Result += button
form.FindElement('input').Update(Result)
Below is the full implementation :
Python3
# Import Module
from PySimpleGUI import *
# GUI Layout
layout = [[Txt('' * 10)],
[Text('', size = (15, 1), font = ('Helvetica', 18),
text_color = 'black', key = 'input')],
[Txt('' * 10)],
[ReadFormButton('c'), ReadFormButton('«')],
[ReadFormButton('7'), ReadFormButton('8'), ReadFormButton('9'), ReadFormButton('/')],
[ReadFormButton('4'), ReadFormButton('5'), ReadFormButton('6'), ReadFormButton('*')],
[ReadFormButton('1'), ReadFormButton('2'), ReadFormButton('3'), ReadFormButton('-')],
[ReadFormButton('.'), ReadFormButton('0'), ReadFormButton('='), ReadFormButton('+')],
]
# Set PySimpleGUI
form = FlexForm('CALCULATOR', default_button_element_size = (5, 2),
auto_size_buttons = False, grab_anywhere = False)
form.Layout(layout)
# Result Value
Result = ''
# Make Infinite Loop
while True:
# Button Values
button, value = form.Read()
# Check Press Button Values
if button == 'c':
Result = ''
form.FindElement('input').Update(Result)
elif button=='«':
Result = Result[:-1]
form.FindElement('input').Update(Result)
elif len(Result) == 16 :
pass
# Results
elif button == '=':
Answer = eval(Result)
Answer = str(round(float(Answer),3))
form.FindElement('input').Update(Answer)
Result = Answer
# close the window
elif button == 'Quit' or button == None:
break
else:
Result += button
form.FindElement('input').Update(Result)
Output:
My Personal Notes
arrow_drop_up