Bi-Wizard School Coding Tournament By GeeksforGeeks – For Class 8-12 Students
Bi-Wizard School Coding Tournament by GeeksforGeeks – 'Coding is the New Literacy' and no one can deny this fact! And especially, when it comes to young ones or school students, investing the time & efforts in learning programming skill become more & more advantageous and rewarding. Let us tell you why!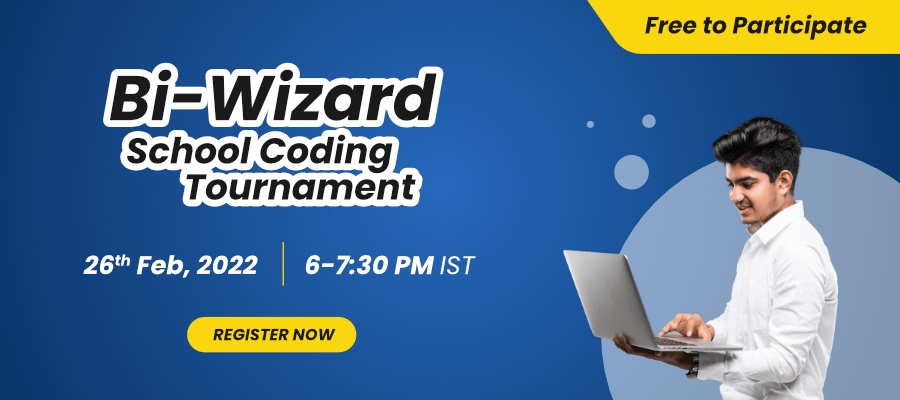 coding enhances critical thinking and problem-solving skills among students,
allows them to understand the practical implementation of various maths concepts,
encourages them to better understand & solve real-world problems,
and so on…!!
Above all that, Coding is the most demanded skill of the tech industry with numerous ravishing career opportunities! Despite all this, students often restrict themselves from getting started with coding, and not only students, but the parents are also not very much active in encouraging their wards to learn to code.
However, it is the most right time now to promote coding culture among students and create genuine interest & curiosity among them to get started with coding. Keeping this in mind, GeeksforGeeks is coming up with an exciting coding tournament for school students – Bi-Wizard School Coding Tournament.
The Bi-Wizard School Coding Tournament 2.0 is scheduled for 26th February 2022, 6-7:30 PM(IST).
The Bi-Wizard School Coding Tournament 1.0 is successfully completed on 26th January 2022, 6-7:30 PM(IST). Check the details from here.
This coding contest is exclusively for school students from Classes 8th to 12th. And…in this tournament, the rewards worth up to INR 5 Lac will be given!. Yes, you heard it right! The top students stand a chance to win exciting rewards. Let's check out the prizes list from below:
Gaming Laptop
iPad Air
Bose Headphones
Tablets
Smart Bands
Not only this, but the top 100 students will also receive a Letter of Recommendation from our CEO and get free access to our paid courses which will definitely help them go a long way!
Note:
Every student who comes in the Top 100 will have to undergo a verification via a video call before any prizes are given.
The rewards will be delivered only within India
Tournament Details
The Bi-Wizard School Coding Tournament by GeeksforGeeks is a coding contest for school students. The contest duration is of 90 minutes. These 90 minutes will be a test of your abilities and how far you can go. You will have to solve 2 coding questions and 20 quiz questions in the given time limit to unlock prizes worth up to INR 5 LAC.
Meanwhile, you can utilize our School Guide (FREE) to prepare for the contest. You can also check out our other self-paced courses for school students.
Special opportunity for Schools:

If you believe that you can invite more students from your school to participate in this free coding contest, then you can reach out to us at schools@geeksforgeeks.org

The top 3 students from each school stand a chance to win rewards such as Tablets, Wireless Earphones & Smart-bands.

Please note that a minimum of 50 students must register and participate from your school for the Top-3 students to be eligible for these additional prizes. So if you wish to share this opportunity with your classmates, please share the contact of the concerned authorities from your schools at schools@geeksforgeeks.org
How to Participate?
You can easily register yourself and participate in the Bi-Wizard School Coding Tournament – all you need to do is follow the below-mentioned steps:
1. Visit this link: Bi-Wizard School Coding Tournament 2.O
2. Now, if you're an existing user at GeeksforGeeks, you're just required to click on the 'Register' button to get yourself successfully registered for the Bi-Wizard School Coding Tournament.
In case, if you're a new user, you're first required to 'Sign In' first at GeeksforGeeks and then click on the 'Register' button.
3. In case of any doubt, you can also drop a mail to review-team@geeksforgeeks.org
Tournament Instructions
Do check out the below-mentioned instructions and guidelines carefully:
Prerequisites for the Bi-Wizard Tournament – Basics of Programming, Binary Representation of a Number, Loops, Searching.
Any type of plagiarism will not be entertained. In case, anyone is found guilty, the score of the concerned participants will be dropped to 0
Maximum marks for each problem are 100. There is a 5% penalty (on maximum marks) for each wrong submission. For example, if a problem is of 100 marks and a participant makes a wrong submission, the new maximum marks for that participant are reduced to 95. After the next wrong submission of the same problem, the new maximum marks are further reduced to 90.25 and so on. So, it is suggested to use 'Compile & Test' against the sample test cases option before each submission.
Languages supported for the contest are C, C++, Java, Python.
Each question has hints that you may use when you're stuck on a problem. Though marks are deducted on hints usage.
It is advised to attempt the Sample Geeks Challenge to get familiar with the GeeksforGeeks coding environment.
Note: Make sure other participants don't have access to your code. In case you are using any other online coding environment, you are responsible for the privacy of your code.
So, what are you waiting for now…?? Get your spell-books and wands ready for you are about to enter the forbidden forest of codes and bugs i.e., Bi-Wizard School Coding Tournament by GeeksforGeeks!!
Resources to help you prepare:
All the best to all our young geeks!
My Personal Notes
arrow_drop_up