AWS – Educate Starter Account
AWS Educate Starter account gives students, Educators, free access to some services without requiring a credit card for payment. You can get AWS Educate Starter Account for free here. Usually, AWS Educate accounts are maintained by third parties such as Qwiklabs, Vocareum. You can find AWS services eligible for the Educate account here. The credits you get ranges from $25 to $100. You get more credits if your institution is part of the AWS Educate institution list.
Here is the list of AWS Educate Institutions.
Note: More and more services are being added to the AWS Educate Account.
Pros:
No need for a credit card for payment. Billing is done on AWS Credits that are provided at the beginning of creating an AWS Educate Account.
You will get access to learning resources to excel in the cloud and IT Industry.
You will get access to the Job board where you will get access to apply for jobs and Internships that are posted by Amazon and other companies across the globe.
You will have a portfolio page and where recruiters will be looking.
You can apply for AWS Educate Student Ambassador Program.
Access to Educator classes
Cons:
Restricted and Limited access to some services.
You can't use it after post-graduation.
You can't link to other accounts
You need to renew your account every year throughout your graduation.
You can get a maximum of $100 during account creation.
Creating an AWS Educate Starter Account:
Step 1: Go to https://tinyurl.com/y6m7rjym and click on the student as you are creating an AWS Educate student account. Now you will be taken to the next page which is step 2 of the process.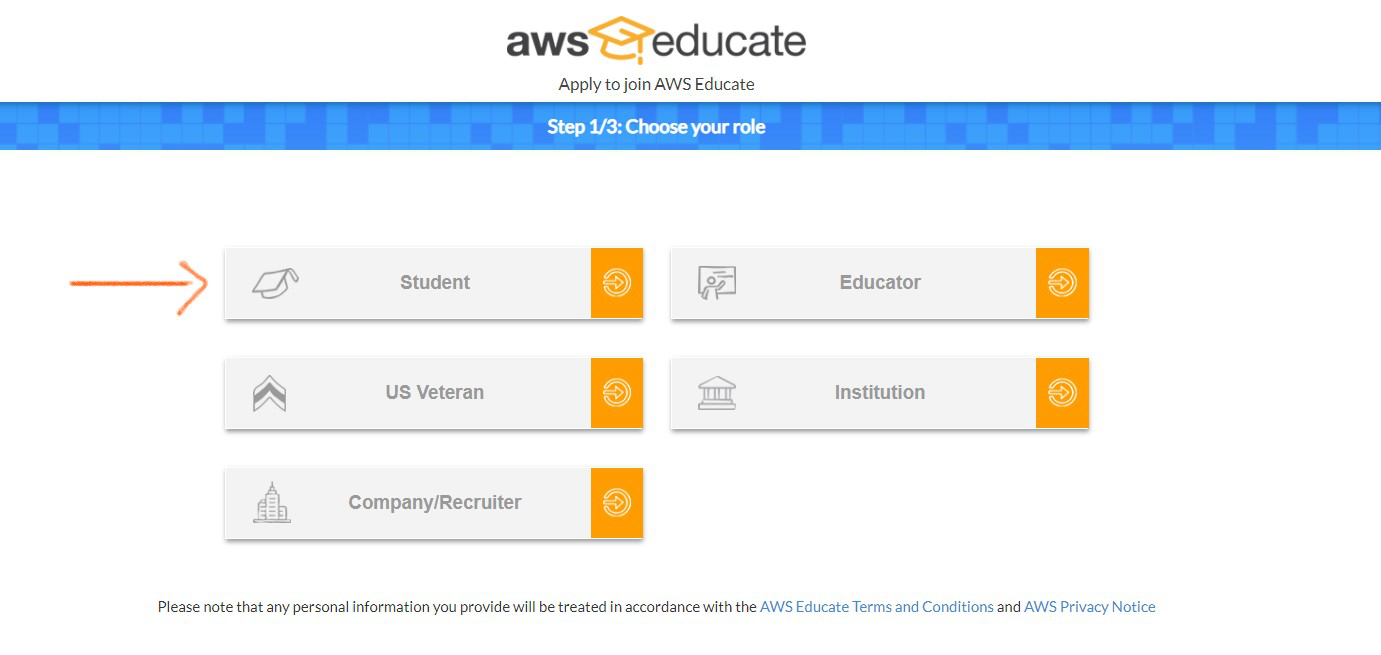 Step 2: In Step 2, it will ask you for some personal information like your name, email, DOB, etc. Fill it accurately.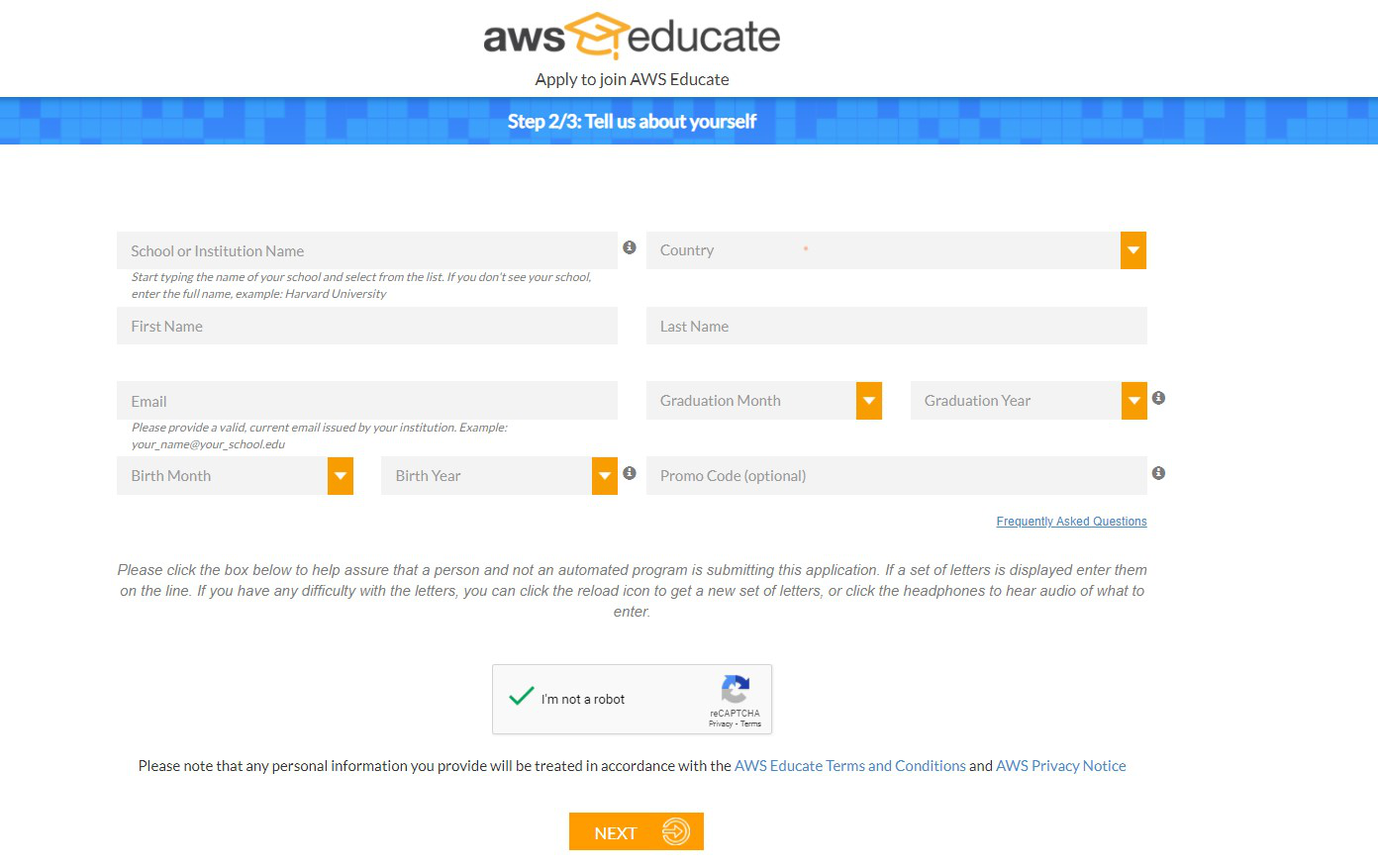 Step 3: For the email section, you have to fill in the email, provided by your college. If you have one then you can skip step 6. For those, who don't have any email, provided by their respective college, you can fill in your personal email but you will get a warning. For now, ignore the warning, complete the captcha and click next.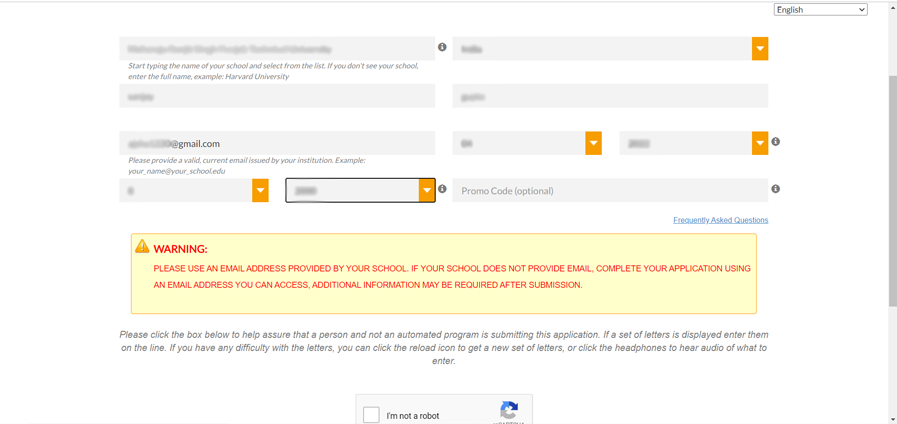 Step 4: In this step, you need to read the terms and conditions. If you agree then select I Agree and click on Submit. Now, you will be taken to a page showing that " we received your application. Now check your email for a message with a link to verify your email address ".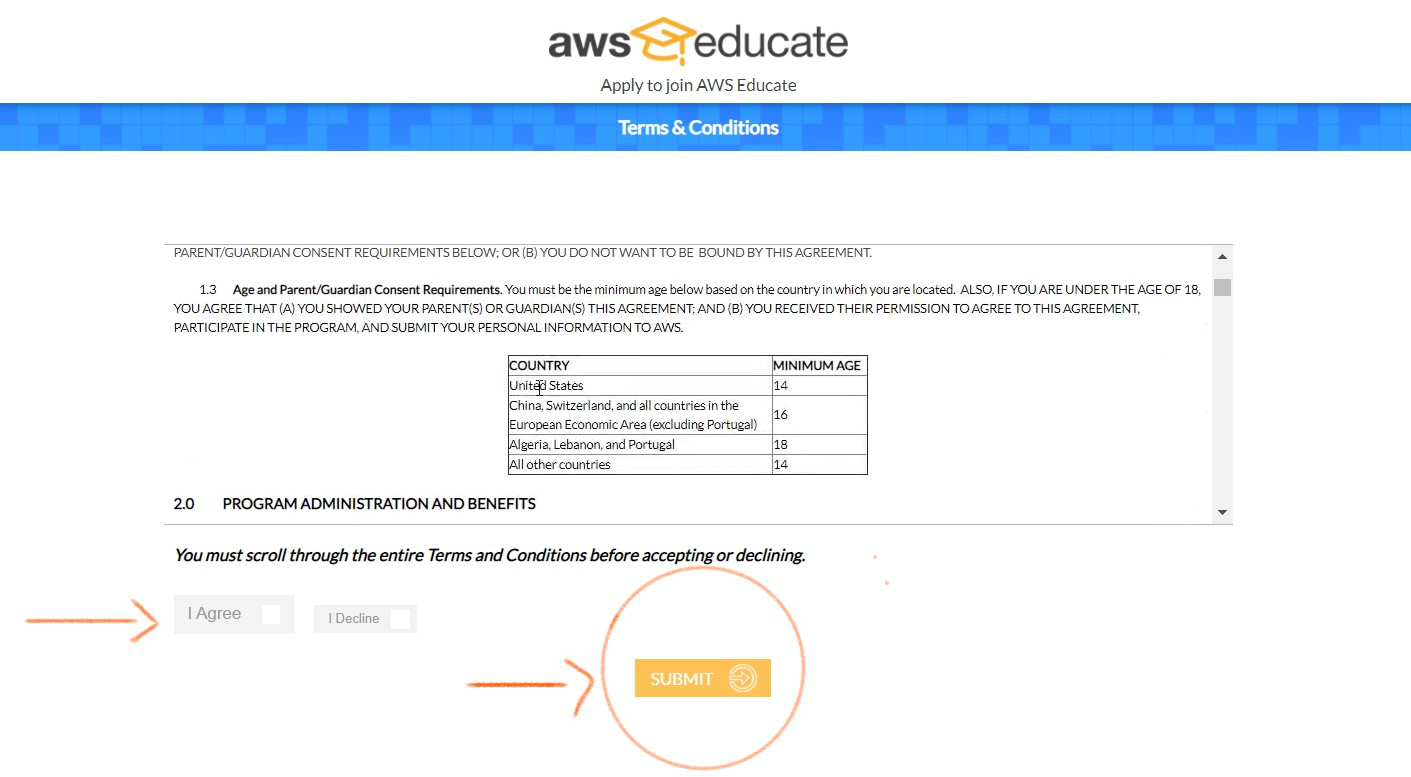 Step 5: Now, go to your email and click on the verification link. After clicking on the verification link you will be directed to a page showing that " Your Email has been verified We'll review your application shortly. Check your email for status updates as we process your application."

Note: If your college is part of the AWS Educate Institution List then the process of reviewing your application is fast if not it may take more time to review your application.
Step 6: After verifying, if you have filled your personal email inside the email section in the application form and you receive a mail as shown below. It says, your application is not approved. Now, you have to reply back to the mail by attaching your college id card along with all the details like your course name, university roll number, teacher name and email.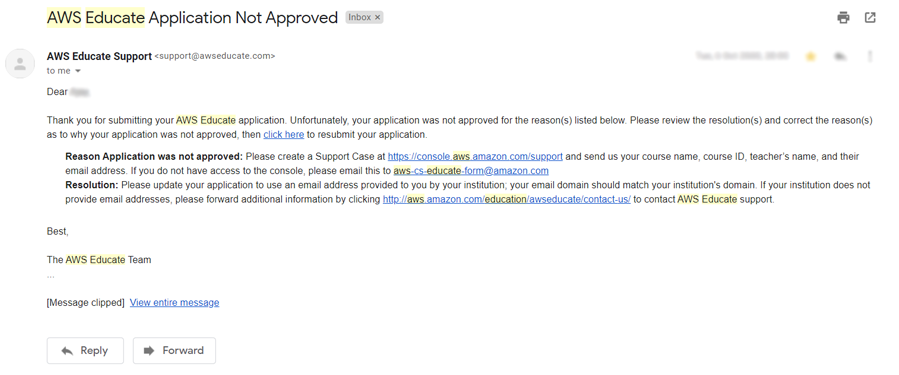 Step 7: After some time (the time varies from half an hour to days depending on circumstances), you will get an approval mail from AWS Educate support team containing details about accessing your AWS Educate account. The approval mail contains the link to set your password, after setting the password you will be taken to the home page of the AWS Educate account portal.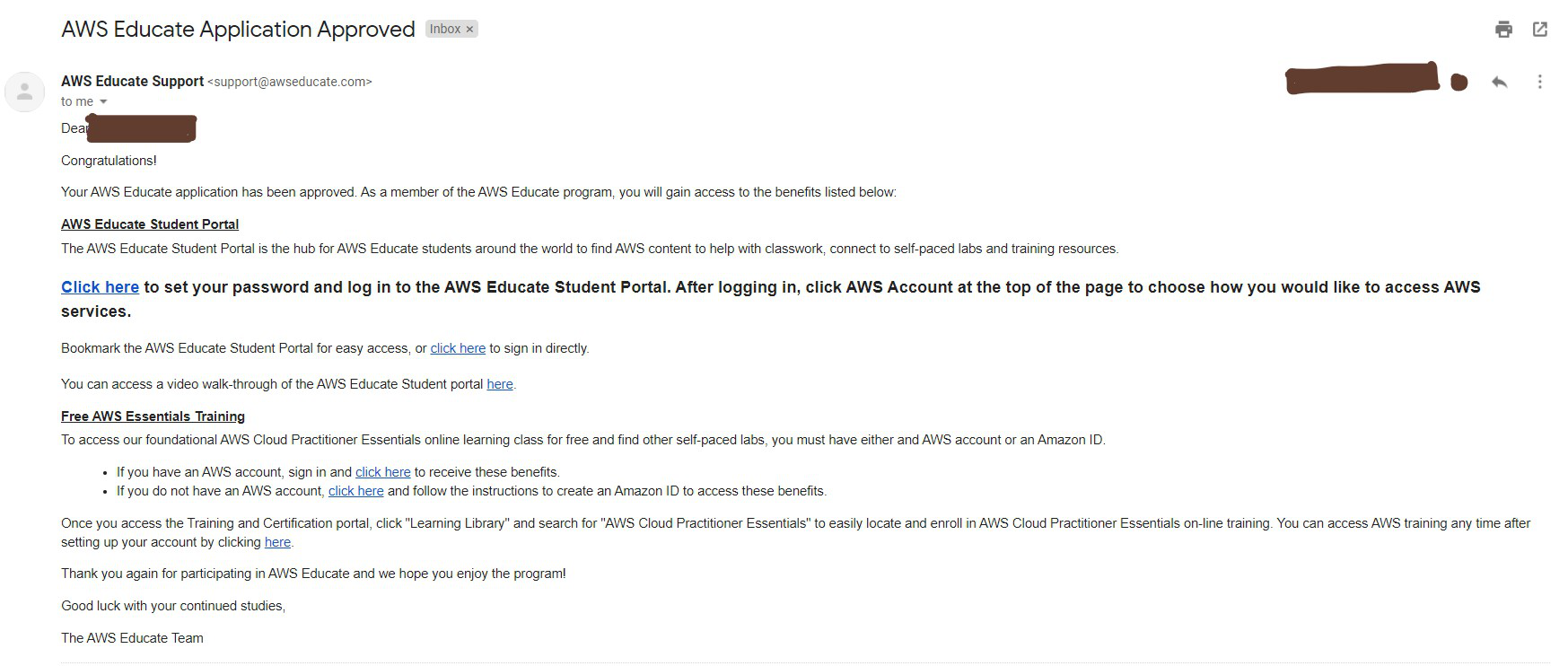 The AWS Educate Account Home Page: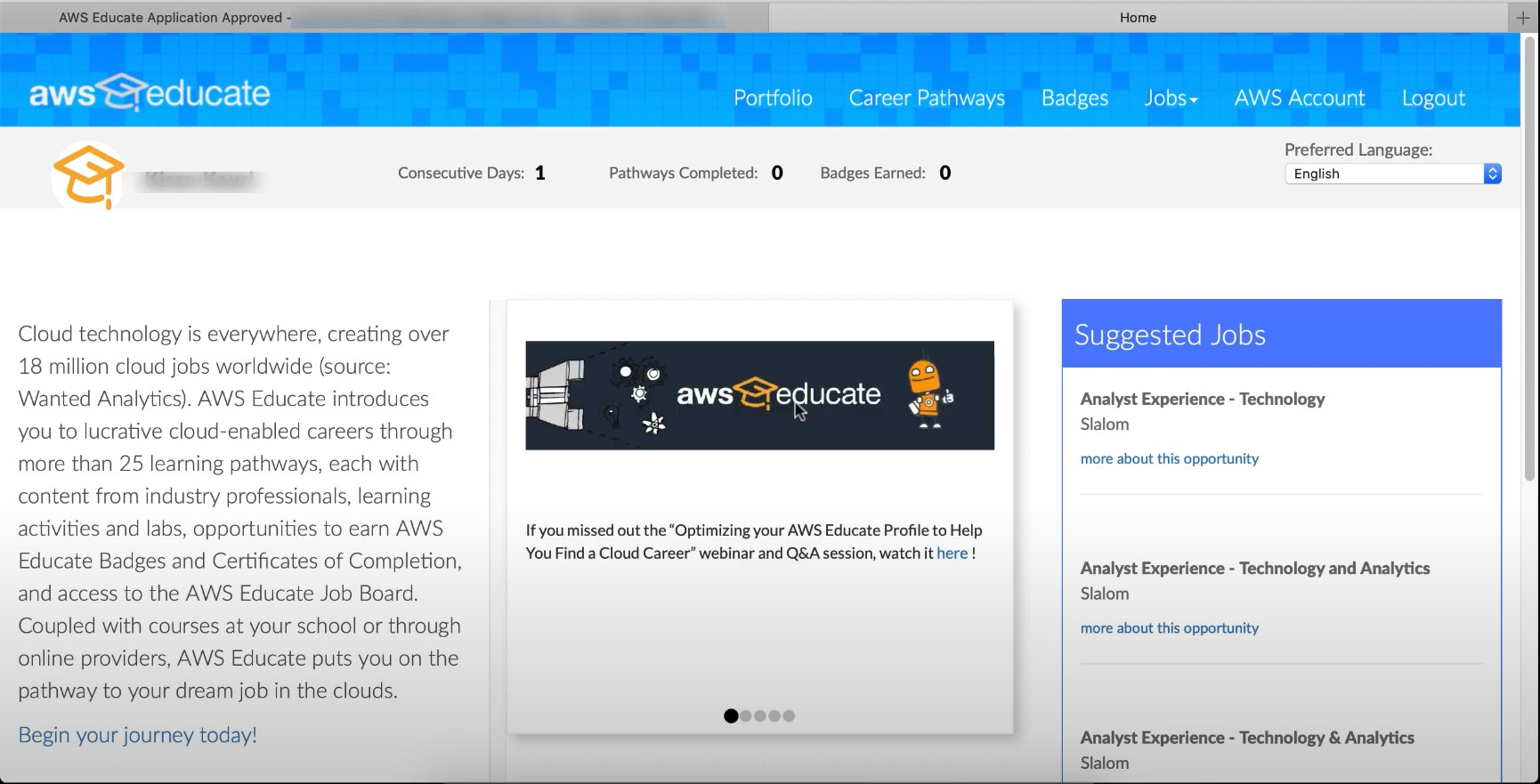 My Personal Notes
arrow_drop_up