A Guide to Writing an Essay for Job Interviews
Writing is a doorway into your mental perspective. Your written work will convey to the reader how you reason, how you debate, and how you support your point of view. This is why essays are integral parts of some job selection processes.
The subjects and topics of these essays mostly revolve around specific current affairs or political events. The more you understand the topic and have information about the event, the better your essay becomes.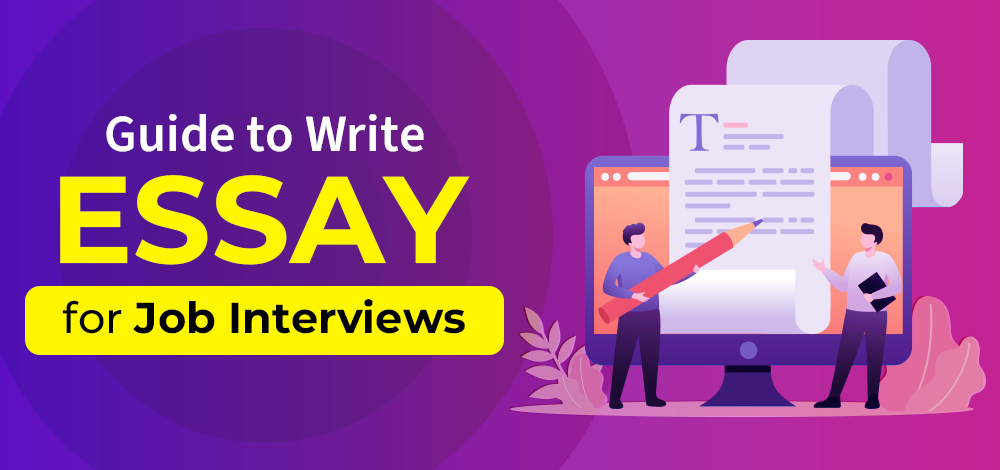 Things to remember about Essay Writing
The essay must be organized and presented so that interviewer can follow it easily. It also needs to be neat and free of any ambiguity.
The essay is not only a quiz on your understanding of specific facts. Your imagination, ingenuity, and ability to come up with original ideas will be put to the test. Hence, it must be written in an engaging, readable style. However, it must, most importantly, include your viewpoints on the matter at hand.
Language proficiency does not develop immediately. It requires perseverance and effort. Your motivation to learn a language will impact how well you can communicate in it.
In the wrong belief that we can produce a quality piece of work in the test room, many of us make the mistake of accumulating information and facts on the likely topics at the eleventh hour of preparation.
What we must realize is that organizing information using the proper terminology will be a laborious task, especially under the strain of a deadline
Improve your abilities by being enthusiastic about reading, taking an interest in expanding your knowledge base, and learning new words.
The essay as a whole needs to flow naturally from one paragraph to the next so that the interviewer can sense the coherence, orderly flow, and arrangement of your ideas. Transitional words and phrases can be used to tie the paragraphs together.
Suggestions for Writing Effectively
Now let's discuss some general ideas and tips for writing essays.
Maintain proper structure: Start the essay with an introduction (or a problem), and then go on to give further information about the problem. The essay body should be between 86 and 90 percent in length, the introduction should be between 5 and 7 percent, and the conclusion should be between 5 and 7 percent.
Don't lose track of the subject: Remember the essay prompt. Remain focused on the topic. do not just cite examples or quotations and discuss side-events. Stay rooted in the problem or event you are discussing and then present your take on that very event.
Practice is the key: Preparation is required before the examination phase to develop the ability to produce a decent essay. Writing is the key to a successful essay because it serves as the primary means of transferring thoughts from your head to paper. So don't just read, start practicing writing essays before you write them for the real interview.
Draw the readers' attention: Your introduction's opening line should spark the reader's interest and stimulate their curiosity. When discussing a current affair or a political issue, it might be an intriguing question, a stunning reality, or a statement emphasizing the significance of the topic.
Explain the background of your subject: The next step is to provide the context of the particular issue of current affairs or politics, so that the interviewer may grasp your argument. This may entail offering background information, providing an overview of the significance of discussions on the subject, and defining complex words. Don't go into too much depth in the opening; you can go into more detail in your essay's body.
Be resourceful with your knowledge: In order to write a good article about current topics, you must understand that knowledge comes first. You need to know what is going on around you. Be precise when presenting your current affairs knowledge. Be precise in how you think about these incidents.
Mistakes to avoid in the Essays
You've probably got a clear idea about how to write an essay this far. That's great! But you also need to be aware of the errors to keep away from. Your essays will be of much better quality if you can figure out how to avoid the following errors.
Synthesis Writing, Not Analytical Essay Writing: If you're writing about a current event, providing some background information can help to frame the subject. However, the majority of your essay should focus on your analysis. Don't just summarise what happened.
Too many arguments: The interviewer always expects you to provide solid justification for your thesis. Some people take this literally, and as a result, they write as many facts, figures, and quotations as they can. To make the thesis statement more credible, avoid adding unnecessary complexity to the article by making unrelated citings. Stick to the topic and state your case logically without factitively.
Don't sound contradictory: Be clear from the very first about your take on the event you are discussing. You may discuss different and relevant aspects of the issue you are discussing but don't sound contradictory in the process. Don't hold extremist opinions. Your essay should demonstrate how well-balanced, holistic, and analytical you are.
Useful Resources to learn about Current Events
Now, if you are wondering where and how to find the current events or relevant political issues that may be the potential topics of your essay, here are some cues for you.
Consistency is necessary for the GA segment; daily newspaper reading is required.
Keep concise records of significant news. The notes should be revised on a regular basis.
Another way to stay up to date on current events is to subscribe to news networks or current affairs YouTube channels.
You can read monthly magazines that are offered by different institutions if you don't have time to read everyday current affairs. These periodicals can be found online and in PDF format.
So, these are everything you need to know about writing an essay on current and political issues; following the DOs and DONTs mentioned here you can create an excellent piece. But always keep in mind that before writing comes knowledge. There is no such thing as perfect writing but the more you are aware of your surroundings the easier it is for you to pen it down. Hence, keep reading, and stay updated to excel in your essay on such topics.

My Personal Notes
arrow_drop_up