7 Must-Have Mobile Apps to Prepare for Online Interviews
In the present-day scenario, a majority of the companies are preferring Online Interviews for the recruitment process. Though Online Interviews are quite beneficial as it is more convenient and cost-effective for both – the recruiters & the job seekers! However, preparing for such Online Interviews is a not-so-easy job and it requires the same efforts and dedication as it would for a traditional in-person interview. But…do you know that your smartphone can help you considerably to prepare and ace your Online Interviews? Yes, you heard it right!! In today's technologically advanced world, there are numerous mobile phone applications available that will not only help you to prepare well for the online interviews but will also make this journey more efficient and effective!!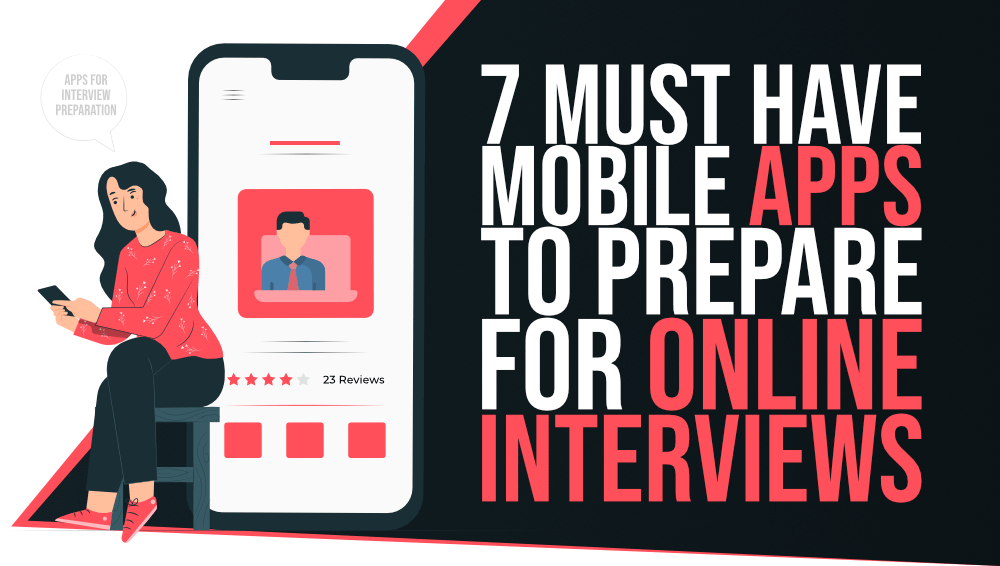 Indeed, from creating an enriching resume to connecting with the corporate people or practicing mock interviews to comparing different companies, there are various mobile apps available for each task that can make everything is just a few clicks away. Although, as millions of applications are available over the web, to pick up the relevant and worthwhile ones for yourself can be a daunting task. No Worries, in this article, we will let you know about those 7 must-have mobile apps that can help you to prepare for Online Job Interviews:
Needless to say, if you're preparing for an online interview (or offline as well!!) to get into the tech organization whether it be a Product-based or a Service-based or even a Startup Company, GeeksforGeeks is the must-have app for you to excel your preparation. GeeksforGeeks, founded in 2009, is a one-stop solution for all your interview learning requirements such as Programming Languages, Data Structures & Algorithms, Coding Practice Questions, Company Wise Interview Preparation, etc. Moreover, the app offers around 20,000+ Programming Questions, 40,000+ Articles, and the Interview Experiences of leading companies such as Microsoft, Facebook, Google, and many more.
Meanwhile, the app comes up with a user-friendly interface and offers you a lot of other worthwhile features such as Personalized Feed Based on your Interests, Sharing of Articles, Offline Reading, Night Mode, and various others that will help you to make your preparation process more convenient & efficient.
Glassdoor, founded in 2007, is one is of the most recommended app for the candidates who are preparing for online interviews. The app gives you all the required insights of the company such as the latest job listings, company reviews, interview experiences, and even salary reports as well. Meanwhile, you can follow your target companies to get the latest updates or information and can easily apply also for the jobs at the earliest. Also, you can know about the work environment and identify the pros and cons of a particular company through the app.

Moreover, the app has an easy-to-use interface and offers you numerous ravishing features such as it allows you to organize the jobs and content, create and manage notes, and discover relevant job profiles as per your requirements. Furthermore, you can also get several crucial interview tips and career advice to boost up your preparation.
Indeed, your resume is responsible for marketing your skills & knowledge and it makes the first impression of yours on the interviewer. Hence, you're required to create a professional, attractive, and worthwhile resume to grab the attention of recruiters in a positive aspect. And here comes the role of CV Engineer! Yes, CV Engineer is a resume builder mobile app that helps you to create a professional resume or CV in an easier & efficient way, and that too free of cost!! The app offers you various resume templates, resume advice, etc. developed by the professionals in the industry.
The app provides numerous other beneficial features as well such as easy editing options, customizable resume fields, easy download & sharing options, and many more that can help you to build an enriching resume for your online interviews or other career opportunities.
As they said, "Practice makes a man perfect!!". This applies here also as before proceeding to the actual online interview you're required to gain some experience with several online mock interviews and get familiar with the interview scenario to boost up your preparation and enhance your confidence. Meanwhile, Talview – Candidate App, is a mobile application that offers you to practice your interviewing skills in a technological-advanced virtual environment to prepare yourself effectively for the actual interviews.
Moreover, the app can be used for attending an online video assessment with the employer, all it required is that employer needs to invite you to attend the assessment (or if you're already having a QR code) and you need to enter the code to complete your assessment. Also, the app has a very user-friendly interface and easy to use functionalities that makes it the most recommended and convenient platform to practice your interview skills.
If you're preparing for Online Interviews or looking for any other career opportunities, it becomes quite essential for you to connect with professionals of the particular industry to get some advice or useful insights & information to boost up your preparation in the right direction. And, LinkedIn is the one-stop solution for all these tasks. LinkedIn, founded in 2002, is a social networking platform that allows you to connect with the professionals & industry experts to build a worthwhile professional network. Also, you can discover various job vacancies and career opportunities on the platform in a few clicks!
Furthermore, LinkedIn also offers several other crucial features as well such as resume builder, sharing of posts with the community, latest industry news & updates, and many more that can be taken into consideration while preparing for the online interviews.
For all the students who are preparing for online interviews, Interview Questions and Answers is one of the most recommended apps. The app offers you more than 5000 job interview questions along with answers from beginner to advanced level. And apart from the general HR interview questions, the app also offers the questionnaire and respective tips for aptitude tests, personality tests, telephonic interviews, and many more. Indeed, practicing these questions will surely boost your confidence and take your preparation level for the online interview to the next level.
Moreover, the app comes up with unique functionality, content design, and attractive themes that makes it very user-friendly and easy to use. Also, the app offers the offline feature i.e, you've only required the internet connection for the first time to successfully load the entire data and then you can access and read it anywhere or anytime without having a net connection. What else you need?
Now, you must be thinking that how can a cloud storage platform like Dropbox can help you out in your online interview preparation, right? Maybe it won't directly impact your interview preparation but through Dropbox, you can easily keep all your resources such as resume, notes, assignments, required documents, etc. in a single place and can access from anywhere or anytime. Hence, it will eventually make your preparation journey more convenient and efficient. The app offers you an easy to use interface to upload and transfer files to the cloud and share them with anyone as well across the globe.
Moreover, Dropbox is one of the most secure platforms and also supports the feature of accessing the files in offline mode. And yes, you can start to utilize the Dropbox functionalities with zero cost, although you can switch over to the paid version as well to use some advanced features.
So, these are several most-recommended mobile apps that can help you to prepare for your online interview. And if you still haven't downloaded & installed these apps, just do the same as soon as possible and utilize these apps in the most productive way possible to ace your upcoming online interviews!!
My Personal Notes
arrow_drop_up